The Zambezi Voyager is the most recent houseboat addition to the Chobe River and is the perfect way to enjoy a sedate river-based safari.
Depending on guest requirements, the Zambezi Voyager can remain in one area or move between the Chobe and Zambezi rivers, flanked by Botswana and Namibia, passing through the Kasai Channel. This allows fabulous game-viewing opportunities in the Chobe National Park, and great fishing on the Zambezi.
This luxuriously appointed houseboat has only five cabins and caters to a maximum of 10 guests only, ensuring greater comfort and privacy.
Itineraries
Start thinking about your experience. These itineraries are simply suggestions for how you could enjoy some of the same experiences as our specialists. They're just for inspiration, because your trip will be created around your particular tastes.
Zambezi Voyager fact-file
Five en-suite cabins (so a maximum of 10 people only) with each berth having its own guide and tender boat where possible
Dining room and bar area
Professional chef
Jacuzzi.
Viewing decks
Regular activities and trips ashore via the Zambezi's small tender boats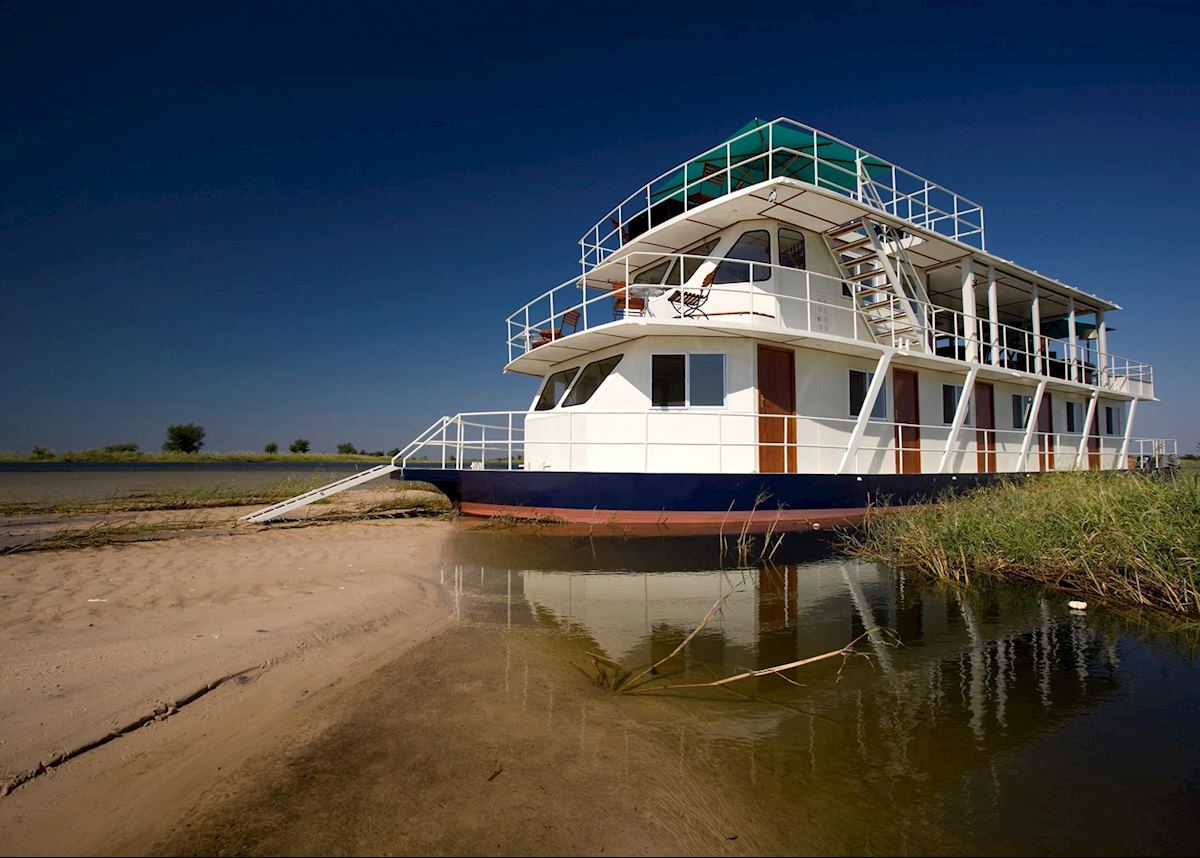 Pangolin Voyager Houseboat , Impalila Island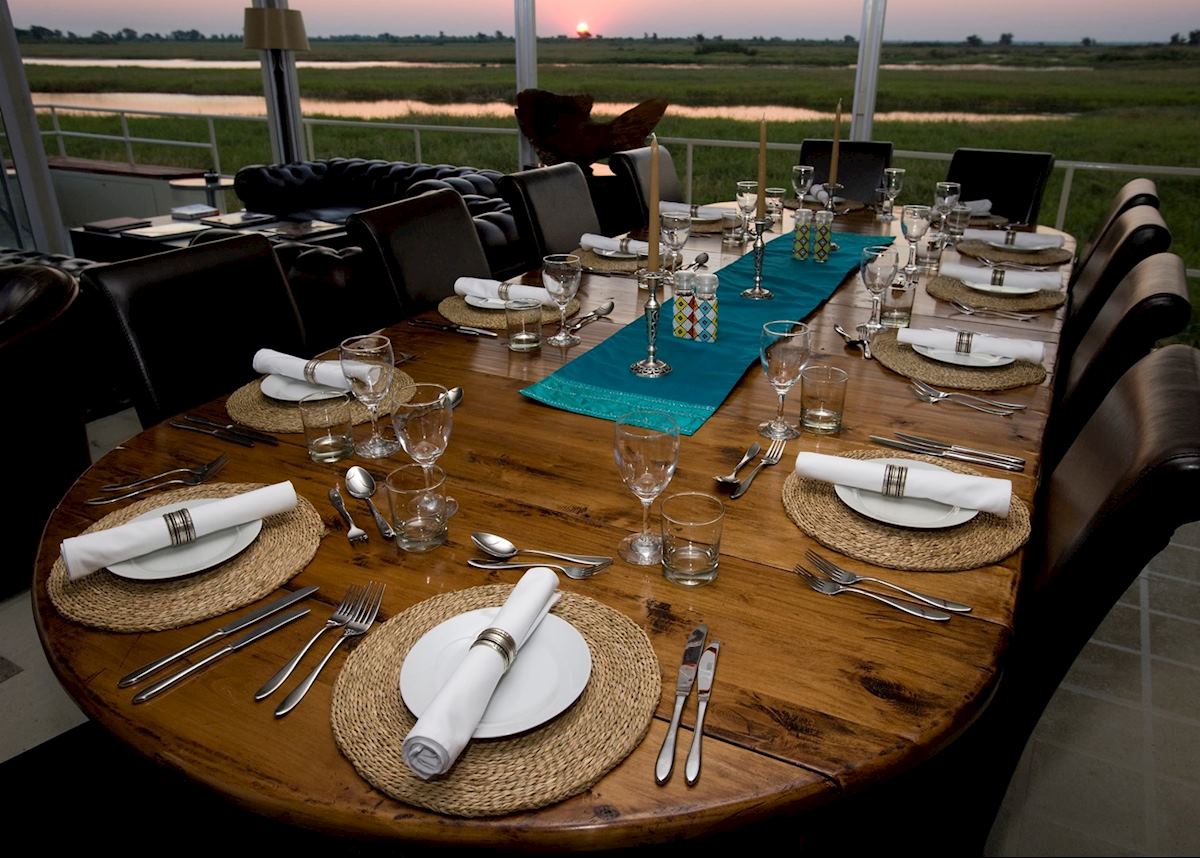 Al fresco dining aboard the Zambezi Voyager
Life on board
Looking after all your needs
There are eight staff members to tend to all guests needs, this includes the captain, a hostess, a chef and deckhands. Each cabin can have its own guide and tender boat should you wish to go on a private boat or fishing trip. At night when the houseboat is moored, the guides stay on another boat.
Relax on board
The main covered deck is very open and combines both relaxing lounge and dining areas that have views of the waterways. With deep leather sofas and an open plan kitchen, there is a comfortable and relaxed feel on board the Zambezi Voyager. In addition, a professional chef provides diverse and fabulous food and the open deck at the top is another space in which to relax on sun loungers or in the Jacuzzi.
En-suite cabins
The en-suite cabins are found on the lower deck and can convert to twin or double beds. Stretching from port to starboard, a breeze can blow through each spacious berth which is decorated in neutral tones, while beds are made up with hand-made linen and the compact bathrooms have a shower, toilet and washbasin.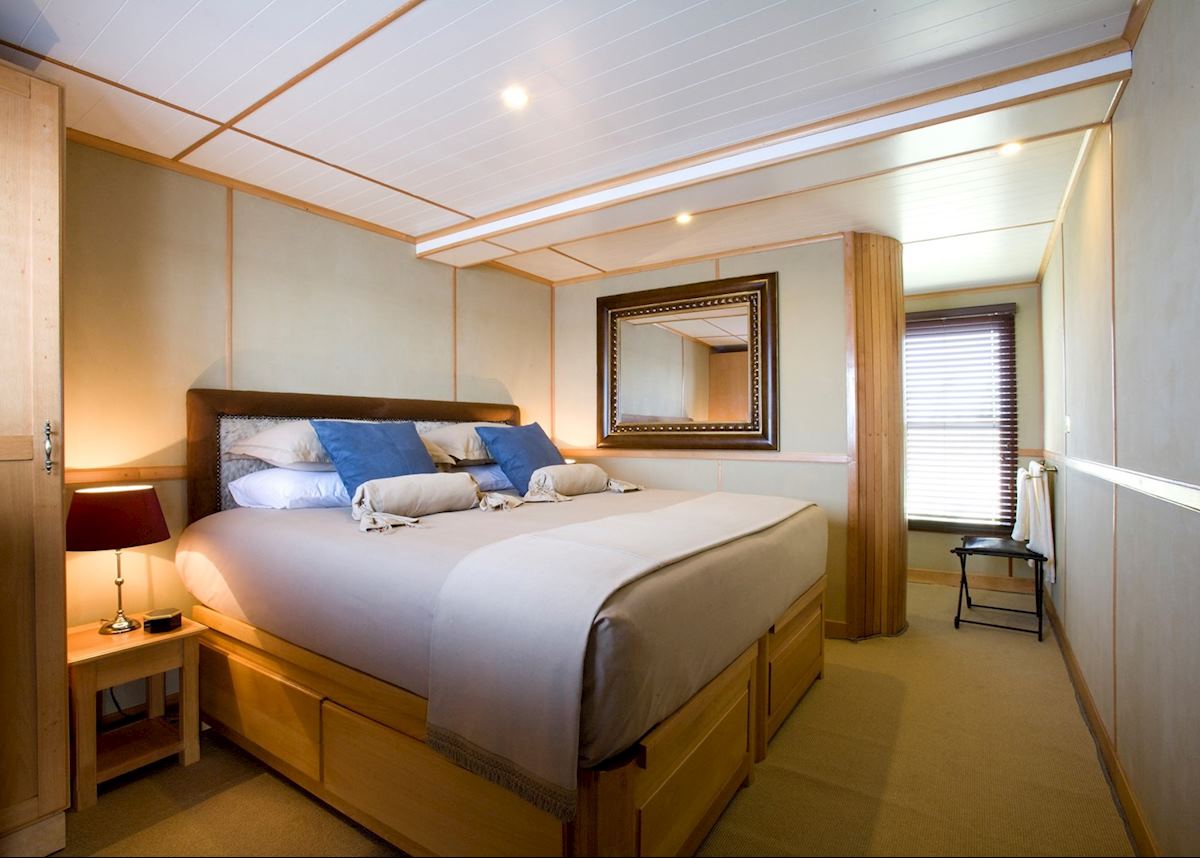 One of the  Zambezi Voyager's cabins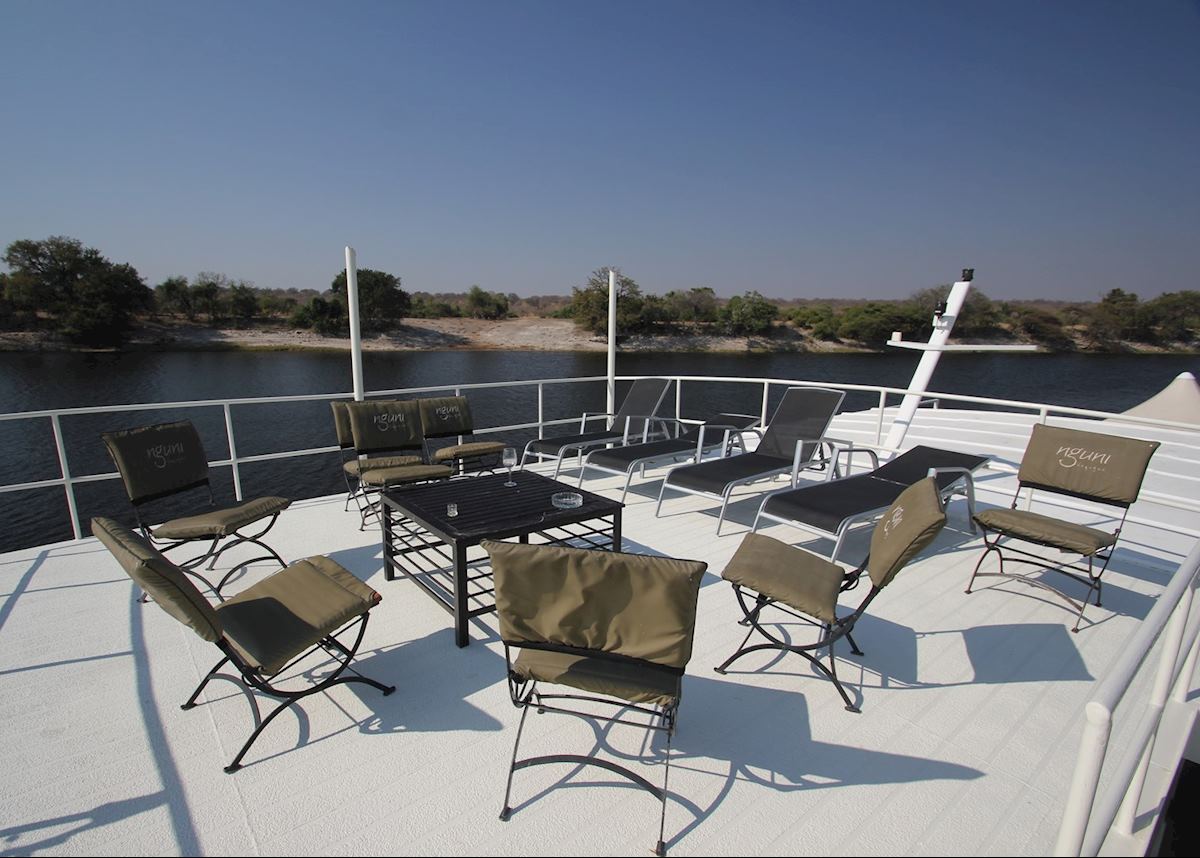 Pangolin Voyager Houseboat , Impalila Island
Away from the boat
During your time aboard the Zambezi Voyager, it is possible to leave the boat and take a smaller boat out for closer game encounters along the rivers edge, private birding, fly and conventional fishing trips as well as visiting a local village.
A game drive into the Chobe National Park can be arranged at an extra cost. Alternatively, you may wish to stay on the boat and enjoy the game-viewing from the top deck and relax for another African sundown.
The boat takes a maximum of ten people (unless you charter it privately) and due to the fact that people are often joining and leaving you won't necessarily share it with the same people for your entire trip nights.
We would recommend a three-night stay on the Zambezi.
Best time to travel
Botswana has a subtropical desert climate characterised by low rainfall and wide temperature fluctuations between day and night.
It has a dry season from May to October and a rainy season from November to April. If you are considering combining your Zambezi Voyager cruise with a trip to the Okavango Delta then it is worth bearing in mind the flood levels in the Delta.
The floods tend to arrive in June, creating flooded plains and deeper lagoons. The waters recede around November and more dry land is exposed. The floods can affect some boating activities in the Okavango Delta.
Just to be clear, the flood only affects the Delta and won't affect the Zambezi Voyager cruise.
Getting there
There are daily incoming and outgoing flights from Johannesburg (South Africa) to either, Victoria Falls (Zimbabwe), Livingstone (Zambia), or Kasane (Botswana).
Organised road transfers take you to the appropriate company representative who will facilitate the beginning of your beautiful river voyage to Zambezi Voyager.
Immigration formalities are taken care of by the transfer representatives.
Further Reading