Christine, South Africa Specialist
Christine's passion for travel started in the late 80's when she took up a position as an au pair in New Jersey, in the USA. She spent two years with a family who loved to travel — and luckily for her — required her services on their many trips across the country. Ever since this experience Christine's wanderlust has never wavered.
Of all the countries she has visited over the years there is just something about South Africa that keeps drawing her back. They call it the land of contrasts — and that's so true: beautiful contrasting scenery, fascinating culture, compelling history, friendly people and some of the best quality accommodation money can buy. Then there's the amazing food and fantastic wine — oh, and the wildlife.
Having worked as a Country Specialist at Audley several years now, Christine has revisited South Africa annually, extending her knowledge of properties as well as less travelled areas such as the Madikwe Game Reserve.
Speak to Christine

Start planning your trip to South Africa with Christine by calling 01993 838 531

South Africa
I love Paternoster! Visiting this small fishing village is like stepping back in time with its little white washed cottages lining the beautiful beaches. It's such a close and friendly community; I've been a couple of times, with a seven year gap between visits. I found it really reassuring on my second visit that nothing had changed during this time.
Columbine Nature Reserve is situated 3 km (1.8 miles) out of the Paternoster and it's around August and September that the whole area becomes covered in spectacular wildflowers. Those interested in bird life will also love it here.
Paternoster and the West Coast in general sees fewer visitors compared to other places so I would highly recommend it to anyone looking for some sea air and peace and quiet. It also has some wonderful fresh seafood, caught by the local fisherman and served in the characterful restaurants the same day.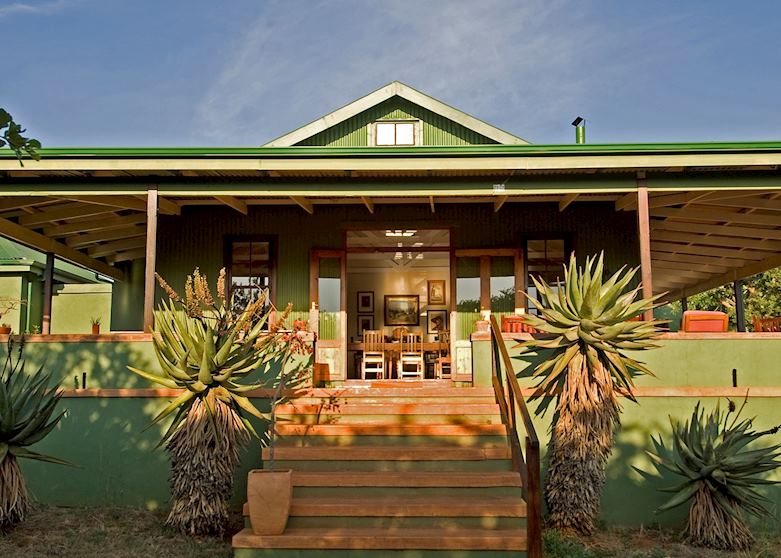 South Africa
Three Trees at Spioenkop, in the Drakensburg Mountains, overlooks the Boar War battlefield of the same name. It's a very intimate and relaxing place to spend some time and is also very sociable with everyone at the lodge sharing a table for dinner, enjoying the excellent food and sharing their travelling experiences.
The lodge also has an award-winning wine list. Simon and Cheryl are great hosts and have a huge amount of knowledge about South Africa, its history and of things to do in the area.
There is a walking safari from the lodge every afternoon where you have the opportunity to see big game such as rhino and giraffe. Push bikes are available for guests use and horse riding is also available on request.
I'll never forget when…
Tracking wild dogs at Savanna Lodge, Sabi Sands, close to Kruger National Park was really something special to remember. Having only just set off on a morning game drive we very quickly came across several wild dogs — sometimes referred to as African hunting, or African painted dogs — who were vocalizing to let their movements and location be known by the rest of the pack. They made a really unusual chirping or squeaking sound, similar to that of a bird. It was fascinating to see their behaviour and watch the pack grow in size. We tracked them for quite some time. The 4x4 off-road experience in itself was exhilarating enough and then to top it all off the dogs found a leopard which they then chased up a tree. Luckily, the leopard lived to see another day.