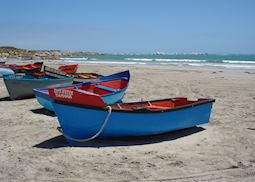 I love Paternoster! Visiting this small fishing village is like stepping back in time with its little whitewashed cottages lining the beautiful beaches. It's such a close and friendly community; I've been a couple of times, with a seven year gap between visits. I found it really reassuring on my second visit that nothing had changed during this time.
Columbine Nature Reserve is situated 3 km (1.8 miles) out of the Paternoster and it's around August and September that the whole area becomes covered in spectacular wildflowers. Those interested in birdlife will also love it here.
Paternoster and the West Coast in general sees fewer visitors compared to other places so I would highly recommend it to anyone looking for some sea air and peace and quiet. It also has some wonderful fresh seafood, caught by the local fisherman and served in the characterful restaurants the same day.