Joshua, Africa Safari Specialist
I first visited Africa in 2015 when I volunteered on an anti-poaching unit in Mpumalanga, South Africa. While there, my passion for the continent was ignited and I never looked back.
I studied graphic design at university and my love for safari came through in my work. I began to manipulate briefs to create visual campaigns for African tourism and conservation initiatives and took every opportunity I could to get back to Africa, visiting nine other countries since my first trip.
The mix of culture, scenery and wildlife in Africa is magical and captured my heart and my imagination. I find certain combinations of conditions in Africa create an evocative sensory stimulus that simply cannot be replicated elsewhere. For me, the atmosphere created by the smell of wild sage coupled with the call of a turtle dove as you begin your morning's safari is something that remains the quintessential essence of Africa.
Speak to Joshua

Start planning your trip to Africa with Joshua by calling 01993 838 573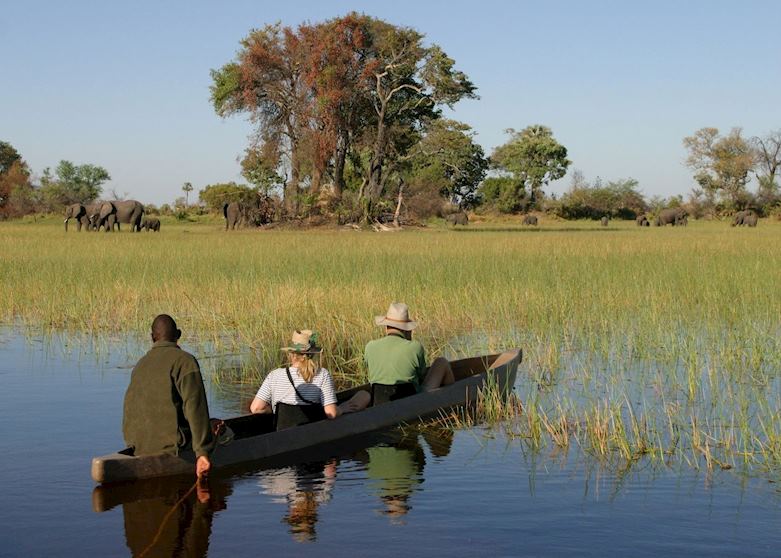 Botswana
The Okavango Delta offers a safari experience beyond compare. Gliding silently through the waterways in a mokoro, a traditional dugout canoe, offers the chance to see the magical birdlife up close, while a scenic flight over the labyrinth of flooded waterways and scattered islands gives an idea of the sheer scale of the wilderness. I'd recommend visiting the private Khwai Concession and the Moremi Game Reserve because of their denser populations of game. Mokoro trips are a highlight in these areas and you'll also get a good connection to local culture with many traditional villages located alongside the lodges.
Botswana
Regardless of how many times I visit, Ngoma Safari Lodge in Botswana remains one of the most impressive African lodges I've stayed at. Looking across the Chobe floodplain is endlessly engaging. You'll often spot a pride of lions prowling, a herd of elephants grazing or a pack of wild dogs occupying the area, and the cheeky cattle stop at nothing in their tireless search for sweeter grass. It's a small and intimate camp set around a waterhole which ensures personal service and prime wildlife viewing. Sitting at the bar sharing safari stories as the sun goes down will forever be a treasured memory of mine.
I'll never forget when…
One day while working in southern Africa the head guide picked me up unexpectedly shouting, 'Josh, there's a pangolin let's go!' I rushed out to join him but forgot my camera. I was devastated to think I'd missed the chance to document my first pangolin sighting but when we arrived it was obvious the pangolin was dangerously disorientated. We quickly picked it up and relocated it to a safer area. I did end up getting some photos, but knowing I was a part of helping such an endangered animal is far more important and something that will always bring a smile to my face.