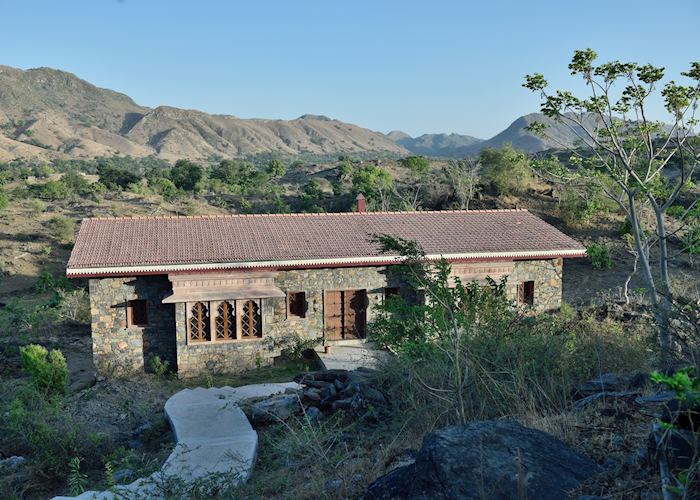 Stay at Araveli Cottages and Tented Camp
Surrounded by the picturesque hills of Rajasthan, the Araveli Cottages and Tented Camp is firmly connected to the local community and a highly rewarding place to stay. In addition to extremely comfortable accommodation, you have the opportunity to meet and interact with local villagers in a meaningful way and gain a unique insight into their colorful world.
Araveli Cottages and Tented Camp, India
Araveli is committed to improving life for local people, breaking the cycle of poverty and providing access to education, clean water and health care. A stay here offers a chance to soak up Indian culture and immerse yourself in local life while based in an oasis of tranquility set deep in Rajasthan's Araveli hills. The stylish tents and cottages are set in over ten acres of lush private grounds with plenty of communal space for guests to share stories under arched pavilions should they wish. The spacious tents are extremely high quality and solidly constructed with tasteful decor, locally-made furniture and plenty of character. All are en suite and have hot running water and round the clock electricity.
The cottages are similarly styled with exposed stone walls, tiled floors and private verandas offering spectacular views of the mountains. Each cottage has a generous central area featuring local artworks and two large bedrooms with en suite bathrooms. An excellent choice for families, the cottages are also an extremely comfortable option for couples with ample space to retreat to your own quarters as well as the communal central area to share if the second room is also occupied.
Although there are many interesting options for activities while here, Araveli's gardens and their tranquil lake are a wonderful place to just relax with a book. The picturesque courtyard dining pavilion is set on higher ground and offers beautiful views over the lawns. Food is a real highlight, and guests enjoy a wonderful introduction to the exotic flavors and dishes of Rajasthan with a variety of Indian dishes to choose from, plenty of fresh fruit and vegetables, as well as Western favorites. Dinner is often followed by a colorful local folk dance performance.
Araveli is operated by Me to We, the social business arm of the development charity Free the Children. Local people are employed in the running of the accommodation and experiences for visitors. The projects you see and are involved in are supported by Free the Children. Their development model aims to break the cycle of acute poverty and make communities self-sufficient by increasing education levels, improving access to clean water and sanitation, improving crop diversity and reliability, and providing access to basic healthcare. Me to We's profits are re-invested in Free the Children projects around the world.
A stay here is centered around learning about local life by spending time with villagers, finding out about their daily lives and the challenges they face in securing an education for their children, accessing clean water and health care, and developing alternative sources of income. The villagers will welcome you with a Poja, a traditional Hindu prayer ceremony to ensure success and prosperity, and you can spend time doing daily chores such as collecting water, making roti and chapatti, and feeding animals. These very practical tasks offer the chance to learn about the frugal nature of life here and how sustainability is seen as a communal responsibility, matters which often prompt vibrant discussions on social issues. You can also visit local markets, take a guided nature walk in the foothills, try your hand at Mewari art, one of the most influential schools of miniature painting, learn some Bollywood dance moves, or if you wish, get involved in a more practical way in essential building projects.
Speak to someone
who's been there

Start planning your tailor-made trip by calling one of our India specialists at 1-855-838-8478