Josh, Latin America Specialist
Josh found his love for Latin America when he first studied abroad in Panama City. From this experience he went on to earn his degree in International Affairs. Learning about people, culture, and governments had captured his heart and mind.
Through this experience he realized that traveling was more than a vacation, but rather a better way to see and experience the world first-hand, instead of reading a text book. His friends coined him the nickname, "The Spontaneous Traveler"; traveling anywhere from Ireland to Israel and Dubai to Spain, even if it was last minute just to experience a new culture while staying off-the-beaten path.
After extensive worldwide travels, Latin America kept calling him back and now that Josh is at Audley he has the unique opportunity to share his passion for the continent with others.
Speak to Josh

Start planning your trip to South America with Josh by calling 1-855-402-2917

Peru
At around 11,000ft the thin air may make your head a little blurry but your view of the lovely hillside city of Cuzco will be crystal clear.
The Andean Mountains not only offered the perfect scenic backdrop to this magical place they were also the gateway to my own, very personal Machu Picchu experience. The energy and buzz around the city made it a very spiritual and unique experience. The Inca people who inhabited it definitely left their mark with architectural masterpieces such as Saksaywaman, Pisaq, and the Sacred Valley. The mix of Inca culture and Spanish influence is also evident if you spend time in the main square here. Coming from a Spanish household, the churches, squares and architecture reminded me of Seville in Spain. This cultural mixture is a microcosm for Peru as a whole. This is shown not only through language but a mix of indigenous cuisine.
Cuzco as a whole is a vibrant city with the most welcoming friendly people I have ever encountered.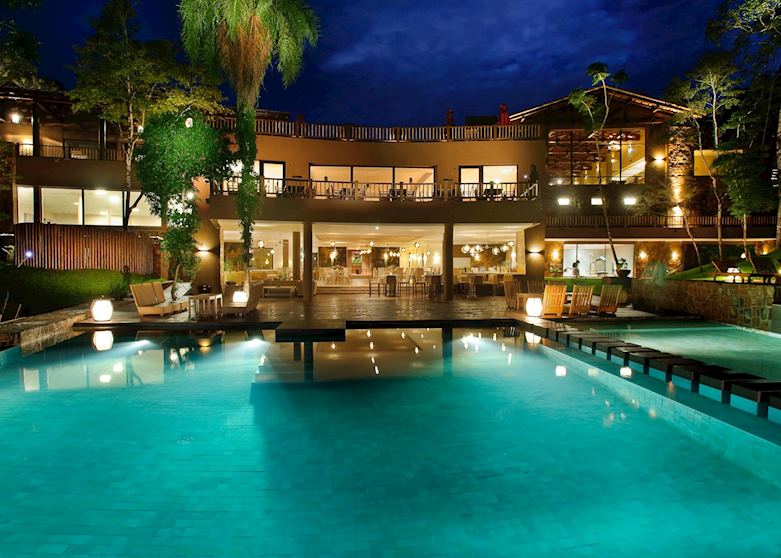 Argentina
Loi Suites is an amazing resort style hotel nestled in the Iryapú Jungle that boasts the perfect marriage of luxury with respect to nature.
To me, it almost seemed like a large tree house as the buildings are connected by suspension bridges. The rooms are well appointed and some have balconies. The overall theme of a modern jungle oasis is exemplified by the activities and amenities that are offered. My favorite part of the hotel were the pools, a wonderful way to relax after spending all day at the nearby Iguazu Falls.
Loi Suites is a perfect place no matter the occasion — fantastic restaurants, a first class spa and friendly staff, makes this the perfect place to start or end your Iguazu journey.
I'll never forget when…
Lima, Peru — or otherwise known as my food Mecca — was one of most amazing gastronomic experiences of my life. I am huge lover of food and the opportunity that presented itself here was incredible. An interesting fact: the 3rd, 8th and 35th best restaurants in the world are all located in Lima. Here, I was able to get into one of the best ceviche restaurants by Javier Wong and his restaurant Chez Wong. If that wasn't enough, later that night I was able to somehow find myself at the 35th best restaurant in the world, Astrid y Gaston. Chez Wong is such an unique experience, walking past it you may even miss it. Once inside, there are no menus, no thrills, just amazing food done the right way. The waiter asks if you would like ceviche (of course) and how many hot dishes you would like. You sit there surrounded by Chef Wong's many accolades and numerous celebrity photos, which set the expectations very high. Trust me, there is nothing like seeing the 70 something master chef cooking for you. Knowing how much of a passion he has for food comes through in all his dishes, which he exemplifies in letting each individual ingredient shine. Truly an once-in-a-lifetime experience.