A Boston native, Eric was first exposed to travel on a trip to Italy during high school. The travel bug had bitten, and he decided that exploration was a priority after graduating. Deferring his acceptance to college for a year, he got a work visa and headed for New Zealand, where he spent a year with a company building timber water tanks. He also had the chance to travel extensively around the whole country, both with work and independently.
Eric continued to feed his wanderlust by attending Napier University in Edinburgh, Scotland. Having studied Italian with Tourism Management, he spent his third year in Rimini, Italy. Upon graduating, he returned to Boston, working as a fundraiser and also in insurance. Realizing that his passion for travel wasn't being satisfied, he joined Audley when the opportunity arose. He's recently returned to New Zealand and also travelled extensively through Australia, learning vast amounts about its wildlife, ecology and history of its diverse indigenous peoples
Speak to Eric

Start planning your trip to Australasia with Eric by calling
1-844-250-3410


Recommend Eric to someone you know
Help your friends and family discover the world with Audley. Recommend Eric today.
Audley arranged 9 flights, 3 car rentals, 15 types of accommodation and more than 15 tours - and everything went smoothly.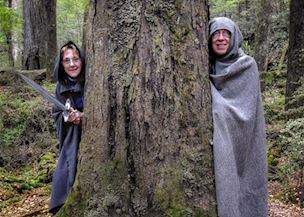 Ivars and Rebecca Zvirbulis traveled to Australia and New Zealand for 38 days in March 2016, organized by Eric
We were very impressed when at the last moment we wanted to make a change that required Audley to make several quick alterations to our itinerary and they were able to find both air reservations and hotel accommodations for us. The most impressive part was that Audley arranged 9 flights, 3 separate car rentals, 15 accommodations and over 15 tours, and everything went smoothly. We can truly say that our Audley specialist Eric patiently listened to our preferences and planned the trip consistently with our interests, mixed with his thoughtful recommendations. Virtually every day was a highlight.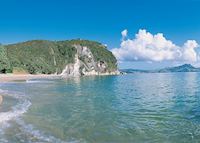 The Coromandel peninsula is a place of stark contrasts, balancing rigid yet lush mountaintops with breathtaking beaches. Going up the eastern side brings you past seemingly endless peaks, and right over a dormant volcanic crater. It's a geological treasure, which I believe is epitomized by the famous Hot Water Beach.
This beach gives you a first-hand encounter with our planet's geothermal activity, as there are three fissures below the beach from which superheated steam escapes from lava vents located three miles deep and a mile and a half out from the beach. Equipped with a shovel (or spade, as they say in New Zealand), you can dig in above the fissures, let the tidal waves fill the hole, and enjoy a hot spring experience unlike anywhere else on Earth.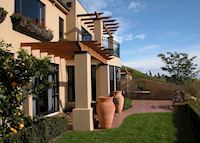 While the Bed and Breakfast is a long held institution in the realm of accommodation, the Breckenridge Lodge takes it to a whole new level! Owned and operated by renowned New Zealand chef Malcolm Redmond, this five room lodge offers a unique gastronomic experience.
Malcolm meets his guests for pre-dinner drinks to discuss culinary preferences, and creates a five course à la carte menu for you on the spot, then heads to the kitchen to cook it, complimenting each course with a local Hawke's Bay wine. If that's not enough, he spoils you even more with a delicious three course breakfast in the morning! He grows his produce on the property, sources all ingredients locally, and also has a stone oven on the premises. The lodge itself is nestled next to a picturesque vineyard, and only a quick drive away from Napier, Cape Kidnappers, and the Arataki Honey Farm, where you can get pure Manuka honey straight from the source.
I'll never forget when…
Jim Jim Falls in the Kakadu National Park is reached only by driving down a 4WD track during the dry season. The hike to the falls becomes more of a rock hop at the bottom of gorgeous rock escarpments. On the plus side, the rocky road to the falls makes it impassable to crocodiles, so the lagoon at the base of the falls is safe to swim in.

After a long tiring trek, plunging into the pure water was a welcoming rush, prompting me to swim out to the falls, where the mist created rainbows, which bounced across the rock formations. Lazily wading back, looking up at the falls and the surrounding reds and greens of the escarpments, was by far the most memorable swim of my life.