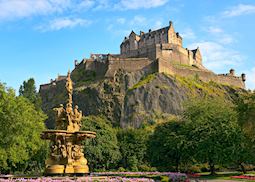 After years of hearing rave reviews, Edinburgh exceeded all of my expectations. What I love most about the city is how simple it is to get around. The city itself is immensely walkable and because the majority of its attractions, restaurants, shops and hotels are all within the central district, it's quite easy to adapt and navigate without a guide or map.
The amount of activities are endless, whether you're interested in a food tour through the old cobblestone streets, a ghost tour venturing into the underground vaults beneath the city, or visiting historical sites like Edinburgh Castle and Royal Mile.
My favorite spot in all of Edinburgh is the very top of Arthur's seat. Through some huffing and puffing, I conquered the climb to the summit and was immediately rewarded with magnificent views of the city and surrounding mountains.