Gavin, Italy Specialist
Growing up in Ireland I was fortunate to see a lot of Europe with my family, but after moving to the United States in high school I was itching to return.
In my junior year of college, I studied abroad in Florence, Italy. Not being able to study my major abroad meant I was able to indulge in cooking, culture and Renaissance art courses. Throughout the semester, I got to travel around Europe and fell in love with it all over again. I stayed in Italy that summer and worked for a local travel agency that provided services to overseas students. Upon graduating, I moved back to Italy for almost two more years of work and independent travel.
Now I'm working as a travel specialist, I'm excited to share my love for Italy and to help people experience the best the country has to offer.
Speak to Gavin

Start planning your trip to Europe with Gavin
Q&A with Gavin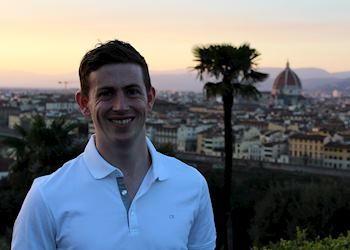 What's the best local dish you've tasted?
I was in the Osteria Pastella in Florence and ordered their renowned tagliatelle flambé al tartufo in crosta di Grana Padano (flambéed tagliatelle with a Grana Padano crust). Little did I know what a treat lay ahead. Brandy is poured onto a whole wheel of cheese and the server lights it, mixing the flaming brandy with the cheese as it melts. Then they add in fresh, homemade tagliatelle in a cream sauce along with locally produced truffle oil. Finally, fresh truffle is grated on top of the fresh pasta and cheese to create the best meal I have ever had in my life.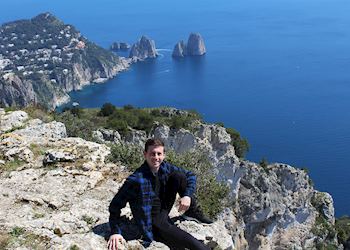 What's your most vivid travel moment?
Some of my fondest memories of living in Italy are of Capri on the Amalfi Coast. I can vividly remember my first time taking the chair lift to the peak of Mount Solaro, Capri's highest point. The views of the water, the island, the Amalfi Coast and Mount Vesuvius in the distance were breathtakingly beautiful. I felt a deep sense of awe as I wandered along the cliff tops looking down into the Tyrrhenian Sea, and even today, thinking back, it feels like one of those cinematic moments captured in time.
Where would you love to travel next?
Over my years living and working in Italy I saw almost every major town and city, but I was never fortunate enough to visit Sicily. I've heard the food, beaches and laid-back lifestyle are not to be missed, and that's before you ever consider the island's rich history and incredible architecture.