Sarah, Spain & Portugal Specialist
My passion for travel was sparked by my first trip to India and a subsequent gap semester spent in India and Thailand. Determined to continue exploring the world, I chose a university with a campus in Madrid. I spent nearly two years there, taking regular art history classes in the Prado and Museo Reina Sofia, living with a host family and exploring the Iberian Peninsula as well as the rest of Europe. I recently returned to Spain to walk the Camino de Santiago, a pilgrimage of nearly 1,000 kilometres, and hiking through regions and towns I'd never been to before gave me an entirely new appreciation for the land I consider to be a second home. I then worked in politics in the UK before moving to Los Angeles to pursue acting, but travel called me back, eventually bringing me to Audley.
Speak to Sarah

Start planning your trip to Europe with Sarah
Q&A with Sarah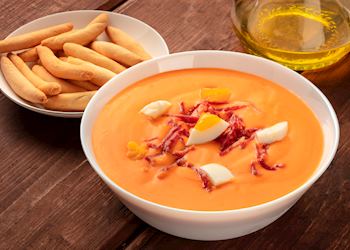 What's the best local dish you've tasted?
Salmorejo is a cold Andalusian soup that originates from Córdoba where they have the recipe painted on a wall in the heart of the city. I'm not normally a big fan of soups, but when I'm in southern Spain, especially in the summer, I find myself drawn to this one. It's thick and creamy, and made with ripe tomatoes blended with a punch of garlic and rich Spanish olive oil. It also usually comes with a hard-boiled egg and some of Spain's famed jamón. In the summer, this cold soup is refreshing, but its rich layers of depth are equally as delicious in winter.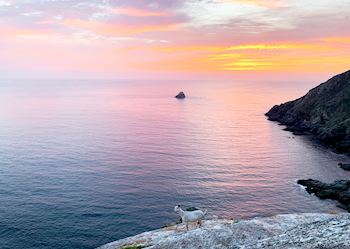 What's your most vivid travel moment?
I was standing at what felt like the end of the world after walking nearly 1,000 km across the mountains and plains of northern Spain. Following the sun each day as it moved from east to west, I'd reached Finisterre and stood staring out to sea as the sun set on my final day of the Camino de Santiago. Baby goats tumbled playfully nearby, and next to me stood two people who were strangers a month before but were now like brothers to me. This is the true gift of travel: not just the places you go but the people you meet along the way.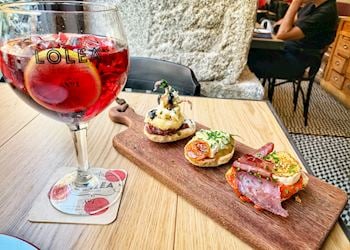 Your best piece of travel advice?
If you're an adventurous eater, looking for a local cultural experience and want a lower cost option for dinner, I'd recommend trying tapas hopping like a local. While not observed to the same extent all over Spain, the process doesn't require you to order any food, just order a drink and you'll generally be given some free food to go with it. In Madrid, it may just be a bowl of olives, but in Granada, you'll probably get a small plate of the house specialty. Once you've finished, head to the next bar, buy another drink and the process starts all over again.