Elizabeth's love of travel began at the age of six, when her family moved from Taiwan to the United States, settling down in Houston, Texas. Since then, Elizabeth's life has been an amalgamation of Eastern and Western influences and this bicultural lifestyle has inspired her to explore other countries, taste different cuisines, seek new experiences, and further her knowledge of the world.
Her first international trip was to Japan and since then, Elizabeth has visited repeatedly both independently and with family, exploring all the marvels the country has to offer from strolling through the gorgeous temple complexes in Kyoto to soaking in the bright lights, noise, and wonder of Tokyo, and discovering all the fantastic sites in between. Her real passion involves consuming the vast variety of Japanese cuisine: she has dined on haute cuisine at Michelin-starred kaiseki restaurants, slurped ramen at a standing stall, and devoured mouth-watering bento boxes in the quiet comfort of a bullet train.
Prior to joining Audley, Elizabeth studied at Boston University, receiving degrees in both Business and Art History and she is now based in beautiful (and snowy) Boston. She worked in hospitality and art before finding her calling in the travel industry. When she's not sharing her love of travel, she can be found wandering through museums, eating voraciously, and trying her hand at painting. She also enjoys swimming, dancing, watching Netflix, and hiking in the hills near her home.
Speak to Elizabeth
Start planning your trip to Japan with Elizabeth by calling
1-855-787-5606

Recommend Elizabeth to someone you know
Help your friends and family discover the world with Audley. Recommend Elizabeth today.
Overall, every moment of my trip was great.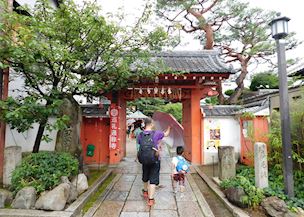 Erica A. traveled to Japan for 11 days in July 2016, organized by Elizabeth J
Overall, every moment of my trip was great, there were so many enjoyable memories. I had such an amazing time. I expressed a desire to see anime pop culture in Tokyo and my specialist Liz even set up an afternoon tour to allow me time to explore hot spots for anime culture, as well as popular spots for locals and tourists.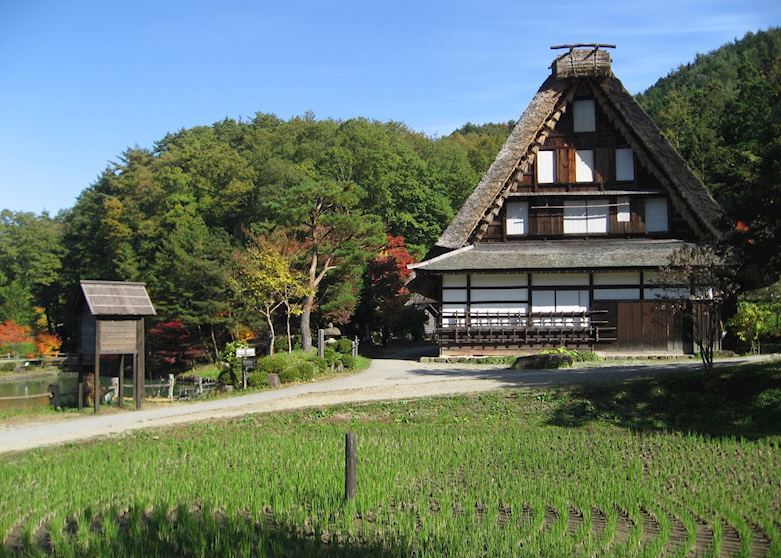 Japan
Takayama is a charming town in the Hida region near the northern Japanese Alps that boasts beautifully preserved buildings from the Edo Period (1600-1868). Simply walking through these streets transports you to a different era. Takayama also has a gentle walking course that circumvents the town while passing through dozens of shrines and temples. This gives you a glimpse into the extensive, peaceful side of Japan. Furthermore, one of the most popular biannual festivals in Japan is held in Takayama, which means the festival museum is a great way to see the grandiosity of the floats. Lastly, having grown up in Texas, I know good beef, and I highly recommend Takayama's Hida beef for its buttery texture and delicious marbling. The combination of history, nature, culture, and food make Takayama an unforgettable gem on your Japanese journey.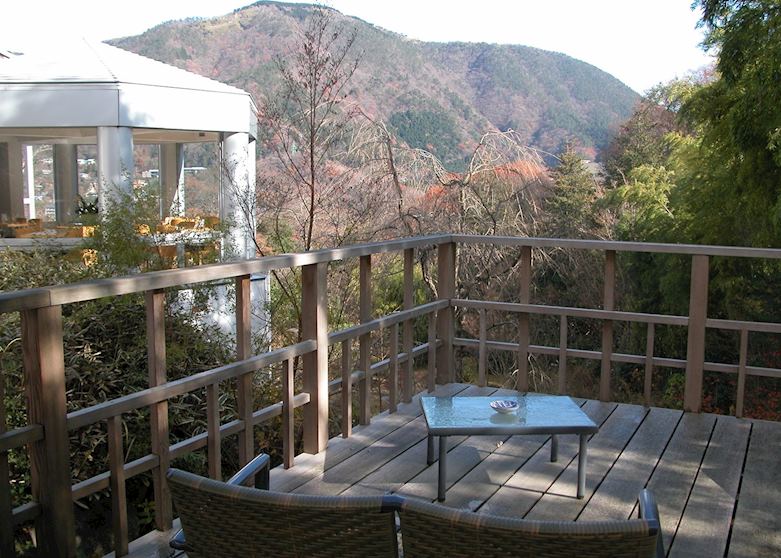 Japan
My favorite accommodation is the Gora Kadan, a luxurious ryokan known for its immaculate style, blending Japanese traditions with modern design, and their exemplary customer service. It has one of the best locations in Hakone, reflected in the fact that it is situated on the same site as the former villa for a member of the Imperial family. There are phenomenal mountain and garden views from each spacious room. Moreover, the food at this ryokan are absolutely top-notch, high-quality, and delicious. The emphasis here is on luxurious relaxation, and you will never want to leave!
I'll never forget when…
One of the most wonderful moments during my trip to Japan was meditating at Mount Koya, a small town that is the heart of Shingon Buddhism. The session was held in a 1200-year-old monastery and led by the only English-speaking monk around, who explained the fundamental concepts of meditation using real life examples. Afterwards, I had the opportunity to try meditating on my own with his instruction. As I sat there trying to focus on my breath, I instead noticed the soft glow of the flickering candles, the soothing aroma from the incense, and the sudden itch on my nose. My wandering mind was my largest obstacle but little by little I was able to concentrate again. Although I didn't reach enlightenment during that session, I was wholly immersed in the moment and left the session feeling calm, present, alive.