Georgia's love for all things Hispanic started from a young age. During her gap year before university she independently organised a trip to Mexico where she flew out on her own, worked in an orphanage for three months, and then travelled with new friends throughout the country for another two months.
She studied Spanish and Portuguese at Nottingham University, which involved learning all about the culture, art, history, literature and cinema of every country where Portuguese and Spanish are spoken, as well as becoming fluent in both languages. During her compulsory third year abroad she spent six months studying and living in southern Spain, followed by five months working and travelling around Brazil.
After recently graduating from university she has returned to Brazil and also travelled to Argentina with Audley, getting to know both countries very well and loving every minute of experiencing the culture and the people that she has encountered.
Speak to someone who's been there
Start planning your tailor-made trip by calling one of our destination specialists at 1-855-838-8600

Recommend Georgia to someone you know
Help your friends and family discover the world with Audley. Recommend Georgia today.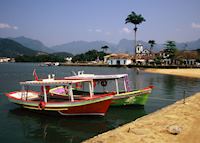 My favourite destination is the small colonial town of Paraty, located about a four hour drive south of Rio de Janeiro. Paraty is a tiny colonial town, unchanged since the seventeenth/eighteenth centuries, with characterful cobbled streets and endless churches. Due to its location right on the coast, the town floods twice a day, which makes it an exciting and different place to visit, and attributes to its informal status as the 'Venice of Brazil'.
It is important to remember this aspect and to borrow wellies from your hotel if they offer them as (from personal experience) it is easy to return to the hotel after a wander around town and be confronted by a river to cross to get from one side of the street to the other. The town has a traditional and relaxed feel and the coastal scenery is just beautiful. As with all Brazilian destinations the locals are extra friendly and always up for a laugh. Paraty is best visited during the Brazilian spring/summer or during the annual literary festival which brings a lot of people and activity to the town in July.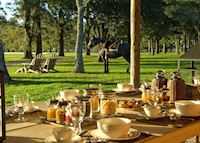 It has to be the Estancia La Bamba de Acero outside Buenos Aires. Located only about an hour and a half by car from the capital, the Estancia maintains a really traditional Argentinian gaucho feel while providing luxury, and some of the best service I experienced on my travels.
As soon as you arrive the staff (including a gaucho) line up to greet you with warm towels to wash your hands. The grounds are absolutely stunning, with impeccably mowed lawns and two polo pitches. The food is phenomenal: three courses including traditional Argentine steak and wine for supper and a massive BBQ for lunch. Excursions possible include horse-back riding, riding in the estancia's carriage, watching a horse-whisperer in action, or relaxing by the garden pool. At supper the guests sit together in a beautiful dining room, which is a really lovely way to meet people and the atmosphere is friendly and relaxed.
I'll never forget when…
Although almost impossible to choose, one of my most memorable travel experiences has to be mini-trekking on the Perito Moreno glacier in El Calafate, Patagonia. The third biggest glacier in the world, Perito Moreno is really impressive, and nothing like I have ever seen before. Patagonia in general is one of the most beautiful places to visit, and El Calafate is a lovely town surrounded by mountains and lakes.

As you trek on the glacier you pass deep crevices and turquoise pools, which you can drink from, and at the top the guides give you whiskey, using bits of the glacier as ice. After the trekking you can go on a trail where from several 'balconies' you have remarkable views of the glacier in its entirety. Often you can witness pieces falling off, making sounds comparable to thunder or gunshots. The tour from start to finish lasts about four hours and it is definitely best to go as early as possible so as to miss the majority of the crowds.