George, USA Specialist
George's first experience of the US came when he went to university in Milwaukee, having been recruited to play basketball on a scholarship. Upon graduating with a degree in International Business, he moved to Chicago for three years, working in sales for an events company.
Wanting to see more of the world he has been on two round-the-world trips, taking in India, Southeast Asia, Australia, New Zealand and South America. In addition, he continued to travel across the US, giving him a wealth of globetrotting experience and knowledge.
His passion for travel and experience from numerous international positions, inspired him to join Audley as a USA Specialist. Having lived in the United States on-and-off for a total of eight years, he now specialises in putting together tailor-made itineraries throughout the country. He recently spent a month on a work-related research trip along Route 66 and California.
Outside of work George is a big foodie, is into fitness and likes watching crime thriller TV shows.
Speak to George

Start planning your trip to Canada & the USA with George by calling 01993 838 732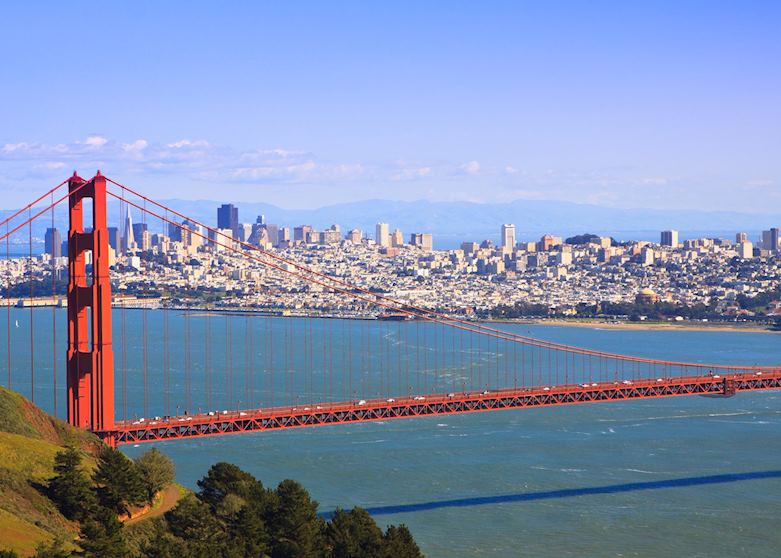 California
I do love exploring the wilderness, national parks and remote destinations, but at heart I'm a city person.
San Francisco is a fantastic mix of tourist attractions, museums and activities where one could easily spend a week and not see or do everything there is to do. In addition to loving cities, I also love the water - and cities on the water even better.
Positioned atop a peninsula along the coastline of California, San Francisco is surrounded by water in the Bay Area and the wide open pacific ocean to the west. Although it doesn't have the year round 25 degree temperatures of Southern California, it's pleasant throughout the year, especially in autumn when there's no humidity and the Golden Gate Bridge is clearly visible as it isn't engulfed by thick fog.
Overall, San Francisco just has a great vibe - friendly people, funky character with its hilly streets and quirky cafes and an energetic city atmosphere.
I'll never forget when…
I've been very fortunate to have sampled some of the world's best travel experiences but perhaps because it's been quite recent, a highlight for me was trekking down into the Grand Canyon. Although you can get a sense of its vastness from the South Rim trail and viewpoints, it's much easier to justify its status as a natural wonder of the world by spending a day trekking deep-down in the canyon. Both the Bright Angel and South Kaibab trails, offer challenging hikes as they are both quite steep in a lot of places, but for me, that's the attraction and excitement as I enjoy challenging hikes that give you a work-out. There are also stunning viewpoints throughout the trails; I found I was stopping every 100 yards or so to take pictures. Words or pictures can't put into context exactly how big or stunning the Canyon really is. Only when you trek into the Canyon, whether it's half-way or further, can you fully appreciate its beauty — an experience I'll never forget.