Visiting Ontario and Québec will give you the opportunity to see some of Canada's most renowned cites, such as Toronto, Ottawa (the capital), Québec City and Montréal. Along with First Nations culture, excellent wildlife viewing opportunities and iconic tourist spots, an itinerary covering these two vast regions combines into a memorable experience.
Start planning your trip to Ontario & Québec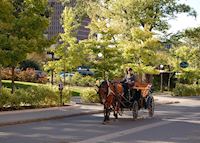 Explore some of the most delightful and varied scenery in Québec, including Québec City, the St. Lawrence River, the Saguenay Fjord and Lac St. Jean.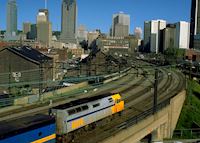 Explore the eclectic cities of eastern Canada by train on this 11 day trip.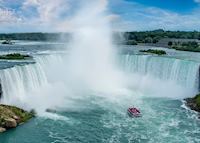 Explore the main highlights of Ontario including Toronto, Niagara Falls and Lake Huron with time to experience its most scenic provincial park.
---
Ontario
This huge province stretches from the Great Lakes on the USA border to the frozen shores of Hudson Bay.
Home to Canada's largest city, Toronto, and its capital, Ottawa, the province also boasts one of the world's great natural wonders, Niagara Falls.
Villages such as Niagara-on-the-Lake and Goderich can be combined with the wineries and birdlife of Pelee Island, the art scene of Prince Edward County and Manitoulin Island's, First Nations population who hold pow-wows of traditional dancing and singing throughout the summer months.
Killarney and Algonquin Provincial Parks offer wildlife viewing, canoeing and fishing. The remote north and west is a land of forest and tundra, with a vibrant Cree culture and important settler history including the Hudson Bay Company's first outpost at Moosonee.
Polar Bear Provincial Park covers thousands of square miles and visiting these remote areas by plane, train and boat opens up the possibility of wildlife viewing on both land and sea.
Québec
As the largest French-speaking region outside France and Canada's largest province, Québec offers a Gallic charm all of its own. This manifests itself in its culinary heritage of restaurants and pavement cafés.
Québec City is North America's only walled city and Montréal is a buzzing metropolis, but away from the urban centres, Québec Province spreads out across the vast tracts of tundra on the shores of Hudson Bay to the pastoral Eastern Townships.
The Laurentian Mountains are the playground of the Québecois throughout the year, while the St. Lawrence River is where the European settlers gained a foothold.
On the south shore the Gaspé Peninsula's mountains are draped in dense forests that grow down to the water's edge. The north shore is home to a thriving arts scene, the charming villages of Charlevoix and the Saguenay Fjord.
In the far north, expedition cruising departs from Kuujjuaq into the Arctic Circle to see polar bears, narwhal and Inuit culture while the Gulf of St. Lawrence is the seasonal home to blue, fin, humpback and beluga whales.
Our Ontario & Québec highlights
Go whale-watching in the Gulf of St Lawrence
Some of the best whale-watching in Canada can be enjoyed in the St Lawrence River, just three hours drive from Quebec City. Blue whales and humpacks are regular visitors, but if you are lucky, a real treat will be to see belugas. These arctic whales, famous for their unique white colour, are an amazing sight.
Spot moose in La Gaspésie
The Gaspé Peninsula is still largely undiscovered by tourism. The chance encounter with a blue whale or the more reliable sighting of a moose make this a great wilderness destination.
Hike through Le Parc National des Hautes-Gorges-de-la-Rivière-Malbaie
When visiting Charlevoix, be sure to spend a leisurely afternoon hiking through Le Parc National des Hautes-Gorges-de-la-Rivière-Malbaie, a region dominated by towering cliffs and serene lakes.
Attend the Festival of New France in Québec
The Festival of New France takes place in August each year and fills the streets of Old Quebec with costumed participants, traditional foods and colourful markets.
Some of our favourite places in Ontario & Québec
Great places to stay in Ontario & Québec