Alex, Africa Safari Specialist
Alex first visited Africa at the young age of 16 on a volunteering trip to Namibia, where he spent time renovating a school before touring the country by road. Despite falling in love with the African scenery and wildlife, Alex decided to go to university before undertaking any more travels and he graduated in 2010 with a degree in journalism.
After university he combined work and travel with a job at sea on board luxury cruise liners, travelling to the USA, Caribbean and Europe over two years. On his return, Alex decided the travel industry was the perfect career for him and joining Audley has meant being able to return to Namibia as well as travel extensively in Botswana and South Africa. In these countries he has experienced the wilderness of the Okavango Delta, the thundering sounds of Victoria Falls and the rugged scenery of Namibia.
In his spare time, Alex can often be found playing football or going cycling, as well as enjoying the food of a good country pub.
Speak to Alex

Start planning your trip to Africa with Alex by calling 01993 838 531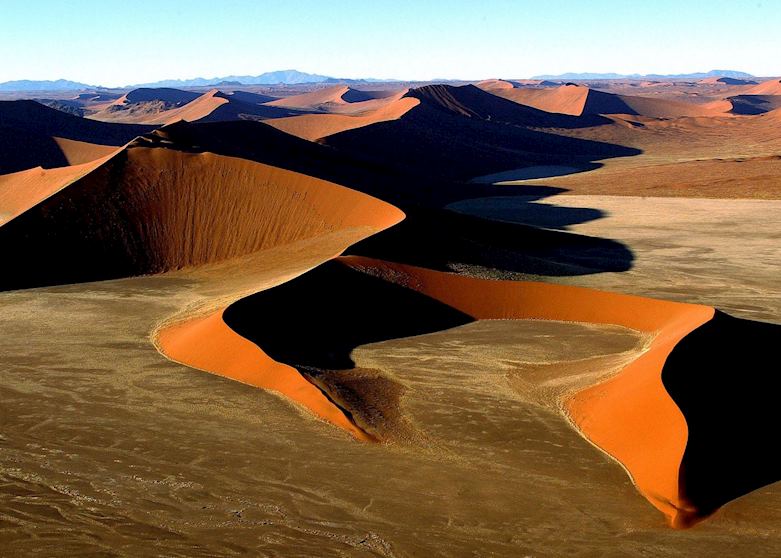 Namibia
You know when a place is special when it is impossible to take a poor photograph of it. The dunes at Sossusvlei is one of those places. There is something extraordinary about climbing one of the highest sand dunes in the world to watch the rising sun, transforming the dark grey desert landscape into a striking orange, clashing beautifully with the clear blue skies. It is no wonder why Sossusvlei is the most photographed place in Namibia, and there is nothing better after climbing one of the dunes than running down the steep sides knee deep in sand.
Botswana
Most camps in the Okavango Delta offer a very high standard of accommodation. However, Nxabega Camp is my favourite of the lot. It is situated in the heart of the delta where water levels are constantly high, meaning that the mokoro trips are a particular highlight. What really struck me about Nxabega Camp in particular were the friendly staff and guides, from a personalised welcome card on arrival to a fresh bottle of complimentary wine delivered to my room daily. The camp itself is also beautifully decorated as well as having a good sized swimming pool and delicious food.
I'll never forget when…
My most memorable experience was probably flying over the Okavango Delta for the first time during an air transfer to my safari camp. Seeing the delta from the air makes you appreciate just how incredibly vast it is and if you look carefully you will see herds of elephant, giraffe and zebra grazing on the plains. It was the perfect introduction to Botswana.