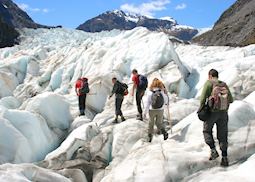 My favourite place has to be the west coast of the South Island of New Zealand, specifically the Franz Josef Glacier.
The west coast of New Zealand beholds some of the most strikingly beautiful scenery in the world. It's is one of few places in the world that you can hike across a glacier in the morning and then sit by the beach enjoying local seafood for lunch. The west coast sees dramatic snow capped mountain ranges melting into the wild Tasman Sea.
For those that enjoy less physically demanding excursions, Franz Josef is the ideal location to take a helicopter tour of the glacier and the rugged local surroundings. Enjoy this unique scenery from a completely new aerial perspective. The west coast is also home to numerous wildlife conservation projects, so it's a great spot to try and find the elusive kiwi bird.
The west coast of the South Island is a must on any self drive itinerary — it's one of the best road trips in the world.