Heli-hiking in Canada
Combine exhilarating helicopter flights and walking in otherwise inaccessible parts of Canada's beautiful Columbia mountains.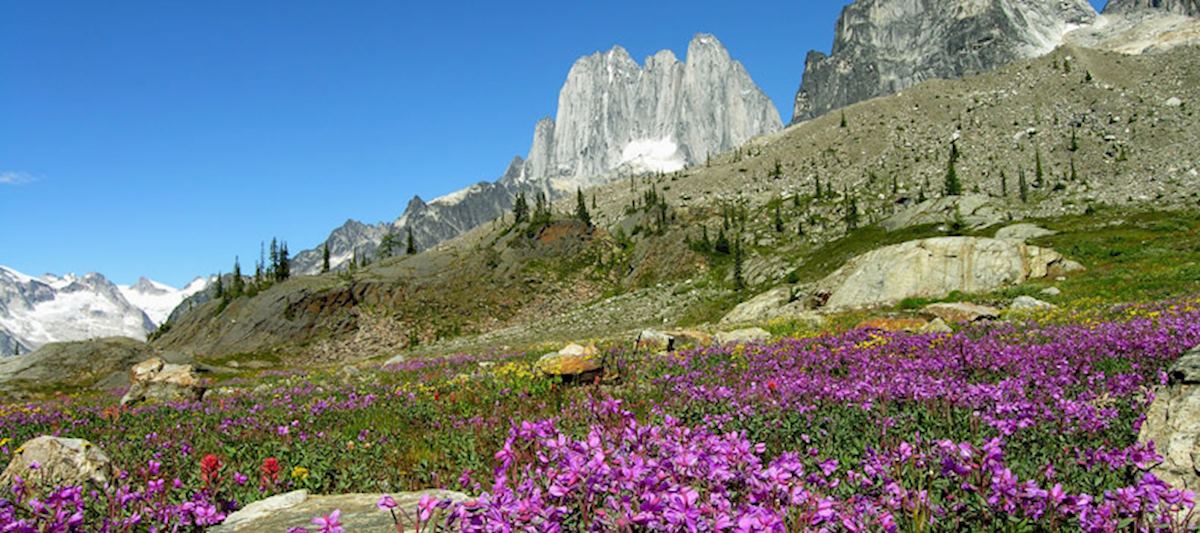 Wild flowers in Rockies, Alberta.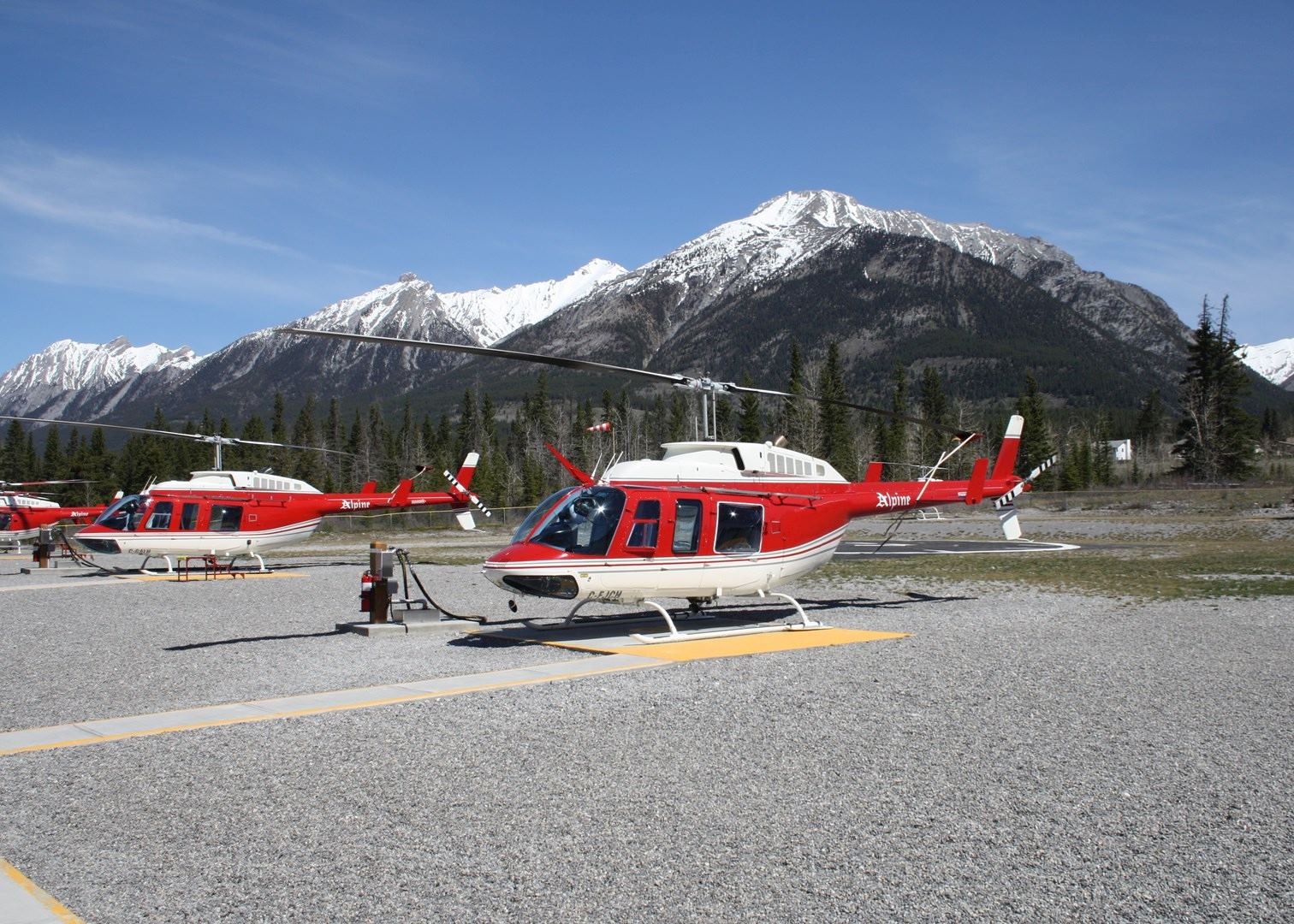 You don't need to be super-fit to reach alpine meadows ablaze with wild flowers, or mountain tops high above ancient blue glaciers in Canada — all you need is a helicopter.
These multi-day heli-hikes, which allow guests to experience the full diversity of alpine terrain in a short space of time and which would otherwise only be accessible after a long and sometimes arduous trek, are based at remote mountain lodges easily accessed by helicopter. Each day an exhilarating helicopter flight will whisk you to remote parts of the mountains where expert guides point out the marvels of a diverse range of flora and fauna.
Ability is not an issue, for whether you are in great physical shape and enjoy strenuous, fast-paced hiking, or you have no experience of hiking in the mountains, each trip and group is tailored to your preferred pace and expertise. In addition, families, couples or singles can all be catered for.
Because heli-hiking is done at a resort which specializes in the activity it involves trained, expert guides and professional helicopter pilots so there is no virtually no risk with the activity. The guide and the helicopter pilot work closely together to scout out the best routes and flight paths, and you need not fear getting lost as both the guide and the pilot are in constant communication with each other and the hiker never ventures far from the experienced guide.
FAQs
I'm not a hiker! Can I do this?
Whether it's a hike, walk, or amble, each heli-hiking day is tailored to all levels of fitness, experience, and age. The group is split as necessary so everyone can stay within their comfort level. All you really need is the ability to walk and the thirst for adventure.
I'm an experienced hiker. Will I be challenged?
Yes. The guides are experienced mountain people and they're ready to give you a good hiking workout.
Is heli-hiking suitable for families?
Absolutely. Every generation can create its own perfect day, from very young children to great-grandparents, with a wide range of activities for each to choose from. Regardless of age each time the verdict has been "We all had the time of our lives!".
How far do we hike each day?
Since hiking groups are based on ability and desires, the mileage varies quite a bit, from a kilometre or so (1/2 mile) to 15 kilometres (9 miles). You can do as much or as little as you want.
Why use a helicopter?
Because without helicopters the remote mountains would be essentially inaccessible except to a very few, hardy backpackers. Our short, concise flights take us to and from our secluded lodges, up to magic places utterly without roads, trails, or evidence of humanity. Helicopters also give us the ability to gently hop from one area to another during the day, visiting that meadow in sudden full bloom, and getting closer to that inviting little lake we saw to the east.
What about altitude?
Compared to other great ranges, the Canadian Rockies are relatively low. But because of their high latitude they're rich with glaciers and high mountain terrain usually found in loftier areas. The altitudes generally range from 1,800 metres to 2,700 metres (6,000- 9,000 feet), which are comfortable altitudes for just about everybody.
What's the weather like up there? And what if it rains?
Summer weather in the Canadian Rockies is generally sunny and pleasant. Temperatures range from highs of 10-29°C (50-85°F) during the day to lows of –1 to 15°C (30-60°F) at night. However, mountain weather doesn't follow strict rules so you'll be helped to prepare for cooler temperatures, rain, wind, and, every once in a while, snow. As long as it's safe to fly the helicopters (and the envelope isn't pushed when it comes to flying safety), you can hike in the rain, and have a great time doing it. The clothing and equipment is supplied to keep you comfortable, warm, and dry. Bottom line: the guides and staff always come up with something fun and interesting to do. Read our full guide about the best time to visit Canada.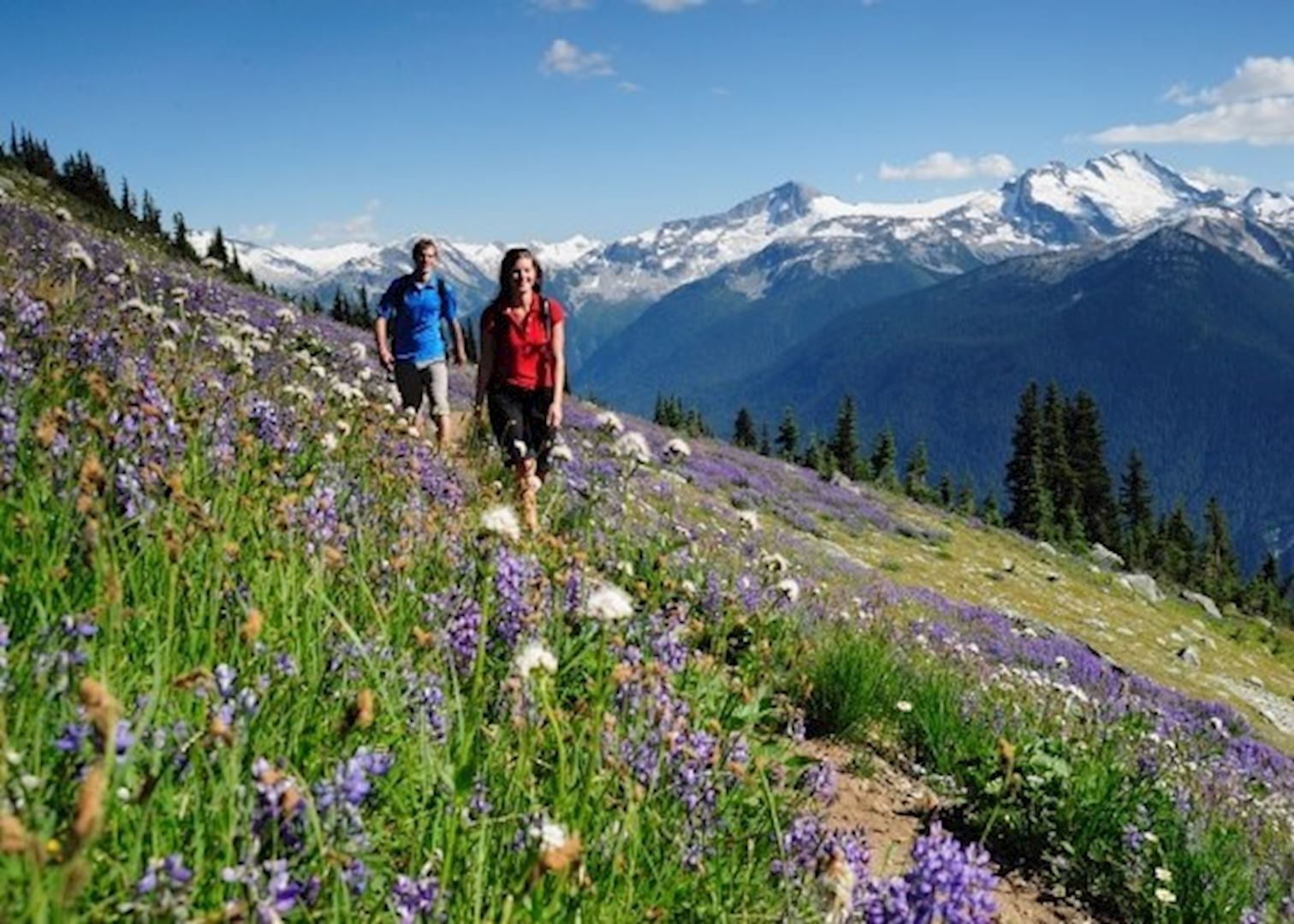 Canada
Close your eyes and imagine glacier-strewn mountains, rolling prairies, vast inland seas, ancient cultures, vibrant cities and untamed wildlife.
View our Canada holiday ideas