Northern Exposure: visiting Vietnam's final frontier
By Indochina specialist Hayley
Epic scenery, precariously perched villages and buzzing markets. Discerning visitors who venture north will discover that the land of the ascending dragon still has plenty of secrets to reveal.
Ha Giang has been described as the final frontier of Vietnam. I'd already long-fallen for this country's natural beauty, its abundance of historical and cultural sights, the craziness of its cities and ultimately for the kindness of the local people. But the chance to gain a further insight into the country through its little-visited northern border instantly sparked my interest. The question was whether Ha Giang could possibly live up to the hype?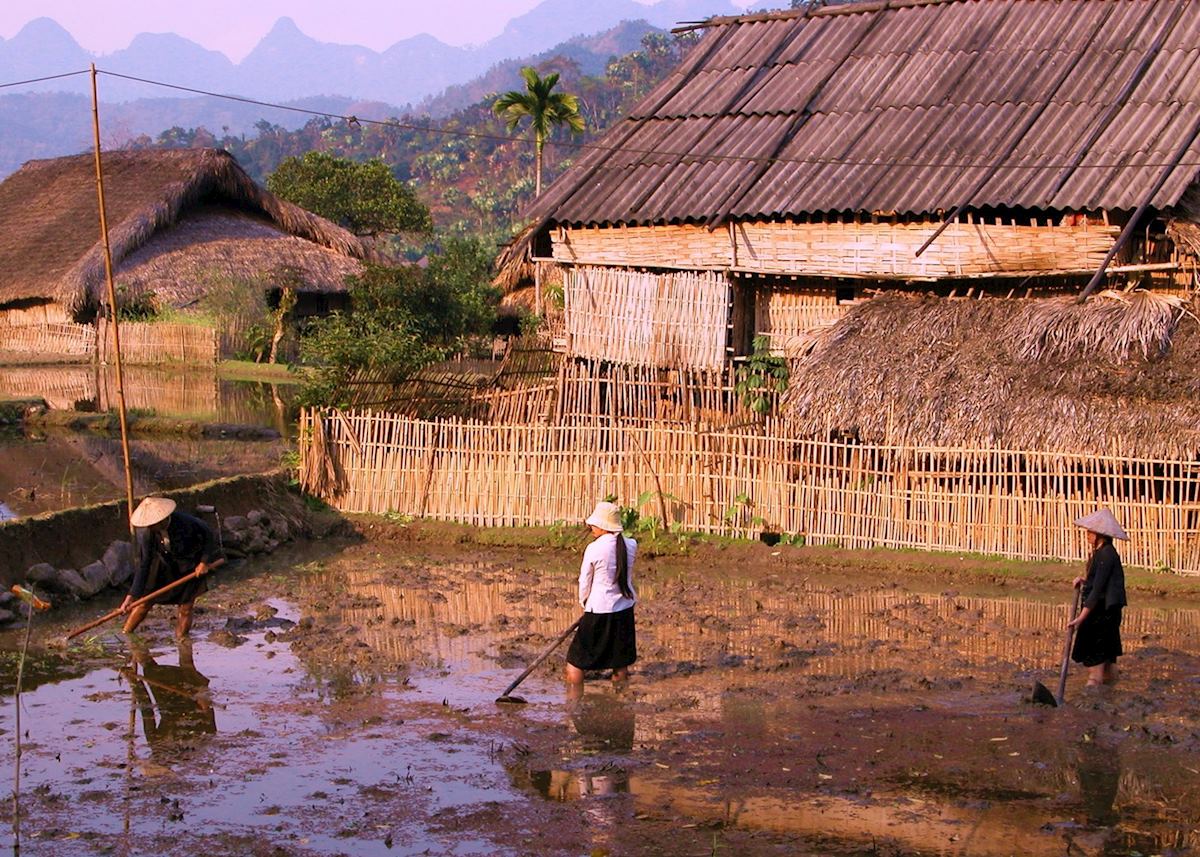 Ha Giang
Heading north
Ha Giang province in northeastern Vietnam provides the country's northernmost point before the border with China and its Yunnan province. It's the most remote and economically poorest part of the country, where the majority of residents come from one of the country's many ethnic minorities.
It also contains some of the most beautiful landscapes, with mountainous scenery, precariously embraced by rice terraces, forests and rural villages. Despite this, the province has remained out of reach for most independent explorers, largely due to a travel permit being required to visit. But the lack of visitors also remains one of its biggest draws.
Ha Giang town, a six-hour drive from Hanoi, is a fantastic base from which to explore this region. Recent developments to the road network have certainly helped to improve both the journey times and comfort levels, allowing my visit to the area to be as much about the journey as the destination. The scenery along the winding mountain passes was spectacular and a fantastic introduction of what to expect from this untouched part of the country.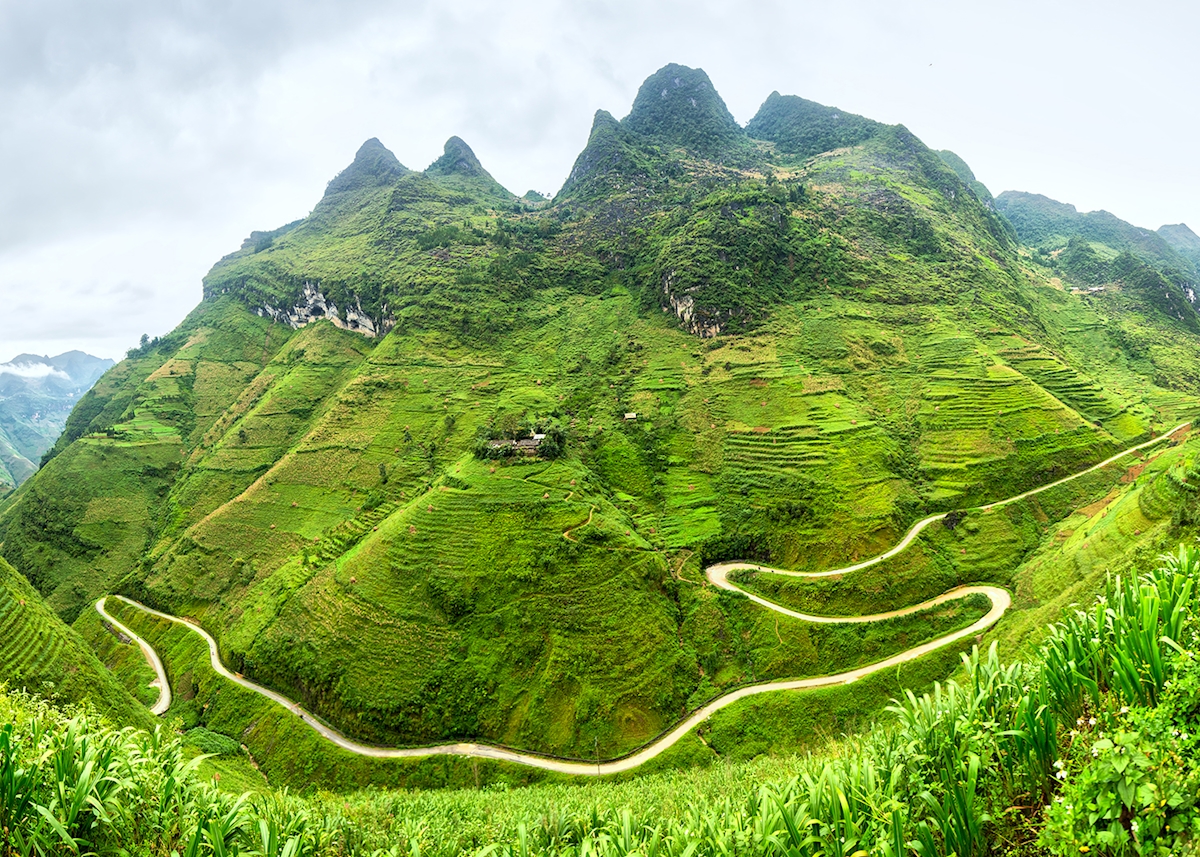 Winding path through northern Vietnam's valleys
The town is surrounded by countryside, for which I donned my walking boots to explore. Relying on traditional farming methods for their survival, the few rural villages are made up of wooden houses on stilts, which often house several generations of a family in just one room. After a light trek, my guide and I finished up at the Ha Thinh waterfall, a spot frequented by families on hot days, and perfect for photography.
Market values
From Ha Giang we headed north along the first of many dramatic mountain passes through the Dong Van Geopark, passing limestone peaks adorning the landscape, and remote villages clinging to the mountainside.
The Palace of the Hmong King in Sa Phin offered an interesting stop on the way to Dong Van. It's dedicated to the reign of the last ethnic minority king in Vietnam, who received visits from both the French colonial rulers and Ho Chi Minh, a Communist revolutionary leader who was prime minister and president of the Democratic Republic of Vietnam.
We headed north along the first of many dramatic mountain passes through the Dong Van Geopark, and passed remote villages clinging to the mountainside.
After a drive through the dramatic scenery, I arrived in Dong Van, situated 1,025 m (3362 ft) above sea level. It's a small town only 17 km (10 miles) from the Chinese border. It seems deceptively insignificant at first, but on Sundays the real reason for coming here becomes apparent. The weekly market draws local people from all ethnic minorities to buy and sell a huge array of goods.
The market is separated into areas; the noise from the many pigs, cows, chickens and birds being sold can be heard throughout. The real highlight lies in the vibrant attires being worn, mainly by the women, as each ethnic minority has a distinct outfit to identify its members.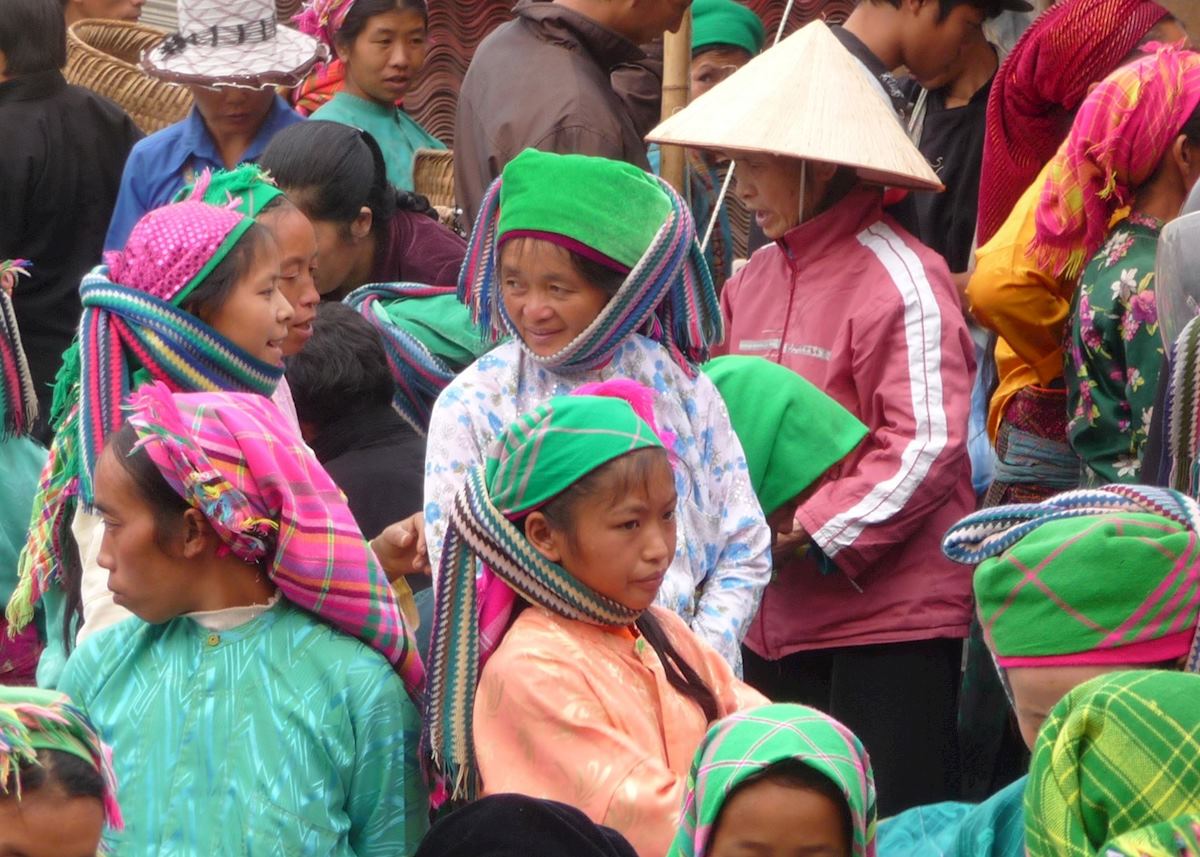 Dong Van Sunday market, Ha Giang province
My guide was able to differentiate between the Hmong, Dzao, Nung and black Lolo hilltribes by their dress and told me about the many traditions they each have.
We kept driving for an hour to a market in the Meo Vac district. The journey was the most beautiful of the trip, with the limestone karsts and dramatic gorges at their best. It also showed me just how far local villagers travel to the markets, up to 30 km (19 miles) by foot. Unlike the rest of Vietnam, motorbikes remain a luxury here.
When we arrived at the market in Meo Vac around midday, it was clear that the party was reaching its conclusion for a lot of the local men. The market is predominantly the women's domain, and the chance to catch up with friends over lunch. Conversely, for the men, the drinking of home-produced rice wine begins and ends very early on in the day. On the way into Meo Vac, we witnessed quite a few husbands being helped back home by very patient wives, carrying the weekly shopping in woven baskets on their back.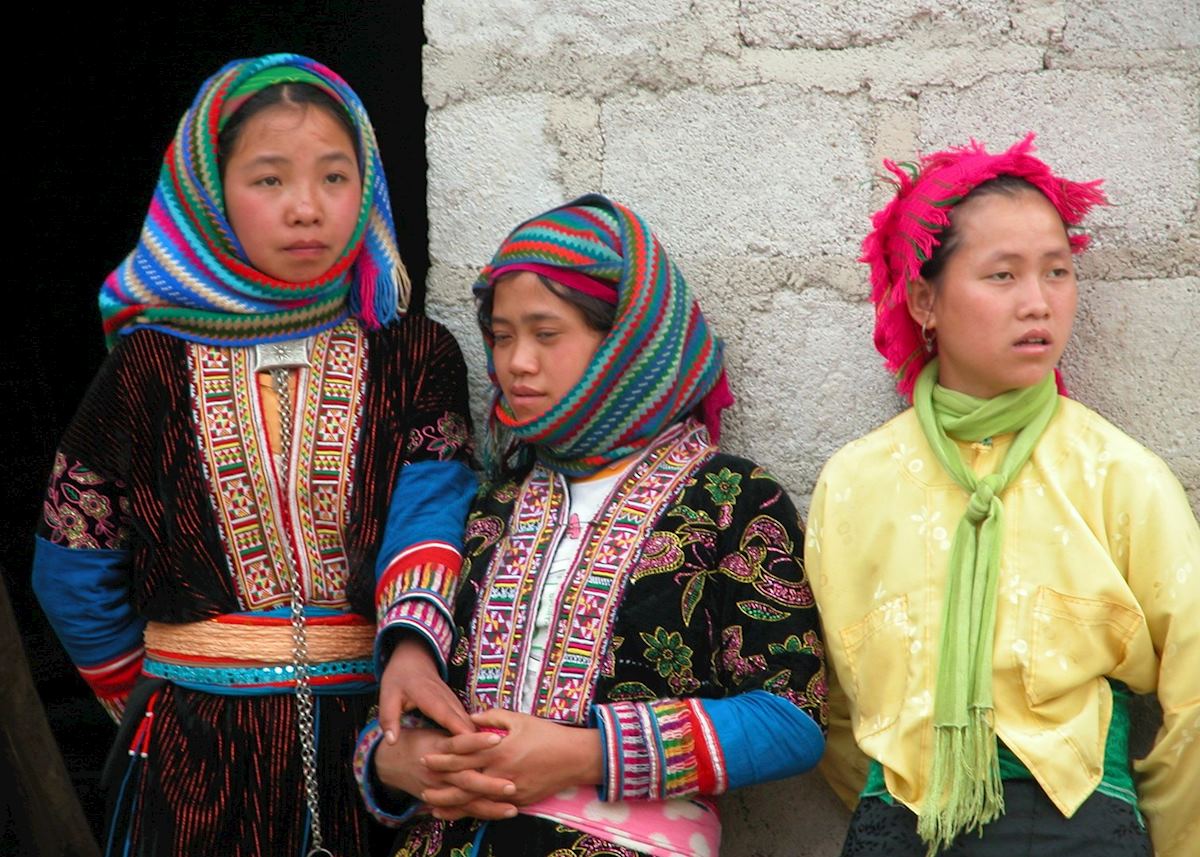 Local girls, Meo Vac's market, Ha Giang province
Hidden Ha Giang
After exploring the delights of the markets it was time to retire to the Auberge homestay in town, one of the more charming places to stay during a trip to northern Vietnam. This house has been lovingly restored by a local Hmong family and offers a characterful insight into life in Ha Giang. It's the ideal place to reflect upon what we'd seen. One thing that particularly struck me was the lack of fellow adventurers I'd seen.
The locals at the market showed at times a shy interest toward me, but were focused on going about their day. It felt a real pleasure to experience a way of life so different from anything I've experienced before, without feeling that I was a disruption in any way. My guide and I discussed this together over dinner with a sharing platter of delicious and notorious dishes typical of the northern provinces, such as banh canh (broth with noodles and pork) and bun rieu (soup with rice noodles and chicken).
It felt like a real pleasure to take in a way of life so different from anything I've experienced before, without feeling that I was a disruption in any way.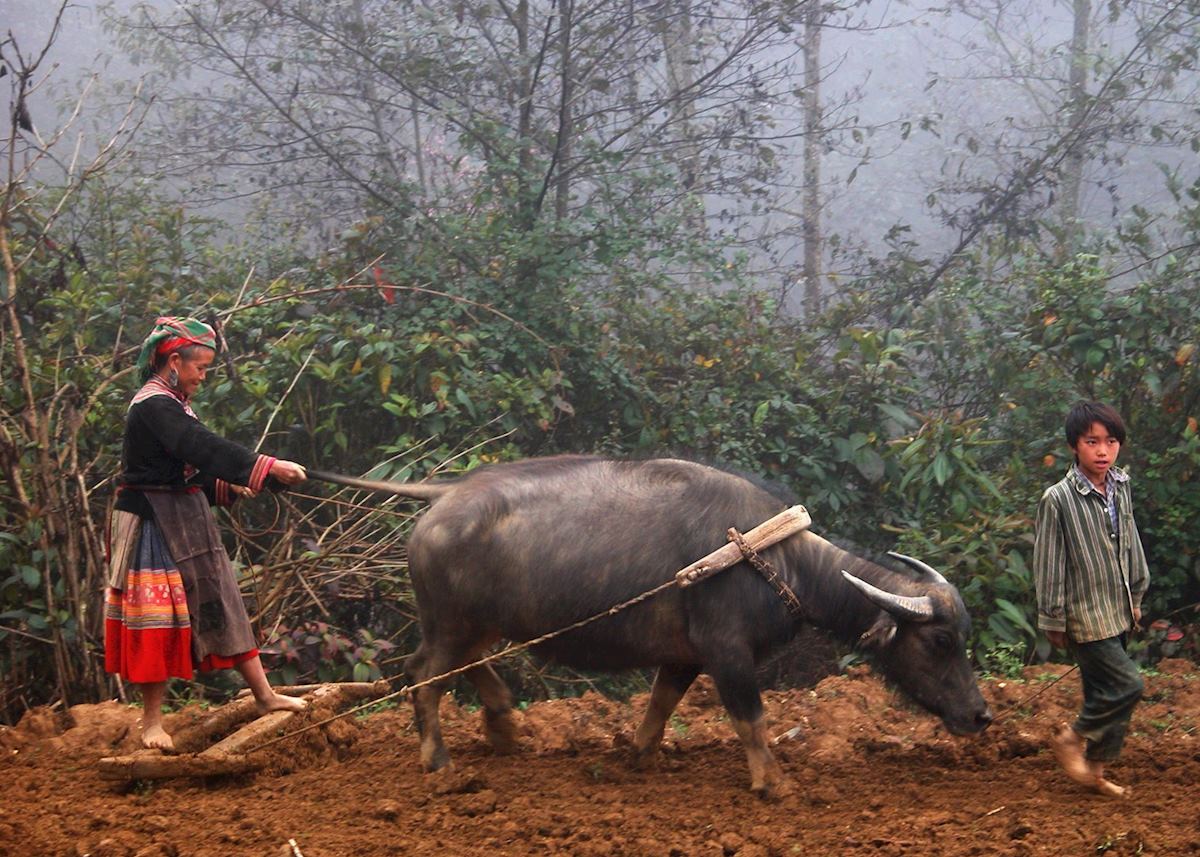 Farming in Ha Giang
The province of Ha Giang certainly showed itself to be an area of incredible natural beauty, thriving communities and a vibrant way of life that's very different to anything else on offer in Indochina. It offers visitors an authentic insight into a forgotten age with a rich cultural and geological heritage waiting to be explored.
Best of all, it appears that the secret is not yet out and visitors are yet to include Ha Giang on their list of must-see places. This may be due to the diversity that Vietnam already has to offer. Whatever the reason may be, Ha Giang certainly does live up to my expectations. This is a gem that I feel very fortunate to have discovered.
Start planning your trip to northern Vietnam
---
Start thinking about your experience. These itineraries are simply suggestions for how you could enjoy some of the same experiences as our specialists. They're just for inspiration, because your trip will be created around your particular tastes.