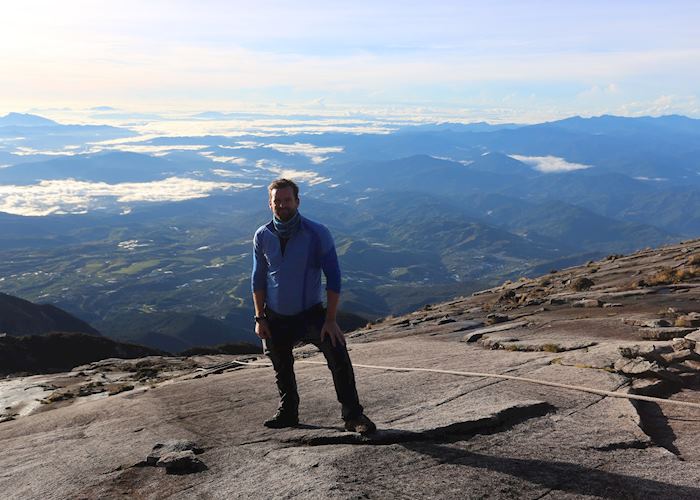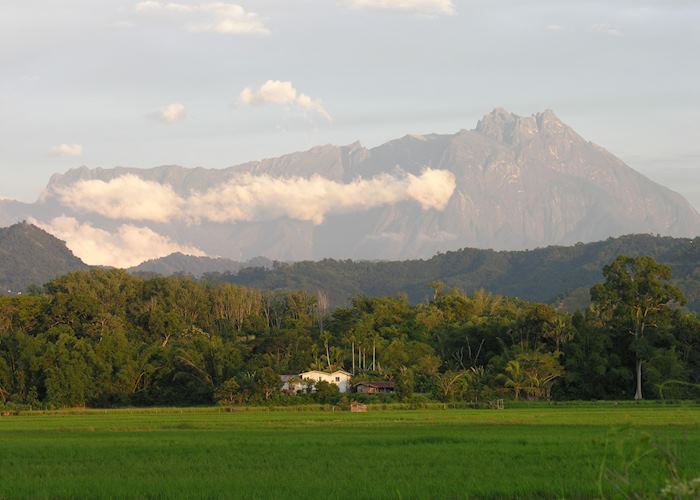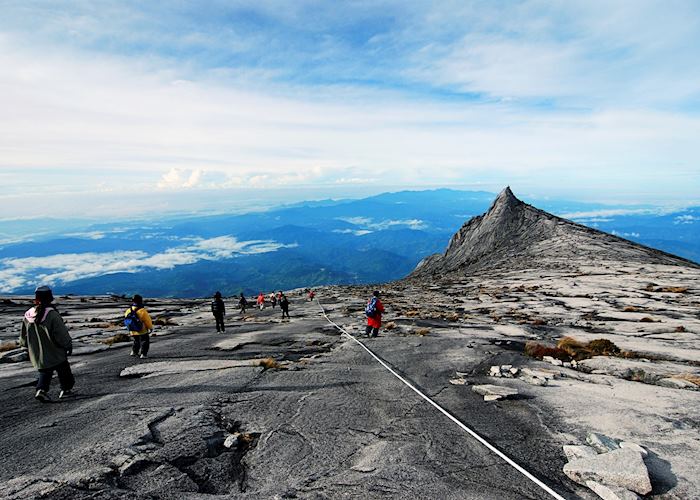 Mount Kinabalu Climb - 2 Days
Mount Kinabalu Climb - 2 Days, Borneo
The Park Headquarters is located at 1,550 metres and your aim on the first day is to reach Laban Rata (where all accommodation is located) at around 3,200 metres. You are accompanied by your guide who is assigned at the Park Headquarters. You can buy snacks including chocolate and biscuits here as well as cheap ponchos which are strongly recommended.
The climb is not technically difficult but it is long and steep. You begin in temperate rainforest passing waterfalls and thick forest, gradually ascending through rhododendron trees, and eventually reach the stunted vegetation and mosses found towards the end of the days trek. On the way there are several shelters to stop off for a toilet break (portaloos are found every kilometre or so) and rest weary legs or dig in to your packed lunch. The total distance covered on day one is approximately six kilometres and can take anywhere between three hours and seven depending on your pace, as a closer estimate the average for our clients seems to be around five hours.
It gets cold (possibly below freezing) and we recommend that you take appropriate clothing for wet, cold and windy weather as well as a head torch. It is a good idea to take a large plastic bag or buy a poncho for your day pack to protect it from any rain. You may also like to take snacks with you for stops throughout the day.
Rising at around 3am (your guide will advise you the night before) you begin the second steeper leg of the climb to the summit which can take anything from three to five hours. Before you go a light breakfast of toast and tee/coffee is available. A torch is necessary to negotiate the trail today, you can rent head torches (strongly recommended) from Laban Rata but it is always advisable to have your own just in case there are none available. After a steep roped and laddered section through the final section of vegetation that lasts around an hour, you will show your mountain pass at the rangers post and reach the exposed, granite summit plateau.
Wind can make the temperature here really chilly, so warm clothes, hat and gloves are an absolute must. You will see several 'false peaks' on your way up as you spot South Peak (3,933m), Donkey Ears Peak (4,054m), St. Johns Peak (4,091m), Alexandra's Peak (4,003m) and Ugly Sister Peak (4,032m). There are ropes strung out along the rock face most of the way for you to follow the trail and use for grip. As you reach the last 50m or so, the path becomes filled with boulders and you will need to clamber your way up to the 4,095m summit at Low's Peak, remember to grab a photo to prove you've done it!
The journey back to the lodge is easier but can be very slippery so watch your step and don't try and go too fast. It should take around two hours to reach Laban Rata where you can have a well deserved breakfast. From here you begin the journey back to the base which can take anything from three to five hours, you have lunch included at the Balsam restaurant on your return.
Speak to someone
who's been there

Start planning your tailor-made trip by contacting one of our Borneo specialists
Photos of Mount Kinabalu Climb - 2 Days