Before starting work with Audley, my career combined my two passions: sport and travel. As a football coach I worked in five countries over three continents, but it was the United States that stole my heart. I was fortunate enough to get a two-year work visa which allowed me to fully immerse myself in American culture and live like a local.
Since then, I have visited 15 American states and experienced first-hand what makes the country so diverse. Each place I've visited possesses a wonderfully distinct identity. From the sunny beaches of California to the magnificent national parks of Utah, there are so many natural wonders to discover, so many cities to explore and such regional differences in landscape, culture and customs. It would take a lifetime to uncover everything the US has to offer, but it would be a life well worth living.
Speak to Basil

Start planning your trip to the USA with Basil by calling 01993 838 486

Q&A with Basil
What's the best local dish you've tasted?
I've been fortunate to try a wide variety of American food from Maine lobster to traditional southern barbecue, and have even had an alligator burger in Louisiana. If I had to pick one local dish to recommend though, it would be New England clam chowder. A simple staple of New England cooking, it is packed with layers of deep, comforting flavour and the freshest clams you can imagine. It's a great choice to warm you up on a chilly New England evening and is especially satisfying enjoyed by a crackling fire and a window looking out over the sea.
What's your most vivid travel moment?
I was in San Francisco with my girlfriend and we rented bikes one afternoon and cycled all along San Francisco Bay, finishing with a cycle across the Golden Gate Bridge to a hill top on the other side. We packed a picnic and a bottle of Napa Valley wine and sat and watched the sun set on a typically beautiful Californian day with perfect views of Alcatraz Island, the Golden Gate Bridge and the San Francisco skyline. Of all the amazing things America has to offer and the incredible things I've done there, sometimes it is the simplest that are the most memorable.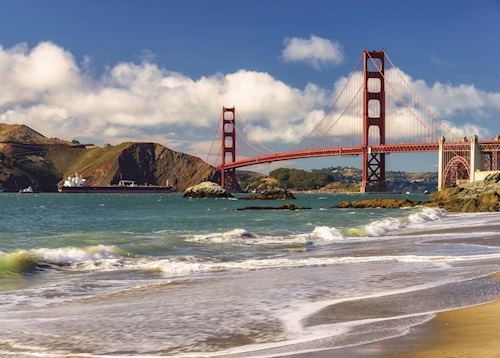 Your best piece of travel advice?
I have two tips to bear in mind when in America. Firstly, tipping. It's a lot different to the UK. Although you don't have to tip, it is considered rude not to. If you are just getting a drink at the bar, then simply leaving $1 is fine, however, for a meal, a tip of 20% is the norm. Secondly, be wary of jaywalking. In many states, it's against the law to cross the road at undesignated places and you will be fined if caught by the police.