Maddy was born in Toronto, to Kiwi parents, and moved to England when she was 10 years old; travel was truly part of her upbringing. She took her first big travelling leap in 2008 with three months spent in Australia, before moving to Queenstown in New Zealand for the ski season. She'd truly caught the 'travel bug' and knew that this would somehow direct her future.
On completing a degree in English from Newcastle University, Maddy headed to British Columbia to experience the world-class skiing. She stayed for almost two years and travelled extensively through Canada and the western United States in that time. Maddy joined the team at Audley as a Canada Specialist, determined that she could share her experience and knowledge with others by creating tailor-made trips to the fantastic country where she was born.
In her spare time, Maddy is an avid explorer and sportswoman, she enjoys cooking, reading and anything outdoors - cycling, skiing, hiking and camping with friends.
Speak to Maddy

Start planning your trip to Canada & the USA with Maddy by calling
01993 838 729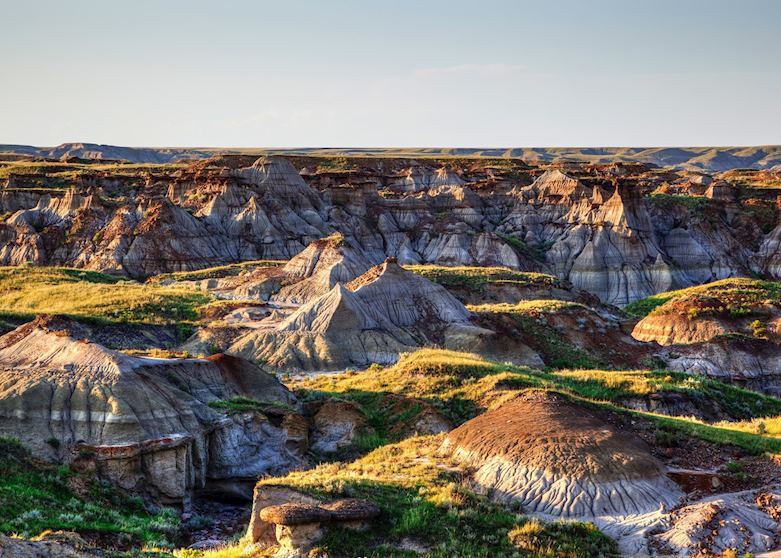 Canada
Maddy's love for alpine activities and landscapes was what kept her in British Columbia for almost two years, but her favourite place in the country (so far) is Dinosaur Provincial Park.
When most people think of Canada they think of lakes, mountains and giant old growth deciduous trees. But it was the vastly different landscape of the South Alberta Badlands that surprised and enchanted Maddy from her first site of this ancient crater-like UNESCO World Heritage Site.
Littered with fossilised dinosaur remains and unlike anywhere else in the country, Dinosaur Provincial Park is truly special and certainly an off-the-beaten-track destination worth fitting into your itinerary.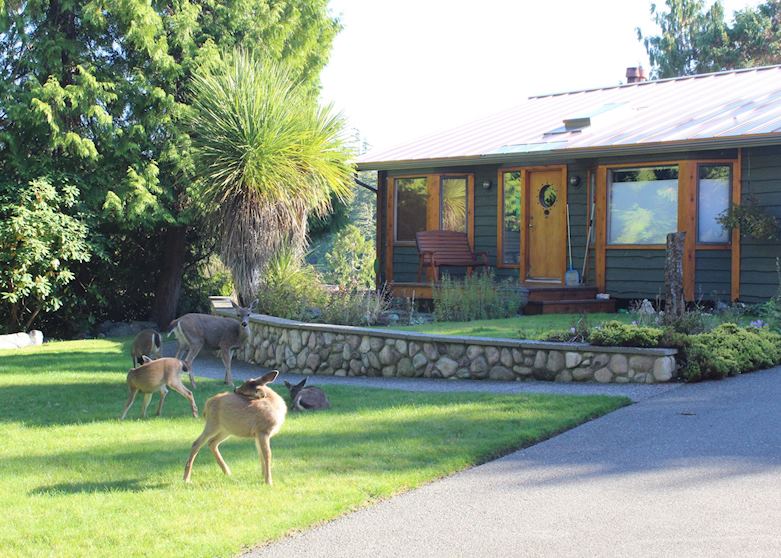 Canada
My favourite accommodation would have to be Bostrom's Bed and Breakfast in Ucluelet, Vancouver Island.
Bostrom's sits on a quiet bay overlooking the Pacific Rim National Park, and staying here emphasises the connection to nature that is so prevalent on Vancouver Island. Each of the three guest rooms has large glass sliding doors out to a private deck overlooking the bay, as well as access to a sauna, outdoor hot tub and fire pit in the garden. The scenery is not the only draw to this property, wildlife including deer and bears can often be seen wandering through the garden. From the private deck marine animals such as sea lions, otters and even whales are all regular visitors of Bostrom's.
On top of the stunning Pacific beauty and peaceful location, the factor that really sets Bostrom's apart for me are the hosts - as is often the case. The people around you here and the hospitality they provide can often make all the difference to your experience. Judy and her husband Gary are so passionate about their area and they love to share that knowledge and enthusiasm with their guests. They'll go out of their way to make sure you're comfortable and having a great time, Judy even made us a packed breakfast to take when we had to leave at 6am for a bear watching trip.
I'll never forget when…
My favourite activity so far in Canada definitely has to be the heart-pounding, adrenaline-inducing ZipTrek EcoTours in Whistler. On the Eagle Tour, I spent three hours soaring up to 30 storeys high and reaching speeds of over 50 mph (80 kph). Supported only by a zip line and a harness, ZipTrek tours provide a truly unique viewing experience of Whistler Blackcomb's alpine beauty – certainly one for those who enjoy getting their heart pumping.