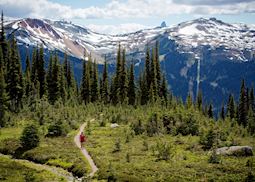 As much as I love exploring Canada's bustling cities, my heart really lies in its mountains. So when given the chance to go to one of the largest ski resorts in North America, I was very excited.
What I love about Whistler is that regardless of the season, there's always something to do. Whether that's for the adrenaline types who can't think of anything better than throwing themselves off mountains by any means (I may fall into this category), or whether that's the laid-back types who would actually like to stop and see the deer, moose, grizzly bears and rare plants while ambling along the mountainside.
One of my top things to do in Whistler is a simple hike to Cheakamus Lake. It's a lesser-known lake in the area and so the trail is a little wilder, and to me that makes it all the more beautiful. You can also book a camping space here right on the lake edge: just watch out for local bears.