Rich, Canada Specialist
My passion for travel started at a very early age when I was taken on my first family cruise. This sparked a lifelong passion for the sea, and I have since spent ten years working on cruise ships, allowing me to travel to over 125 countries. During this time, I got to circumnavigate the globe several times, experiencing some of the world's most incredible places along the way. My most memorable experiences have been climbing the steps of the Christ the Redeemer statue in Rio, riding the bullet train in Japan, swimming over the Great Barrier Reef and enjoying a safari in South Africa. During my travels, the one country that particularly stood out to me was Canada. I have since been able to travel the country more extensively, exploring the dramatic landscapes and discovering the abundance of wildlife that calls Canada home. I love sharing my knowledge and experience with others to help them create their own unforgettable trips.
Speak to Rich

Start planning your trip to Canada with Rich
Q&A with Rich
What's the best local dish you've tasted?
Canada is famed for its meat including moose, deer, bison and bacon, but it also has the longest coastline in the world and has the most amazing seafood on offer. Many coastal towns have wonderful seafood restaurants, but even inland you'll find fresh fish available. During a visit to Ottawa, I explored the ByWard Market and found The Fish Market Restaurant where the seafood menu includes fresh lobster. Rustic inside and nautically themed, it offers a wide-ranging fish and seafood menu but I opted for the lobster linguini which is cooked in a rich cream sauce. Delicious.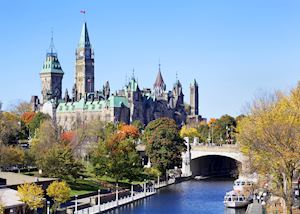 What's the one thing you always pack?
I would definitely recommend packing a portable power bank for your phone. With so many handy travel apps for mapping and translation, as well as using your phone as a camera, battery life can drop quickly. Having a charger allows you to top up on the go and ensures you don't miss out on any once-in-a-lifetime photos.
What's your most vivid travel moment?
During my time exploring the Middle East, I was brave enough to agree to a skydive in Dubai. After meeting with my tandem jumper and a having a safety briefing, it suddenly became very real that I was preparing to jump out of a plane. On the ascent my nerves kicked in but were quickly replaced with adrenaline and excitement. Moments later I was sitting on the edge of the plane and then, we jumped. It was one of the most incredible experiences free falling over Palm Islands and landing on the beach, so much so, that I've since done it twice more.