When is the best time to visit Guatemala?
Guatemala has a pleasant climate that lends itself to year-round visits. The dry season runs from November to April, but even in the wet season the rainfall is generally only for a couple of hours a day in the main visitor regions.
The highlands are known for having beautiful warm days but cool nights, while the lowlands around Tikal are usually hot all year round, with humidity increasing from May onwards.
We only advise against travel in September and October if you are combining your visit with some beach time in Belize, as the rain will be more disruptive here.
Speak to someone
who's been there
February is a great month to visit Guatemala. Days are predominantly warm and sunny, and is not as challenging to find hotel accommodation as the busier periods of January and Easter. It is a wonderful time to explore Guatemala's beautiful villages, markets, lake scenery and dramatic Mayan ruins.
Carolyn, Italy Specialist
Guatemala Climate Guide
Destination
Jan
Feb
Mar
Apr
May
Jun
Jul
Aug
Sep
Oct
Nov
Dec
Antigua

22°C

1mm

23°C

3mm

25°C

4mm

25°C

28mm

25°C

119mm

23°C

240mm

23°C

178mm

24°C

151mm

23°C

232mm

23°C

136mm

23°C

20mm

22°C

6mm

Flores

27°C

65mm

28°C

54mm

29°C

43mm

31°C

34mm

32°C

137mm

33°C

209mm

31°C

186mm

31°C

182mm

31°C

228mm

29°C

208mm

27°C

116mm

27°C

87mm

Lake Atitlan

26°C

4mm

26°C

22mm

27°C

21mm

26°C

57mm

26°C

156mm

24°C

411mm

25°C

223mm

25°C

232mm

24°C

404mm

25°C

236mm

26°C

47mm

26°C

14mm

Tikal & El Petén

26°C

63mm

28°C

32mm

30°C

55mm

32°C

47mm

32°C

118mm

31°C

217mm

30°C

166mm

31°C

121mm

30°C

171mm

29°C

173mm

28°C

116mm

27°C

62mm
Month-by-month guide to travelling in Guatemala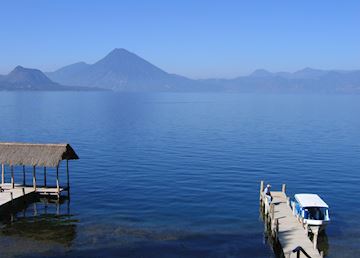 Visiting Guatemala in November - April
Guatemala's dry season brings dazzling blue skies and warm sunshine to Antigua and Lake Atitlan. Similar conditions can be enjoyed in the highlands; though evenings here can be chilly year-round due to the higher altitude. In the lowland areas around Tikal with its surrounding jungle you can expect short showers, but this has no impact on touring here. Demand for rooms in Guatemala's generally small and characterful hotels spikes from mid-December to mid-January and again over Easter, making early planning crucial at this time.
Events & Festivals
All Souls Day – although Guatemala's 'Day of the Dead' festivities are not as elaborate as in neighbouring Mexico, families still mark the event with visits to cemeteries and the kite flying fair at Santiago Sacatepéquez is one of the country's most enjoyable.
Some of Latin America's most fascinating and colourful Holy Week traditions can be observed in Antigua, Guatemala. Religious processions pass through streets vibrantly carpeted in flowers and coloured saw dust.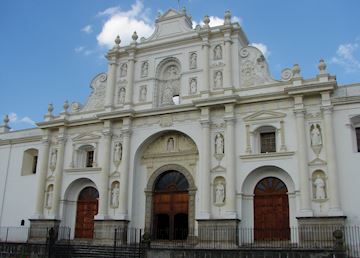 Visiting Guatemala in May - October
During the rainy season in Guatemala you can often expect sunny mornings and showers falling predominantly in the afternoon, usually lasting no longer than a couple of hours. Temperatures remain warm, but you will notice increased humidity in the lowland areas around Tikal. This is also one of the only places where the rains may complicate journey times, as the inferior condition of the roads around Tikal and crossing the border into Belize lead to more arduous road travel after heavy rainfall.
Events & Festivals
The feast of Guatemala's patron, la Virgen de la Asuncion, brings processions and small fairs to many Guatemalan towns.
Independence Day is celebrated across Guatemala with a public holiday, parades and music.
Why travel with Audley?
100% tailor-made journeys
Fully protected travel
Established for 20 years
Trip ideas and travel guides to exploring Guatemala