Eating is half the fun when travelling to Japan. It is renowned for its fresh and delicate sushi and sashimi, but adventurous eaters will be delighted to hear that Japanese food offers a wealth of dishes to satisfy any palate.
When dining out in Japan you'll find that the majority of restaurants usually serve only one type of food, so when eating out first decide what you want to eat and then find a restaurant that serves it.
There are exceptions and if you want to try a range of Japanese foods then head to an izakaya. Identifiable by the red lanterns hanging outside these are the equivalent of British pubs and offer a whole cross-section of Japanese foods.
Start planning your trip to Japan
---
Start thinking about your experience. These itineraries are simply suggestions for how you could enjoy some of the same experiences as our specialists. They're just for inspiration, because your trip will be created around your particular tastes.
Taste some of our favourite dishes
Okonomiyaki
Japan's equivalent to the pizza, okonomiyaki is a fun, cheap meal that you can often assemble yourself. In an okonomiyaki restaurant you sit around an iron hot plate armed with a spatula and chopsticks and cook your choice of meat, seafood and vegetables in a cabbage and vegetable batter. Once cooked you then garnish it with katsuo bushi (bonito flakes), ao-nori (an ingredient similar to parsley), Japanese Worcestershire sauce and mayonnaise. It's a delicious and filling meal and there are several regional variations. Hiroshima-style okonomiyaki is particularly well known and is served with a fried egg.
Sukiyaki and shabu-shabu
Both sukiyaki and shabu-shabu are popular dishes with visitors to Japan. A pot of simmering water flavoured with sake, soy sauce and sugar is placed on a sizzling hot plate or an open fire at your private table. A waiter than brings you a selection of thinly sliced raw beef, vegetables and noodles that you then cook yourself. The cooked ingredients are then dipped in raw egg in the case of sukiyaki and goma (sesame) or ponzu (citrus) dipping sauces in the case of shabu-shabu. It's fun and sociable dining and is especially tasty when made with high quality beef such as Kobe, Hida or Wagyu.
Sushi and sashimi
Considered an accompaniment to beer or sake, this is one of the healthiest meals around. Sushi is a small piece of fresh, raw seafood placed on a ball of vinegared rice. The most common ingredients are tuna, squid and prawns. Sashimi is simply sliced raw fish served without rice. Both are accompanied by shouyu (soy sauce) for dipping, hot, green wasabi paste (similar to horseradish) and slices of pickled gari (ginger). The most common and cheapest way of eating sushi is by finding a kaiten-zushi bar. Here you sit at a counter while a chef stands in the middle skilfully preparing various plates of sushi, and you select the dishes you wish to eat from the revolving conveyor belt.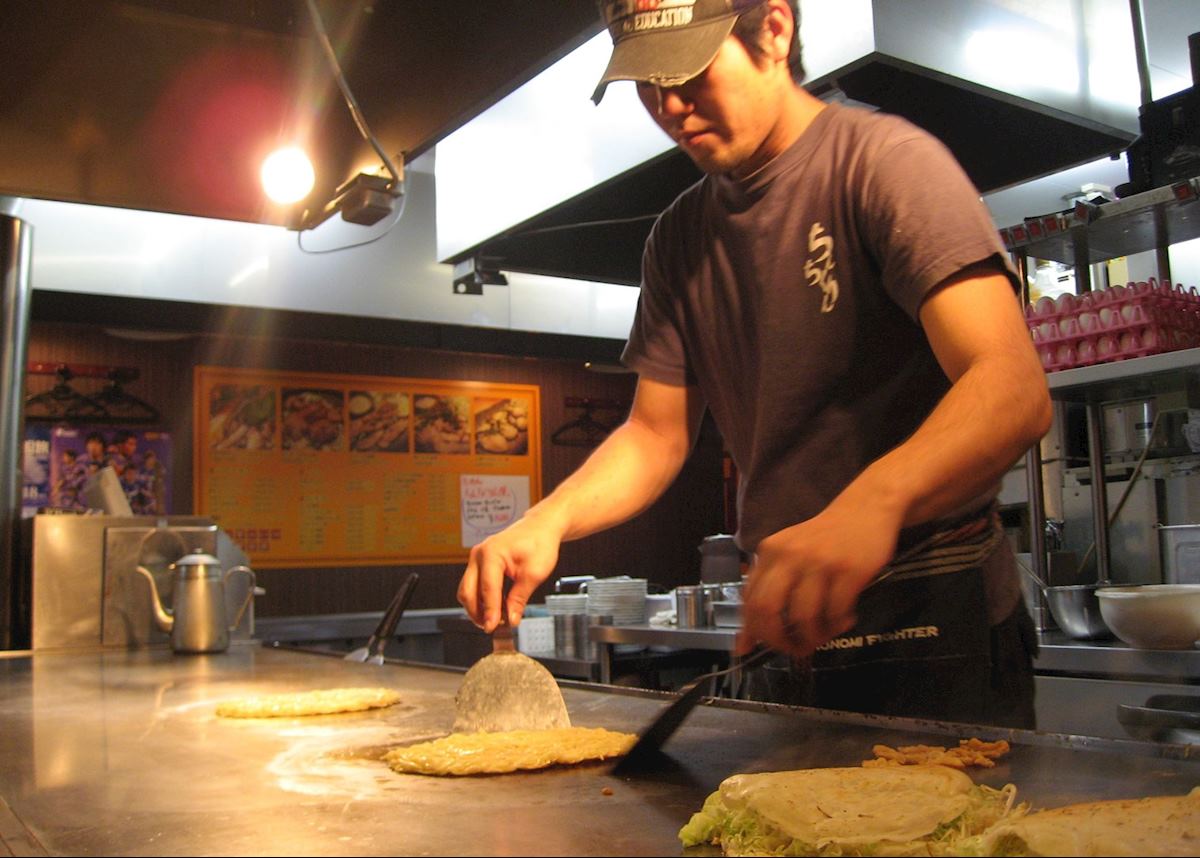 Making okonomiyaki, Hiroshima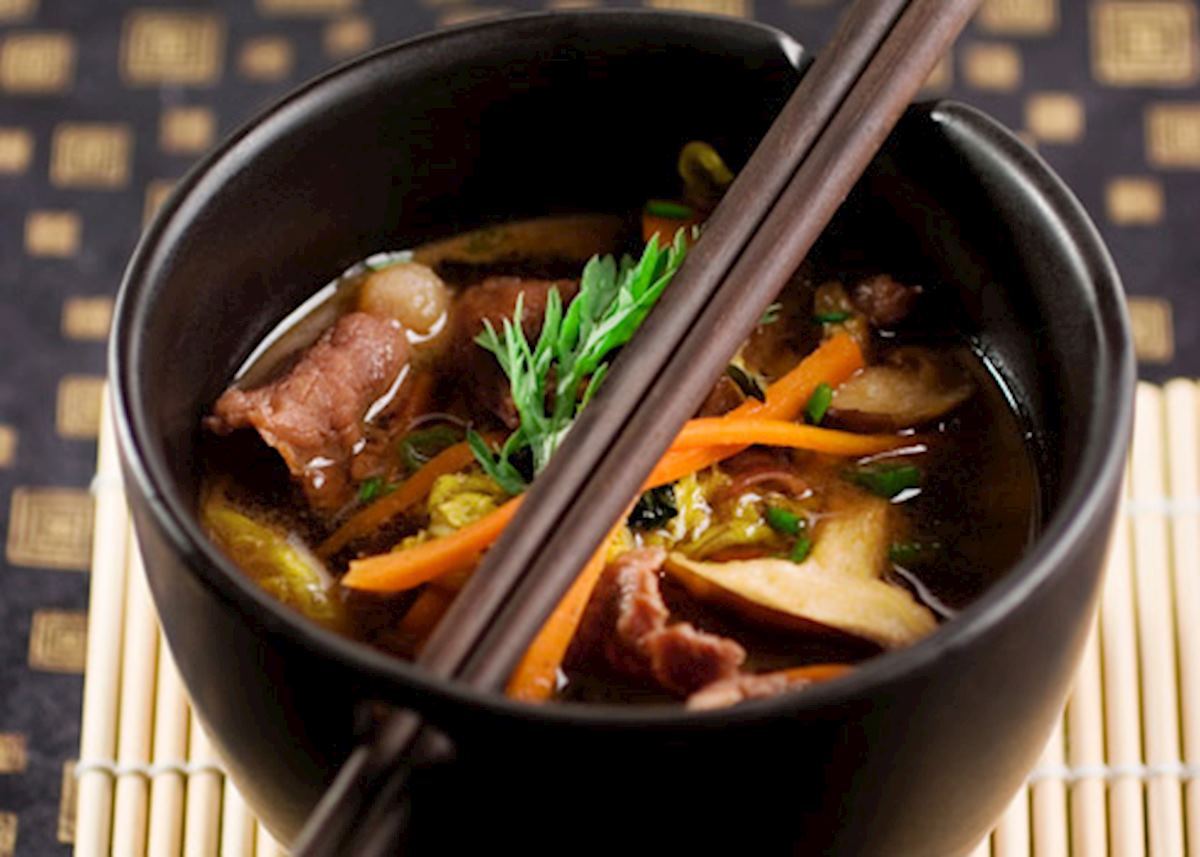 Shabu-Shabu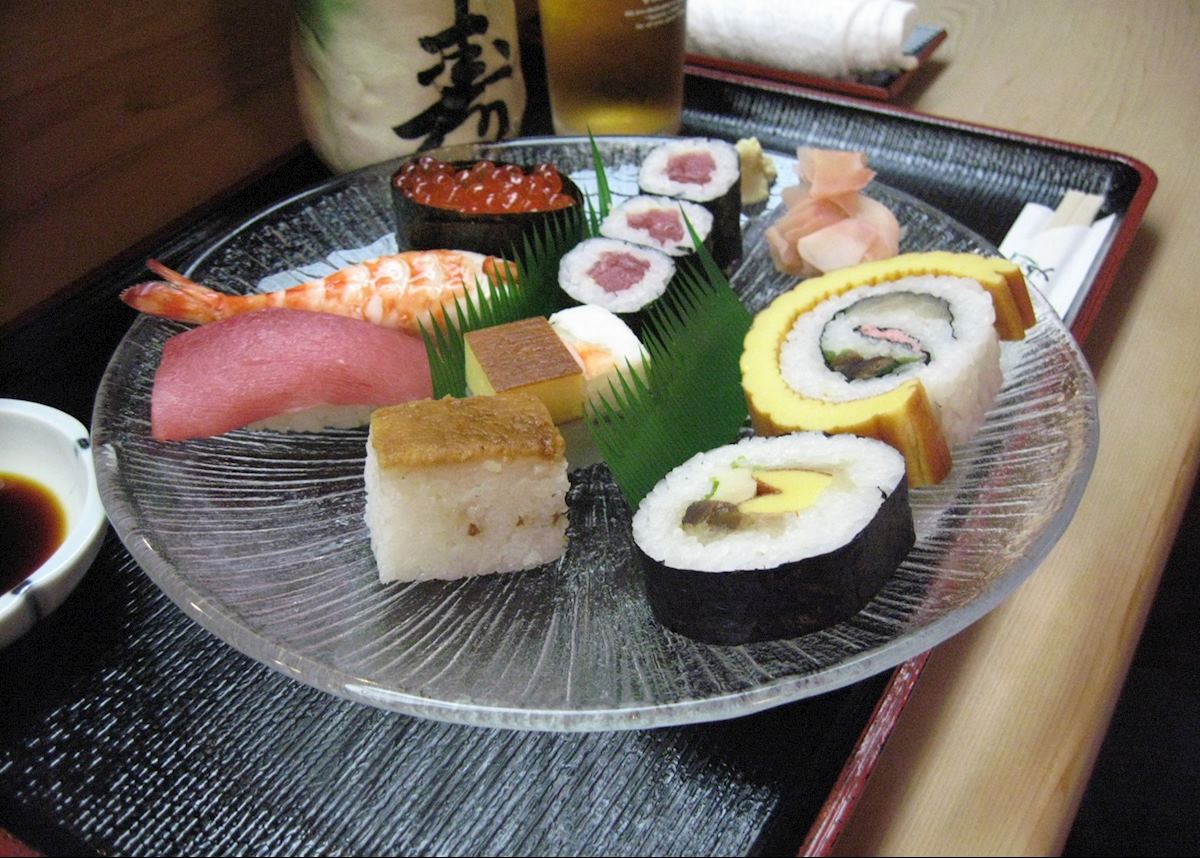 Sushi
Tempura
Tempura was introduced to Japan in the mid-16th century by early Portuguese and Spanish missionaries. Tempura is the general name for any vegetable, portion of fish or prawn fried in a light and crispy batter. Best eaten piping hot, it is generally served with a small bowl of ten-tsuyu (a light brown sauce) and a plate of grated daikon (radish) to mix into the sauce. At a specialist tempura restaurant you'll generally order a teishoku (set menu), which includes whole prawns, squid, vegetables, mushrooms and the aromatic shiso leaf.
Yakiniku
Originating from Korea, Yakiniku has all the pros of barbecuing but without the torrential downpour. Various cuts of beef are dipped in a dark rich sauce and cooked at your table (by you) on a small grill. It's another sociable dining experience that can be accompanied by bibinba - a tasty and healthy Korean rice dish cooked quickly to lock in freshness and kimchi - spicy Korean pickles. Yakiniku lends itself perfectly to marbled Kobe, Wagyu or Hida beef.
Yakitori
A popular after work meal, yakitori is made up of small pieces of chicken meat and vegetables skewered on a bamboo stick and grilled over hot coals, and makes a great accompaniment to an ice cold beer in the summer or hot sake in the winter. At a yakitori-ya (yakitori restaurant) you usually sit around a counter with other customers and watch the chef grill your selections over charcoal; the smell is irresistible and the taste even better. Yakitori restaurants are usually found near train stations and are small, steamy places that bustle with life.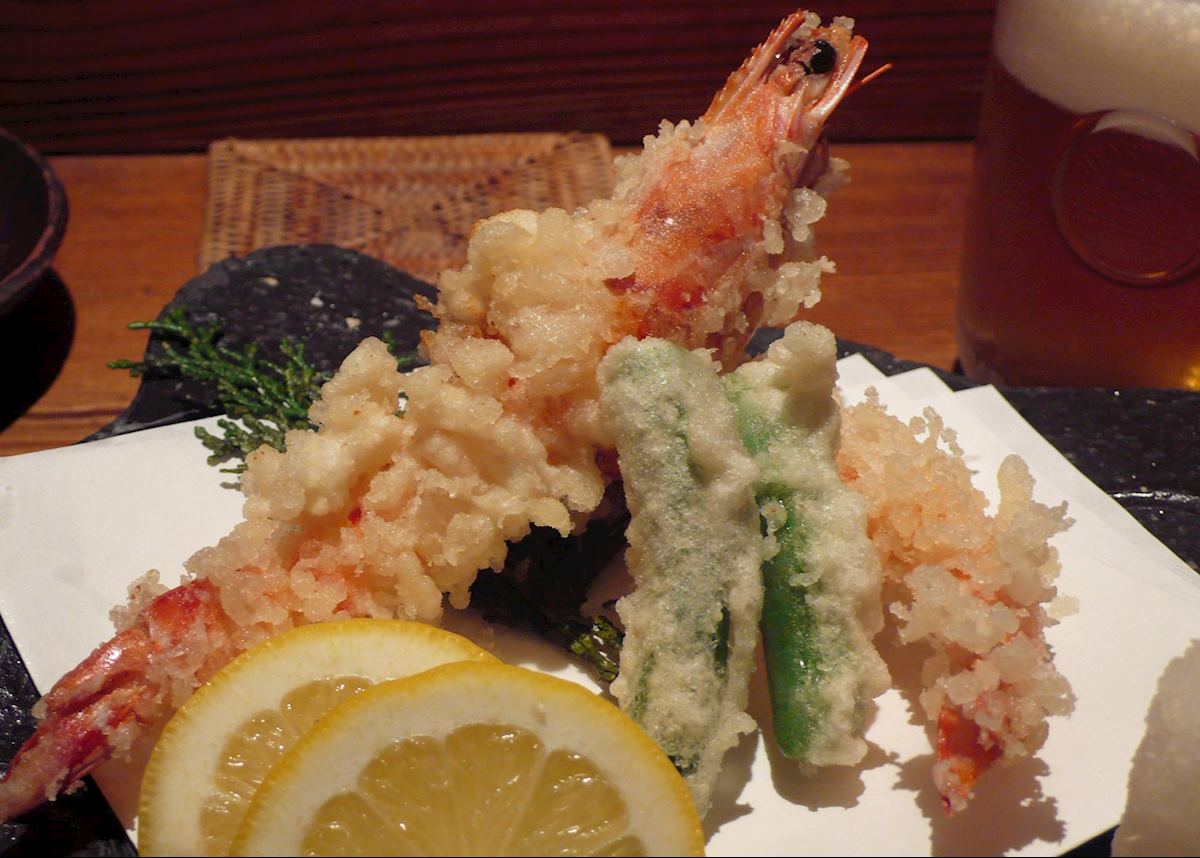 Tempura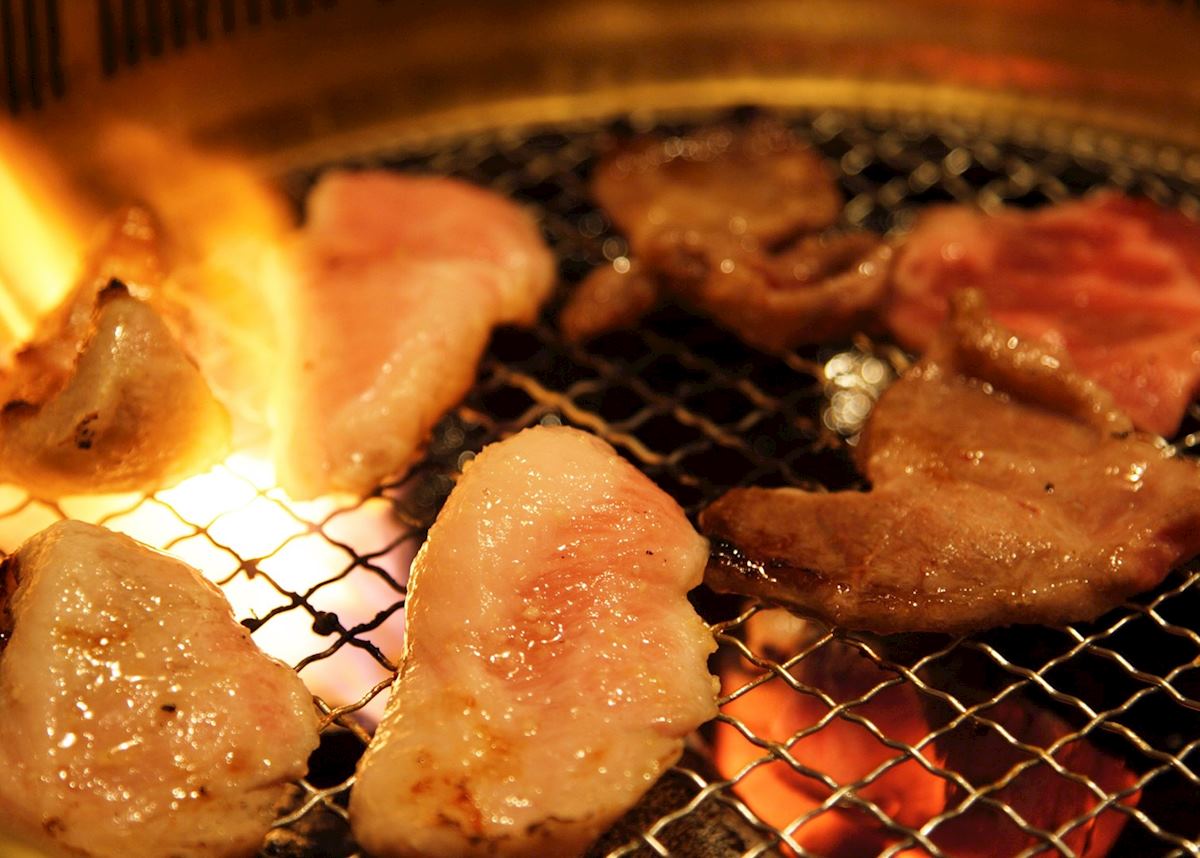 Yakiniku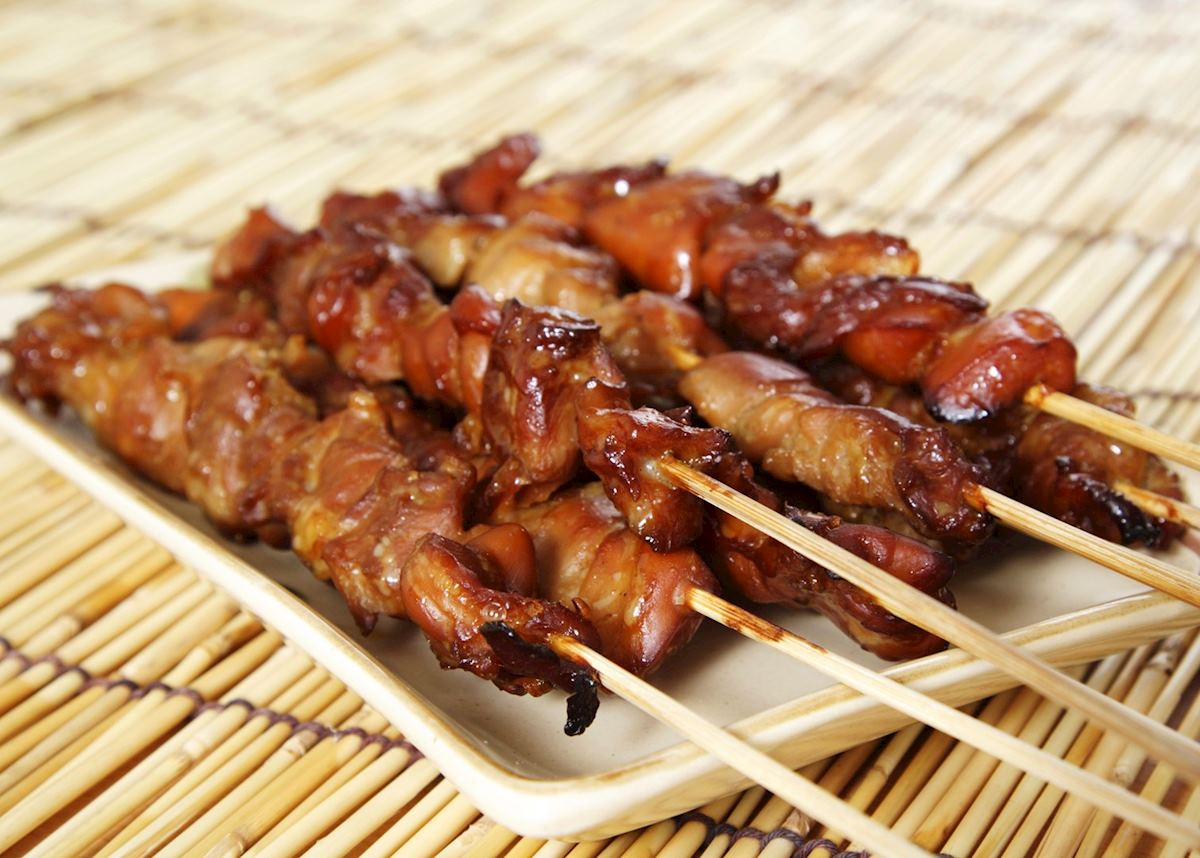 Yakitori skewers
Restaurant recommendations in Japan
Gonpachi, Tokyo
This sushi restaurant has various outlets in Tokyo with our favourite being the Ginza branch. With fish flown in daily from all corners of Japan, the restaurant serves up excellent sushi in an authentic setting (reputedly the inspiration for one of the scenes in Quentin Tarantino's "Kill Bill"). Open for lunch and dinner and serving set menus or à la Carte dishes of sushi, sashimi and some grilled items the food is best enjoyed with some sake or a glass of shochu.
Yakitori Alley, Tokyo
For a truly authentic yakitori experience head to one of the streets running alongside the railway line to Tokyo Station. It's a little tricky to find but the tell-tale lanterns and smokey grill aroma will give it away. Under each arch you'll find a collection of tiny restaurants specialising in grilled chicken and ice cold beer. Just about every part of the chicken is on offer, including the skin and cartilage. Fear not, they are delicious.
Yoshikawa Restaurant, Kyoto
Located in an old-fashioned part of Kyoto, Yoshikawa offers possibly the best tempura in Japan. Served in the beautiful surrounds of Yoshikawa Ryokan it's a small and intimate place with a traditional atmosphere. The restaurant offers table seating but it's much more interesting to sit around the small counter and observe the chefs at work. Dinner does not come cheap but if you ever wondered what tempura really should be like, you'll find the answer here. Reservations are essential.
Okonomi-mura, Hiroshima
Although the building doesn't look as though it contains restaurants, its name means "okonomiyaki village," and this Hiroshima institution is exactly that - floors of individual stalls, dishing out okonomiyaki. Wander through the area and stop at a stall that catches your fancy. Or, for a specific recommendation, try Chii-chan on the second floor. This restaurant sells between 200 and 500 okonomiyaki a day and is certainly one of Hiroshima's most beloved establishments. It's a great place to try the local special oyster okonomiyaki.
Restaurant etiquette in Japan
When walking into a Japanese restaurant you'll be greeted with a hearty cry of "irasshaimase!" (welcome!) and a waiter will ask you for how many the table is for.
Once seated you'll be handed an oshibori (hot towel) with which to wipe your hands and face, then it's on with choosing your meal. Most restaurants have an English menu which you can choose from or failing this there will be a picture menu.
Having successfully ordered and enjoyed your meal (you can call the waiter using a button on your table) simply cross one finger over the next in the form of an "x" to order the bill.
Remember there is no tipping in Japan and tea is free of charge.