Hannah, Japan Specialist
The first time I visited Japan was while studying in China during a university year abroad. I explored Tokyo for a week during cherry blossom season and I instantly fell in love with its beauty, bright lights and buzzing atmosphere. After graduating, I yearned to go back and explore Japan further and took a job teaching English just outside Kanazawa. Immersing myself in the local community allowed me to learn a little of the language and gain a deeper understanding of Japanese culture. One thing I came to love was Japanese festivals. I recommend anyone who travels to Japan to experience at least one. With a multitude of celebrations happening every month, it's almost always possible to do. After leaving Japan, I knew that I wanted to pursue a career in travel, and working with Audley has offered me the opportunity to share my love of Japan with others.
Speak to Hannah

Start planning your trip to Japan with Hannah
Q&A with Hannah
What's your most vivid travel moment?
While living in Ishikawa, my friends and I took a trip to the Shiroyone Senmaida rice terraces. The tiered rice paddies are set on a steep hillside against a backdrop of the Sea of Japan. The terraces change dramatically with the season creating ripples in a blanket of snow in winter and a sea of mirrored pools in spring. We arrived just before sunset in November, when the autumnal rice terraces were illuminated by thousands of LED lights. The hillside took on an ethereal quality as the twinkling lights changed from pink to yellow to a soundtrack of the ocean waves breaking against the shore below.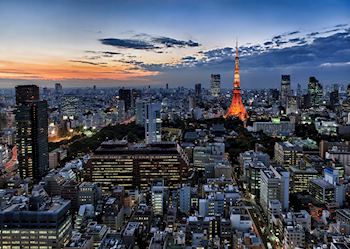 Which book, film or artwork captures Japan the most?
For me, Yayoi Kusama's bold and vibrant artworks encapsulate the chaos of Tokyo nightlife, which is an aspect of the city that I love. When I first visited her exhibition in Matsumoto I was enthralled by the detail and devotion she puts into her work. Look closely and you'll see that her paintings tell layers of stories, while the use of mirrors in many of her exhibitions highlights the importance of reflection in appreciating different perspectives. Much like Japan, the longer you look at her artworks the more you see, and the further in you are drawn.
Your best piece of travel advice?
Bring a small overnight bag, so that you can ship your luggage along to your next hotel. Japan offers a 24-hour luggage shipping service that is cheap, reliable and efficient. This is an especially good idea if you are spending a night in a ryokan, where the rooms don't always accommodate large luggage, and may be in a rural location. Having a small bag will make travel on public transport much easier, and you can rest assured that your luggage will be waiting for you in your room when you arrive at your next destination.