When is the best time to visit Portugal?
The best time to visit Portugal is in spring (March-May), when the country is in bloom and waking after the winter. You could also go in fall (between September and October) when the sun is still shining, the weather is warm, and many of the crowds have dispersed.
Summer (June-August) can get very hot, particularly in central Portugal. Large numbers of Portuguese head to the beach during this period, when the water temperatures are warmer than usual. Visitors are drawn by the sunny and inviting southern European climate.
The winters, though colder, still offer a good amount of sun. While many beach resorts wind down at this time, it can still be a good time to explore the cities and inland areas.
Speak to someone
who's been there

Start planning your tailor-made trip by contacting one of our Portugal specialists
Portugal Climate Guide
Destination
Jan
Feb
Mar
Apr
May
Jun
Jul
Aug
Sep
Oct
Nov
Dec
Algarve

15°C

97mm

16°C

68mm

18°C

54mm

19°C

41mm

22°C

30mm

25°C

17mm

29°C

2mm

29°C

3mm

27°C

16mm

23°C

54mm

19°C

83mm

16°C

100mm

The Azores

15°C

125mm

14°C

110mm

15°C

96mm

16°C

72mm

17°C

59mm

20°C

51mm

22°C

40mm

24°C

55mm

22°C

90mm

19°C

108mm

17°C

122mm

15°C

124mm

Belém

14°C

119mm

15°C

118mm

17°C

75mm

19°C

69mm

21°C

44mm

24°C

25mm

27°C

7mm

27°C

7mm

26°C

30mm

22°C

86mm

17°C

119mm

15°C

116mm

Coimbra

14°C

136mm

15°C

138mm

17°C

87mm

19°C

89mm

22°C

74mm

25°C

46mm

28°C

11mm

28°C

12mm

27°C

48mm

22°C

104mm

17°C

127mm

14°C

132mm

Douro Valley

9°C

193mm

10°C

188mm

12°C

123mm

14°C

115mm

17°C

97mm

22°C

64mm

25°C

25mm

25°C

22mm

23°C

67mm

17°C

146mm

12°C

173mm

10°C

194mm

Lisbon

15°C

109mm

16°C

110mm

18°C

68mm

19°C

64mm

22°C

39mm

25°C

21mm

28°C

4mm

28°C

5mm

27°C

26mm

23°C

80mm

18°C

111mm

15°C

106mm

Porto

14°C

168mm

14°C

167mm

16°C

112mm

18°C

108mm

20°C

86mm

23°C

53mm

25°C

15mm

25°C

20mm

24°C

62mm

21°C

129mm

17°C

146mm

14°C

171mm
Month-by-month guide to travelling in Portugal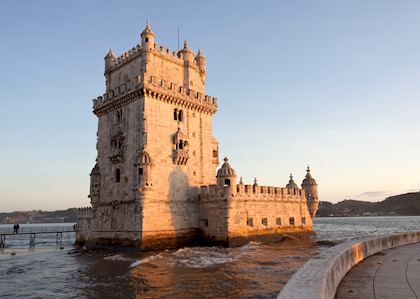 Visiting Portugal in January - February
Portugal's temperate climate means that any time of year is relatively comfortable for a visit. Although January and February will be a bit cooler and potentially wetter than the rest of the year, you can still experience some sun and take advantage of the thinner crowds.
Events & Festivals
Carnival (February): Brazil's Carnival celebrations can be traced back to Portugal; various cities celebrate slightly differently, but the festivities nearly always include vibrant costumes and elaborate parades.
Dia de Reis, or Three Kings' Day, (6th January): groups of carolers sing from house to house at the time when Portuguese children traditionally receive gifts (from the kings rather than Santa).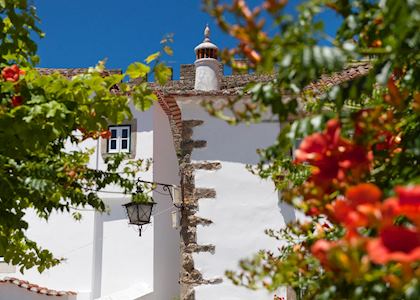 Visiting Portugal in March - May
Temperatures begin to rise to a pleasanter level as the flowers start to bloom and Portugal vibrantly comes to life. Spring is a time for celebration with many important festivals and holidays taking place and adding an extra splash of liveliness.
Events & Festivals
Freedom Day (25th April): marking the Carnation Revolution, which saw the end of Portugal's nearly 50-year dictatorship (the longest in Europe), with concerts, especially in Lisbon, as well as the annual Corrida da Liberdade, or Freedom Run.
Holy Week (March/April): strongly Catholic Portugal celebrates by holding reverent street parades, usually accompanied by lively song and dance.
Festival de Sintra (mid-May): the town of Sintra hosts a festival dedicated to classical music and opera, with events held in the town's palaces or gardens.
Fatima Pilgrimage (11–13th May): the largest pilgrimage of the year to the town where, in 1917, three shepherd children claimed they'd seen an apparition of the Virgin Mary six times, the first on 13th May.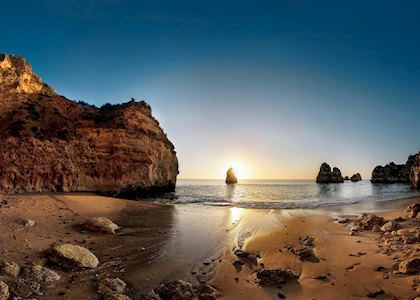 Visiting Portugal in June - August
As the heat of summer reaches its peak, so too do the crowds. Sunseekers from northern Europe head for Portugal's pristine beaches along with huge numbers of Portuguese. The Algarve in particular gets very busy at this time. While it's possible to travel at this time, soaring temperatures in the cities and inland can make sightseeing rather hard going, and it's easy to see why most locals have decamped for the beach.
Events & Festivals
Feast of Saint John the Baptist, or Festa de São João, (23–24th June): celebrated across Portugal, especially in Porto, the day is marked with fireworks, concerts, dancing and the interesting tradition of hitting each other with garlic or plastic hammers.
Portugal Day (10th June): a commemoration of the death of Portuguese poet Luís Vaz de Camões, who's regarded as one of Portugal's most influential literary figures.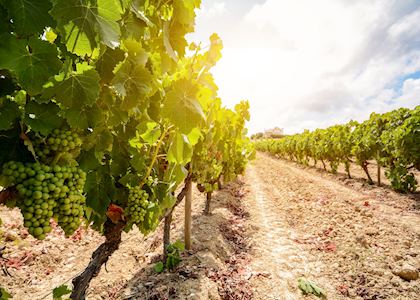 Visiting Portugal in September - October
September and October are two of the best months to visit Portugal. The weather is still warm and pleasant, and the temperatures are much more manageable for sightseeing or hiking. It's also a wonderful time to visit many of Portugal's wineries with the grape harvest in full swing. The beaches are also much quieter.
Events & Festivals
Fatima Pilgrimage (11–13th May): the largest pilgrimage of the year to the town where, in 1917, three shepherd children claimed they'd seen an apparition of the Virgin Mary six times, the first on 13th May.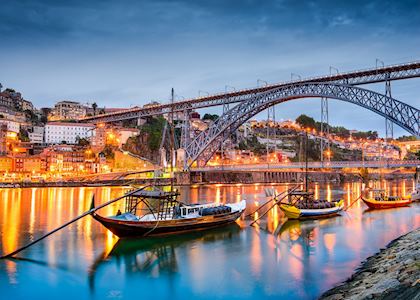 Visiting Portugal in November - December
Portugal's rainy season begins in November and December, meaning fewer sunny days, but the country still experiences more sun than rain and warmer temperatures than much of Europe. The Algarve usually remains especially pleasant and sunny and can attract European visitors looking for a winter getaway.
Events & Festivals
Christmas: most towns and villages are festively decorated throughout December; the celebrations culminate on the 24th, when most families attend midnight mass and enjoy feasting together.
Why travel with Audley?
100% tailor-made journeys
Fully protected travel
Established for 20 years
98% of our clients would recommend us to a friend Travel Advice
Practical tips for travelling to Portugal, from social protocols to guidance on money matters, with a link to the latest government travel advice.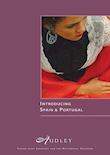 Request a brochure
Our detailed brochures feature trip ideas and travel experiences recommended by our specialists.
Trip ideas and travel guides to exploring Portugal
Portugal and Spain

View this tour