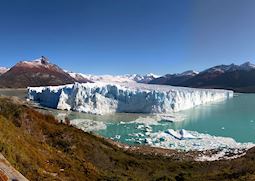 The Perito Moreno glacier is truly spectacular, and probably the most incredible view to behold.
The size, colour and scale of this glacier are incredible. It really does feel alive and is still moving forward and dropping huge chunks of ice into the lake.
A boat ride that can be taken in front of the wall of ice really demonstrates the scale of the glacier.
The opportunity to take a hike on the glacier is not to be missed and should you be lucky you may even get into a little ice cave underneath it.