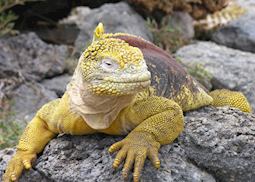 A place like no other, the Galapagos Islands offer many endemic species of bird, reptile and marine life as well as some unexpectedly harsh landscapes and surprisingly white beaches.
With the aid of the highly experienced guides you really can bring out your inner naturalist, noticing the subtle speciation from island to island and marvelling at the tameness of the animals.
Despite a strict rule for visitors to stay 2 m (6.5 ft) from all wildlife, the animals pay no heed to this and it means countless opportunities for close up photographs — even if you're as bad with a camera as I am.