Laura, South America Specilaist
Growing up with parents who loved to travel, I was lucky to visit some far-flung parts of the world from an early age. By the time I climbed Mount Kilimanjaro in 2015, I had, without a doubt, caught the 'travel bug', which prompted a three-month backpacking trip to Central America after I'd finished studying. In exploring the region, I fell in love with so many aspects of Latin American life.
My most recent trip took me to Peru and Ecuador, where I discovered even more of the Latin American culture that I had previously fallen for: the colonial cities, lush national parks, hospitality of the local people, intriguing wildlife, and the culinary experiences. It also gave me the chance to explore the unrivalled natural beauty of the Galapagos Islands, which was a unique experience in itself and one that I'll certainly never forget.
Speak to Laura
Start planning your trip to South America with Laura by calling 01993 838 642

Galapagos Islands
Spending time in the Galapagos feels like a real privilege. Seeing animals such as sea lions, marine turtles, iguanas and numerous species of bird, up close in their natural habitat is something that few people are lucky enough to do. Strict national park regulations mean that the islands are in pristine condition and much of them remains uninhabited, which feels slightly surreal but makes for some fantastic photos. Whether you're snorkeling with turtles off the back of a boat or hiking to a viewpoint looking over vast volcanic fields, each day will bring something unexpected.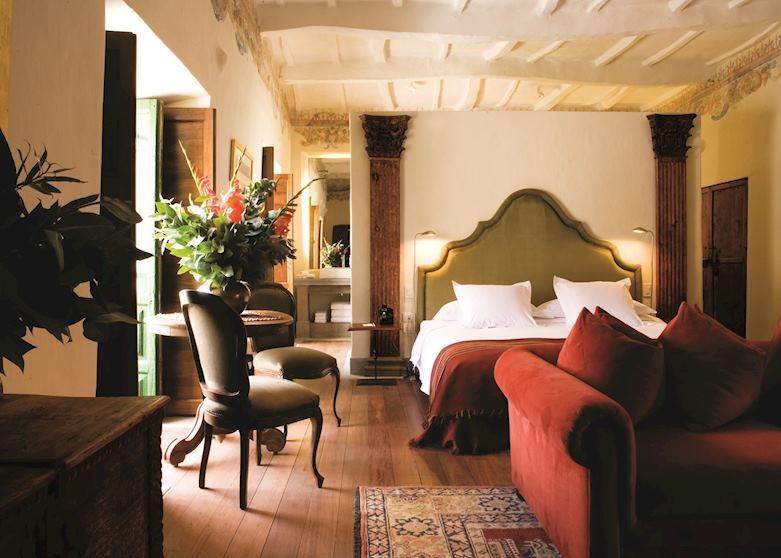 Peru
Nestled in the corner of a quiet square in Cusco, La Casona is a 16th-century manor house converted into a boutique hotel. The careful restoration of the original stone buildings and the classic decor evokes a feeling of a past era and makes it feel more like staying in a family home than a hotel. There are just 11 spacious suites set around the central courtyard, each with open fires, antique furniture, bright rugs and an elegant, colonial-era style.With an inviting lounge area and personal service, it's no wonder this hotel was voted one of the best in the world by Condé Nast Traveller readers.
I'll never forget when…
Waking up to see the sun rising from behind the mountains of the Colca Valley in Peru was a pretty special way to start a day, but it only got better as we drove west into the canyon to see Andean condors nesting at Cruz del Cóndor. Each bend in the road gave way to sweeping views of pre-Inca terraces lining the precipitous valley. And then, when we arrived at the viewpoint, we were lucky to see over 15 condors in flight, circling majestically and then landing below us to nest. It was one of the best ways I can imagine to start a day.