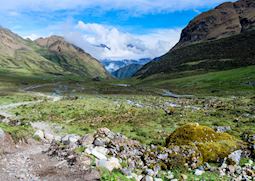 I would have to say one of my most memorable places in Peru is the Sacred Valley. It slowly reveals its nooks and crannies as you climb over the Andes from Cuzco — striking hills, wide flowing river, ripe maize crops rippling green below, and a stunning sunset every night. Not that it stops there. The night sky is a flood of brilliant stars, made all the more fascinating to me because it is a Southern Hemisphere sky with no light pollution.
The end of the wet season (April/May) is a great time to go as the valley is awash with greens, purples and yellows from the wildflowers and crops. It is a wonderful area to spend some time walking, riding, cycling or absorbing Andean life.
The people there are hard working and friendly and you can live in several centuries at once as you switch from varied Inca ruins, modern day rural living and the chic alpaca clothing now available — an ideal way to give back to the community.