Shivani, South America Specialist
From a young age, I was lucky enough to travel to a wide variety of destinations. I quickly developed a thirst for travel and as I grew up, a great appreciation for culture, wildlife and authentic local experiences.
After graduating, I took off on my own for the first time to Latin America. I fell in love with the people, cultures, landscapes and vibrant atmosphere. When I returned to the UK, I began a career as a South American earthquake catastrophe risk analyst before becoming an actuary in the finance sector. I returned to Latin America many times before deciding that my true passion lay in travel and making the leap from finance to the travel industry.
I have never looked back. I love using my experience to plan life-changing trips for others and helping to make their dreams come true, especially when it involves such a fascinating part of the world.
Speak to Shivani

Start planning your trip to South America with Shivani
Q&A with Shivani
What's the best local dish you've tasted?
Moqueca is a traditional Brazilian seafood dish with a coconut milk base, which is always at its best when eaten in a coastal location. The ingredients are at their freshest and the scenery is generally pretty good too. I ate a delicious moqueca on the beach in Ilha Grande, an island off Brazil's Green Coast. Made with fresh local prawns and served with plantain and rice, it was perfect paired with a glass of guarana, a refreshing soft drink made from a climbing plant native to the Amazon.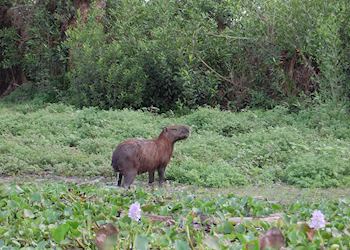 What's your most vivid travel moment?
One morning during my time in the Pantanal, the world's largest tropical wetlands, I decided to do a sunrise canoe trip. It was still dark and we were gently paddling across the water so as not to disturb the wildlife. All of a sudden we heard the cry of a capybara and we looked over to see the shadows of a huge herd of them standing on the riverbank, tiny babies in tow. We saw tiny ripples start to appear in the moonlit water and saw the capybara swimming across the river directly in front of us. It looked almost unreal it was so beautiful.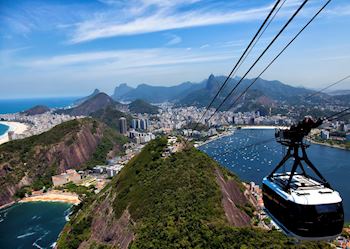 Which book, film or artwork captures Brazil the most?
I watch a Brazilian period drama on Netflix called Coisa Mais Linda (Most Beautiful Thing). It's set in Rio de Janeiro and depicts social progress in Brazil in the 1950s when people began to break away from social norms and different ethnicities began to mix. The history and character of the country are depicted well and you often hear music from the soundtrack when in Brazil. The contrasts between the different areas of Rio are well portrayed and the focus on the Santa Teresa district, as well as its role in the creation of samba, gives you a great feel for the country.