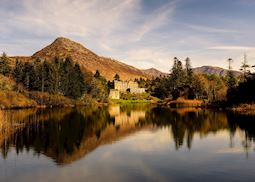 Ballynahinch Castle is a charming property and well worth the struggle of trying to pronounce its name. It boasts a kind of understated luxury that's rare to find, combining an incredible fine dining restaurant and lavish lounges with an Irish country charm. It's the little details at Ballynahinch that make it stand out for me; from the fresh flowers to the roaring fireplaces, I felt at home as soon as I walked in.
For me, the best part of the property are the views. From most bedrooms and through the restaurant's floor-to-ceiling windows you can gaze over the hotel's natural backdrop of mountains, trees and the river that flows right past the building.
Guests are encouraged to take advantage of the large estate, which includes private fishing and clay pigeon shooting facilities — the hotel even provides wellies for adventurous walkers. Ballynahinch also has its own classic Irish pub on site, offering upscale pub grub and a more casual atmosphere. Whether for a relaxing retreat or an activity-packed getaway, Ballynahinch would be my number one choice.