Upon leaving university with a degree in psychology, Joe knew he wanted to experience more of the world. After a year and a half working for a publishing house in London, he finally booked his first big trip with a one-way ticket to Bangkok. From here he spent the next six months exploring Cambodia, Thailand, Laos, Australia and New Zealand.
Once back in England, Joe looked for a way to remain in the world of travel. He worked for six months with Club Med before looking for a way to branch out into more explorative travel, eventually joining us here at Audley.
As part of the Hidden Beaches team, Joe has since spent time exploring Dubai, Singapore, South Africa, Mauritius, Indonesia, Oman, Sri Lanka and the Maldives. His personal highlights include swimming with eleven turtles in a single dive in the Gili Islands and paragliding into Six Senses Zighy Bay, Oman.
Speak to someone who's been there
Start planning your tailor-made trip by
calling one of our destination specialists on 1 800 992 198
Cambodia is easily the country that has amazed me the most on so many levels. Stepping off the plane, the first thing you'll notice are the people, smiling ear to ear and ready to welcome you to their country. As you go deeper in their homeland you'll see jaw dropping landscapes littered with spectacular temples and discover a fascinating and moving history that will leave you stunned for days. It also happens to be home to some of the best, untouched beaches I've ever seen, just off the south coast on the small island of Koh Rong. It's a country that's lured me in twice, and I'm sure, it will do so again in the future.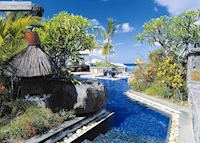 When visiting our accommodations, it's easy to change your favourite hotel on a daily basis. It wasn't until I stayed at the Oberoi in Mauritius that I stopped changing my favourite for good. At first I was blown away by the rooms, everything inside is designed for your comfort, all the while looking gorgeous. The hotel itself is spread across a huge area and every inch of it is filled with pristine garden, maintained beach or striking buildings. Despite all this, the Oberoi's crowning feature is hands down the service. Many hotels aim for perfect service but no one quite comes as close as the Oberoi when it comes to making guests feel completely looked after.
Joe's Most Memorable Experience
When staying at a hotel, it's rarely the means of getting there that lasts in the memory above all else. With Zighy Bay in Oman, this is quite the opposite. After a few hours of driving through stark, barren mountains it was time to don my parachute and take to the skies. The whole experience of running off a precipice, gliding through the air looking down at a beautiful beach before touching down just outside the hotel was no doubt surreal. It was also absolutely exhilarating and certainly an experience I'll remember for a long time.