Toby's first experience of Japan was when he started off his gap year by taking a job during the harvest on a remote rice farm in Kyushu. After three months he continued on through Honshu, taking in the highlights of Kansai and Kanto, before arriving in Hakuba for the winter ski-season. The fabulous contradictions endemic in Japanese culture between city and countryside, old and new, fascinated him, constantly surprising him and drawing him deeper in.
That initial experience always stuck with him so he was delighted to be given the chance to return to Japan with Audley, to continue exploring. These trips have taken him all over central Honshu and most recently to the northern Island of Hokkaido. Here he explored the most remote parts of this spectacular island by hire car, enjoying the beautiful scenery, abundant wildlife and sensational food.
Speak to Toby

Start planning your trip to Japan with Toby by calling
01993 838 164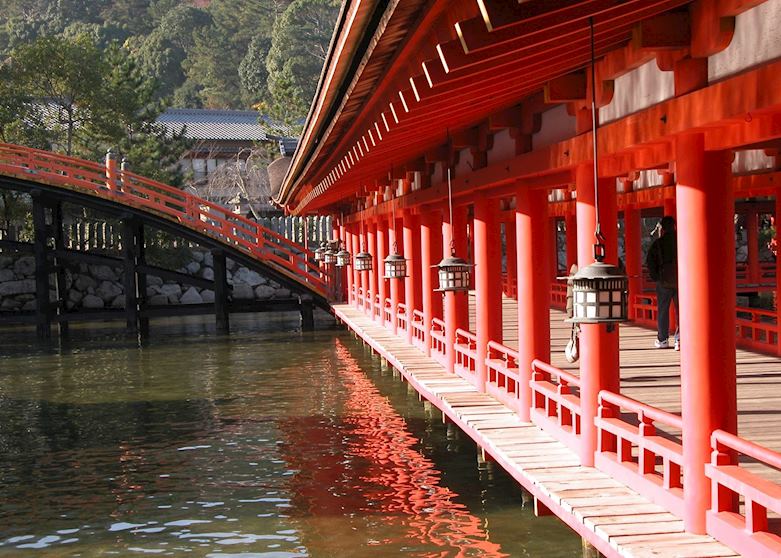 Japan
I love Miyajima for the combination of scenery and architecture that it offers.
Itsukushima Shrine is incredibly photogenic, with the giant red O-Tori gate set out in the sea facing west to catch the sunset over the Inland Sea. The views from the top of Mount Misen are gorgeous and the woodland that blankets the island is full of tame deer who love to pose for photos.
Located a short ferry hop from Hiroshima it offers a tranquil retreat and lovely counterpoint to young, busy Hiroshima.
Japan
This is a fantastic example of a traditional ryokan, full of character and charm.
Whilst the rooms are on the small side I love the simplicity and authenticity that oozes out of the walls. The owner is a fabulous chef and cooks up amazing seasonal food for the evening meal and for breakfast.
Located in the beautifully preserved town of Tsumago, this Ryokan really rounds off the sense of a time warp back to the Edo period.
I'll never forget when…
One of my most memorable experiences in Japan has to be whilst I was living in Kyushu. After a few months in the country I found myself in Dazaifu, a small town just outside of Fukuoka. Here I found the beautifully peaceful moss gardens of Komyozen-ji, where I spent the day relaxing and soaking up the atmosphere.