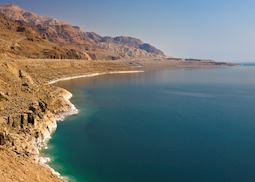 Having seen a picture as a child of a floating tourist reading a newspaper, this extraordinary destination has always been at the top of my visit list and at approximately 400m below sea level, there truly is nowhere on Earth like it.
The Dead Sea is 377m deep and its 33.7% salinity has earned it its legendary title. The harsh environment prevents any existence of life, however the pleasant side effect of this high mineral content is that you float whilst swimming. The name fails to reveal the incredible beauty of this phenomenal place, particularly the inimitable crystallised border.
Late afternoon is locally considered as the optimum time to discover it and the sunset from the Jordanian side is spectacular. The attraction for many visitors each year, aside from historical legends, is the reported benefits of the dead sea mud which can be found in pots on most of the pebbled 'beaches' or available for purchase.
The many luxurious hotels dotted around the water's edge make it an ideal place to relax after a trip exploring Jordan, and as it is only one hour from Queen Alia International Airport, a visit to the Dead Sea can be easily incorporated into most trips. Just be sure to avoid getting the water in your eyes.