When is the best time to visit Turkey?
Although typically seen as a summer destination, you can visit Turkey all year round depending on where your interests lie. April, May, September and October are pleasantly warm so are typically the best times to visit Turkey's grand array of ancient sites.
The summer months from June through to September are very hot, with temperatures reaching the mid-30°Cs on the south coast. This is perfect for lounging by the sea or a pool, although visiting the sites can be quite uncomfortable.
The weather begins to cool off from late October. November through to March can get quite cold, especially in the interior such as Cappadocia. Here, the temperature can drop below 0°C, although the snowy landscape is lovely to behold from the comfort of an armchair in front of your hotel's fireplace. Many hotels in coastal areas close during these months. However, despite the cool temperatures these winter months can be the best time to explore the sites, as they're far less busy during this time.
Speak to someone
who's been there
My favourite time to visit Turkey is May, when it is warm but not too hot. This is perfect for exploring sites such as Aphrodisias, Ephesus and Termessos, which involve quite a lot of walking and don't have much shade. Flowers are in full bloom across the landscape and in the parks and gardens of Istanbul, and it is cool enough to do some hiking. It is also an excellent month for fresh fruit and vegetables; although Turkey's climate provides multiple harvests throughout the year.
John, Russia, Central Asia, & The Silk Route Specialist
Turkey Climate Guide
Destination
Jan
Feb
Mar
Apr
May
Jun
Jul
Aug
Sep
Oct
Nov
Dec
Ankara

4°C

42mm

7°C

36mm

12°C

36mm

17°C

42mm

22°C

52mm

26°C

33mm

30°C

14mm

30°C

11mm

26°C

18mm

20°C

26mm

13°C

30mm

7°C

47mm

Antalya

14°C

216mm

14°C

156mm

17°C

101mm

21°C

46mm

25°C

29mm

30°C

9mm

33°C

3mm

33°C

5mm

30°C

11mm

25°C

73mm

20°C

130mm

15°C

246mm

Bodrum

14°C

168mm

14°C

117mm

16°C

79mm

20°C

38mm

25°C

23mm

30°C

11mm

33°C

3mm

32°C

7mm

29°C

18mm

24°C

53mm

19°C

94mm

15°C

165mm

Cappadocia

3°C

40mm

6°C

34mm

10°C

40mm

16°C

53mm

20°C

54mm

24°C

35mm

28°C

9mm

28°C

5mm

24°C

13mm

18°C

28mm

12°C

35mm

6°C

44mm

Istanbul

9°C

102mm

9°C

70mm

11°C

69mm

16°C

50mm

21°C

33mm

25°C

30mm

28°C

23mm

28°C

32mm

24°C

46mm

20°C

73mm

15°C

91mm

11°C

123mm

Pamukkale

10°C

97mm

12°C

80mm

15°C

62mm

20°C

47mm

25°C

36mm

30°C

20mm

33°C

14mm

33°C

9mm

29°C

17mm

23°C

40mm

17°C

62mm

12°C

105mm
Month-by-month guide to travelling in Turkey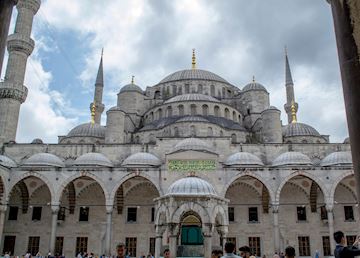 Visiting Turkey in January - March
January, February and March are fairly cold months in Turkey, although temperatures do warm up by March. Snow is not uncommon in January and even February, especially in the interior around Cappadocia. Because of the low temperatures this is a quiet time to visit Turkey, so you are likely to have the sites more or less to yourself.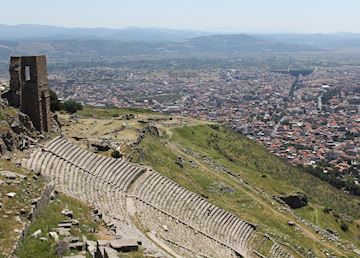 Visiting Turkey in April - May
The temperatures in these spring months are moderate, making this an ideal time to visit the many ancient ruined sites dotted around the country. April is also peak tulip season, and the parks and gardens of Istanbul are bursting with colour; although it can be rainy during April too. As this is such an ideal time to visit Turkey it is also the most expensive for hotels in places such as Istanbul and Cappadocia. However, many of the hotels along the Turquoise Coast are still closed.
Events & Festivals
Hidrellez Festival (5th to 6th May): Celebrating the start of spring, this festival includes street performances by traditional gypsy bands.
The International Istanbul Film Festival (April): Takes place every year with the aim of promoting excellent cinematic theatre in Turkey. Read more »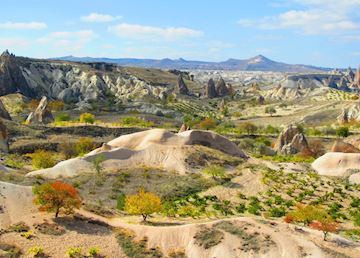 Visiting Turkey in June - August
The summer months, from mid-June through to mid-September are very hot, perfect for relaxing on the beautiful Turquoise Coast and swimming in the Mediterranean. However, these high temperatures make exploring Turkey's ancient heritage quite uncomfortable, as there tends to be little or no shade at the plethora of ancient sites. This is also peak season for cruise ships, making coastal resorts and the more popular ancient sites such as Ephesus very busy. Cappadocia, by contrast, tends to be quieter over the summer months, and beautifully carpeted with wild flowers throughout, making this a great time for hiking.
Events & Festivals
Aspendos International Opera and Ballet Festival (June and July): Set within the spectacular Aspendos Roman theatre, the festival hosts numerous performances by international ballet and opera companies.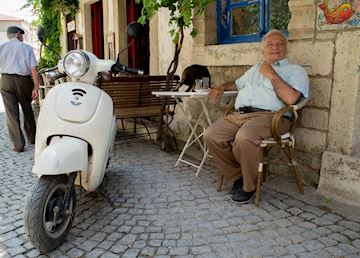 Visiting Turkey in September - October
Early September is still hot, but from the middle of the month onwards temperatures begin to cool, although sea and land temperatures are still warm, creating similar conditions to the spring months but with shorter days. Again, this is an excellent time to explore the cities and ancient sites, as well as to visit the Turquoise Coast as prices are lower and crowds are fewer. Prices tend to be high for the boutique hotels in Istanbul and Cappadocia, although hotels along the Mediterranean typically close by mid-October.
Events & Festivals
International Wine Festival (end of October): Annually held in Cappadocia, with wine tasting events from local vineyards. Read more »
Republic Day (29th October): Celebrated across the country, but most vibrantly in Istanbul, with various art events and firework displays.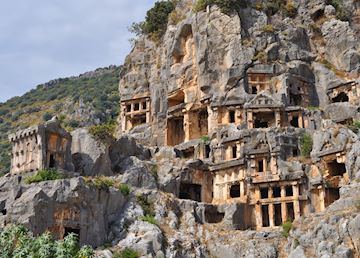 Visiting Turkey in November - December
In November and December it's quite chilly throughout most of the country, with the exception of the southeast (around Antalya) which remains fairly warm. Temperatures in Konya and Cappadocia can be quite cold and snow is not uncommon, creating fantastic panoramas. Istanbul is much quieter than at other times of the year, making this a great time to visit if you don't mind the cooler temperatures and occasional rain or snow.
Events & Festivals
Mevlana and Whirling Dervish Festival (December): The annual ten day event is held in Konya and commemorates Rumi, with various events and ceremonies taking place in open-air locations around the city. Read more »
Why travel with Audley?
100% tailor-made journeys
Fully protected travel
Established for 20 years

98% of our clients would recommend us to a friend
Trip ideas and travel guides to exploring Turkey