This is America's most rugged region, where you can explore Wild West landscapes, discover native culture and experience a wealth of outdoor activities.
In the north, Montana's ranch lands are peppered with atmospheric small towns and the sites of historic battles such as Little Bighorn and Wounded Knee. The states's undulating landscape comes to an abrupt halt as the mighty Rocky Mountains rise skywards.
Colorado is home to some of the USA's most magnificent mountain ranges, an abundance of outdoor activities and the incredible Pueblo Indian houses of Mesa Verde National Park.
Wyoming embodies cowboy culture like no other state, with its rolling grasslands and small Western towns, and visitors can get in on the action with a stay at a working ranch.
In neighbouring South Dakota the beautiful Black Hills offer excellent hiking, historic towns and the gigantic memorials of Crazy Horse and Mount Rushmore. On top of all this are two guaranteed highlights of any visit to the USA: stunning Glacier and Yellowstone national parks with their glaciers, geysers and abundant wildlife.
Best time to go to the Rockies
The Rockies is delightful to visit between June and September when temperatures can get surprisingly high. They are also famed for their excellent winter sports, which are best enjoyed from January until the end of April. May, June, September and October can be excellent times to visit with cooler temperatures and fewer visitors. Do note that roads into the national parks tend to open around late May or early June and often close as early as mid September.
Start planning your holiday to the Rockies
---
Start thinking about your experience. These itineraries are simply suggestions for how you could enjoy some of the same experiences as our specialists. They're just for inspiration, because your trip will be created around your particular tastes.
Our highlights of the Rockies
Mesa Verde National Park
Marvel at the ancient cliff-dwellings of the ingenious Pueblo people in Mesa Verde National Park.
Black Canyon of the Gunnison National Park
An immense chasm amidst spellbinding mountains - the scenery in Gunnison National Park is on a monumental scale.
Mount Rushmore and Crazy Horse national memorials
There are man-made monuments on a truly epic scale at these national memorials.
Little Bighorn National Battlefield
The southern Montana site of General Custer's famous last stand.
Grand Teton National Park
Magnificent mountain peaks and beautiful lakes, plus the lively Western town of Jackson.
Yellowstone National Park
Yellowstone National Park is home to amazing geothermal activity such as Old Faithful geyser, and bountiful wildlife including packs of wolves.
Glacier National Park
Glacier National Park is a monumental national park full of mighty scenery and prolific wildlife.
Ranch stays
Live the cowboy life at one of the many working cattle ranches in the region.
Some of our favourite places in the Rockies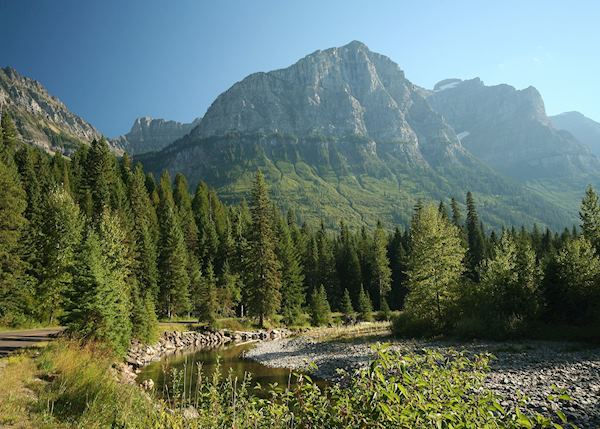 Glacier National Park is undoubtedly Montana's star attraction. Here 2,000 lakes, 1,000 miles of rivers and glacier-packed peaks combine to form a monumental 1.4 million acre wilderness and wildlife haven.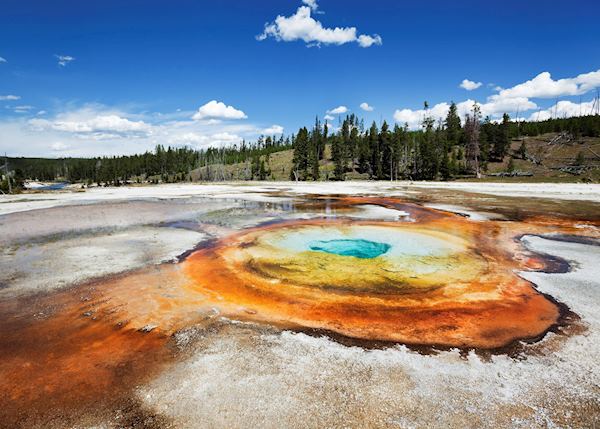 The USA's first national park, Yellowstone provides a habitat for a varied cast of wildlife, including wolves, bears and coyotes. Its bubbling, steaming volcanic landscape conjures images of Earth's more volatile earlier years. Experiences here include wildlife-viewing tours and walks to see thermal activity.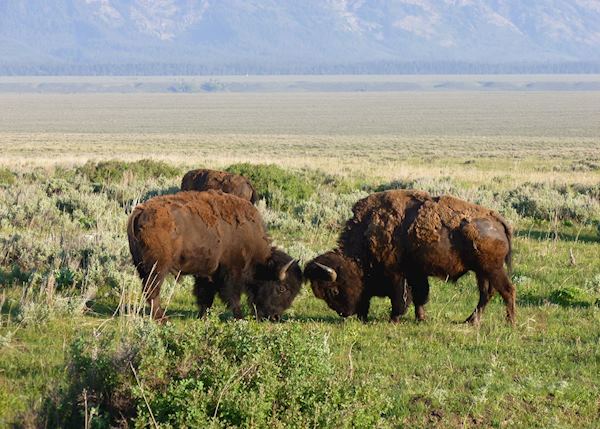 Jackson is a unique old Western styled town surrounded by prairie land, some lakes and the Grand Teton mountains and home to tree-lined squares, designer boutiques, craft shops and art galleries linked by wooden boardwalks.
Great places to stay in the Rockies