Hilary first went to Japan as an exchange student, spending a year in Tokyo as part of her BSc in Business Studies and Japanese. What began as a curious interest soon became an all-consuming passion as she explored the capital.
From Tokyo, she ventured around the country's many cities and islands, delighting in the chance to ski on Hokkaido, laze on the sub-tropical beaches of Okinawa and relish in the incredible regional food.
As she became more fluent in Japanese she gained a deeper understanding of the country and its people and developed an unshakable love of travel. She's been working as a Japanese travel specialist since graduation, eager to share her love of Japan with those who wish to see and experience what it has to offer.
Speak to Hilary

Start planning your trip to Japan with Hilary by calling
01993 838 202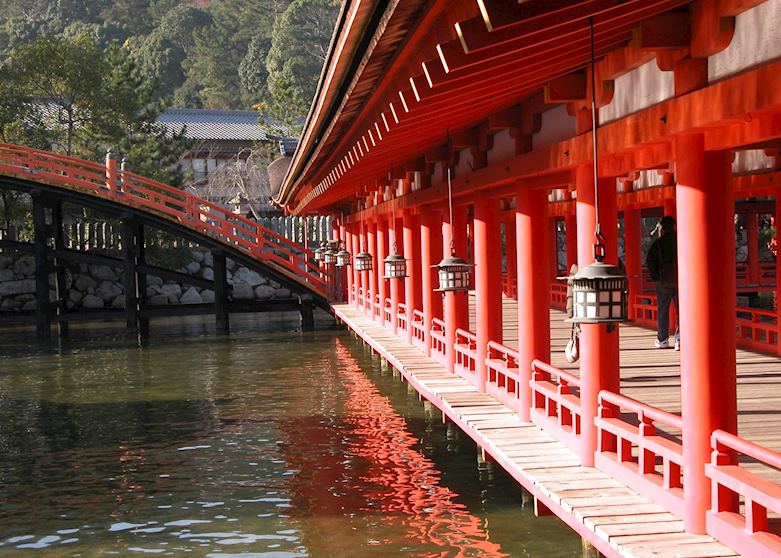 Japan
Easy to reach yet a world away from Hiroshima, Miyajima is a scenic island with a sacred red torii gate which seems to float on a picturesque bay. It's a highly spiritual place dotted with temples and shrines, home to a cheeky herd of deer and a good place to hike in the mountains. When I first visited I was lucky enough to see a traditional Shinto wedding and the simplicity of the service and the serenity of the setting was quite humbling. If you can, I'd recommend staying overnight in a traditional inn to enjoy the island at its most tranquil.
Japan
No matter how many times I see it, nothing quite beats the frisson of seeing the Tokyo skyline by night, especially from the top floor of the Park Hyatt. Sitting in the Peak Bar, listening to live jazz and enjoying a cocktail with that enthralling view in front of you is one of Tokyo's greatest pleasures. The hotel starred in the film 'Lost in Translation' and has the sleek interiors, slick amenities and flawless service of a five-star property with the added bonus of being located in the beating heart of the city, Shinjuku.
I'll never forget when…
I always feel like I'm beginning to understand a place when I start to see things through local eyes, a sensation that hit me when I spent New Year in Tokyo. I took a more traditional approach and visited the shrines and temples in Ueno, joining the locals at midnight to hit the bell at the top of the Buddhist temple. It's a longstanding tradition that the bell should be rung by 108 different people to usher in the New Year, after which we ate, drank and waited for the first sunrise before celebrating 'Hatsumode' (the first shrine visit of the year).