By Russia specialist Lucy
Moscow and St. Petersburg lend themselves to a 'slow travel' mindset. By this I don't necessarily mean spending longer in these cities. It's about releasing yourself from the need to take a whistle-stop tour of their many cultural sights and homing in on three or four in depth aided by a private guide. Eight days gives you a decent chunk of time in each city, as per this classic two-part Russia trip.
Why private guides make the difference
While many countries pride themselves on the quality of their guides, I think Russia's are a cut above because they must take exams regularly to refresh their knowledge.
You might find that some of your guides have been in the business since the Soviet era — one of my guides told me that she still found the idea of private enterprise unsettling. She gave me a completely fresh perspective on life under Communism.
Slow travel experiences in Moscow
On the outside, Moscow appears brash and sprawling, sliced and diced by traffic-heavy thoroughfares. All the more reason to explore initially with a private guide who'll help you get your bearings.
A skyline of silver skyscrapers, patinated spires, onion-domed churches and Sovietesque tower blocks, the city seems to exist on a grand scale. You'll need to allow time to travel between areas, but your guide will help you with these logistics.
Tour of the Moscow Metro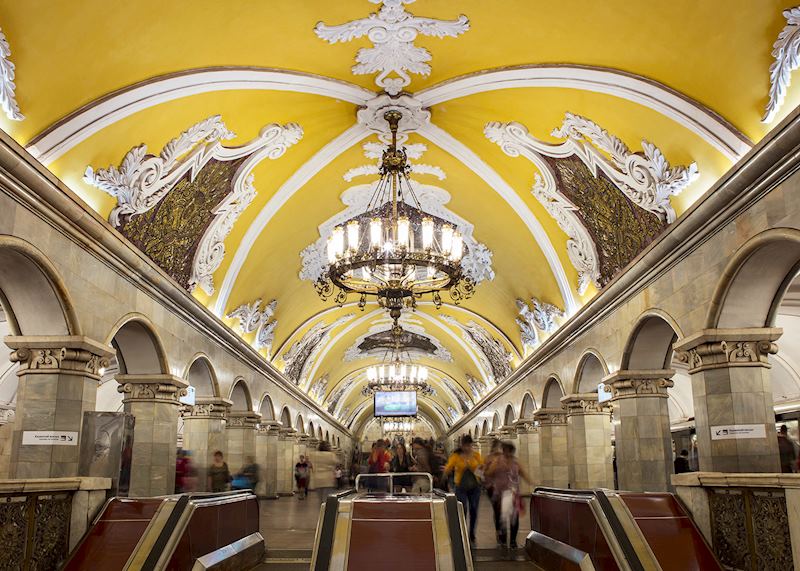 Allow two hours
A guided tour of the city's subway system? Well, yes, and once you dip your head below ground, you'll see why.
In Soviet times, when religion was banned and Russia's churches and palaces were repurposed, the city's metro was reimagined as a 'palace for the people'. Several stations are decked out with red marble, mosaics, statuary, bas-reliefs and stained glass.
Your guide will ride the lines with you, giving you a feel for Moscow's layout. They'll explain the A-Z of travel on the metro, so you can use it to explore independently later, if you wish.
Then they'll take you to some of the talking-point stations, usually the most extravagant specimens (including Stalin's alleged preference, Teatral'naya, which is decorated with 72 bronze statues), as well as their personal highlights.
The Kremlin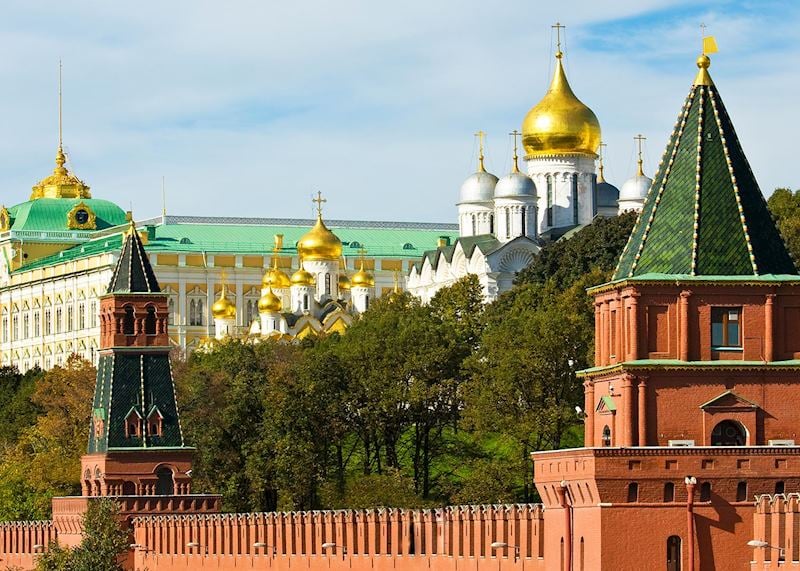 Allow a day
Meaning 'fortress' in Russian, the Kremlin hulks right in the middle of Moscow on the banks of the Moskva River. The immense red-walled citadel contains former palaces, golden-domed cathedrals, the presidential seat, and Russia's government buildings.
There's a lot to take in, but your guide can show you the highlights you might easily overlook. They're also able to tell you about almost anything that catches your eye. I spent a long time exploring the Armoury, a repository for relics gifted to Russia, including tsarist regalia.
Your guide can also help you access a section of the Armoury called the Diamond Fund (I'd have walked straight past its entrance if it weren't for my guide). And, although guides aren't permitted to accompany you inside the fund (you'll use an audio headset instead), they'll help you navigate its fickle opening times and purchase your tickets.
Once inside this surprisingly small room with its square arrangement of glass cases, you can pore over an array of precious stones, gems and cut diamonds. Their collective worth comes to well over seven billion dollars. It's dazzling ― literally. Garlands, brooches, diadems, and even a rosebud crafted from diamonds seem to shimmer with a thousand points of light.
Pre-revolutionary art at the Tretyakov Gallery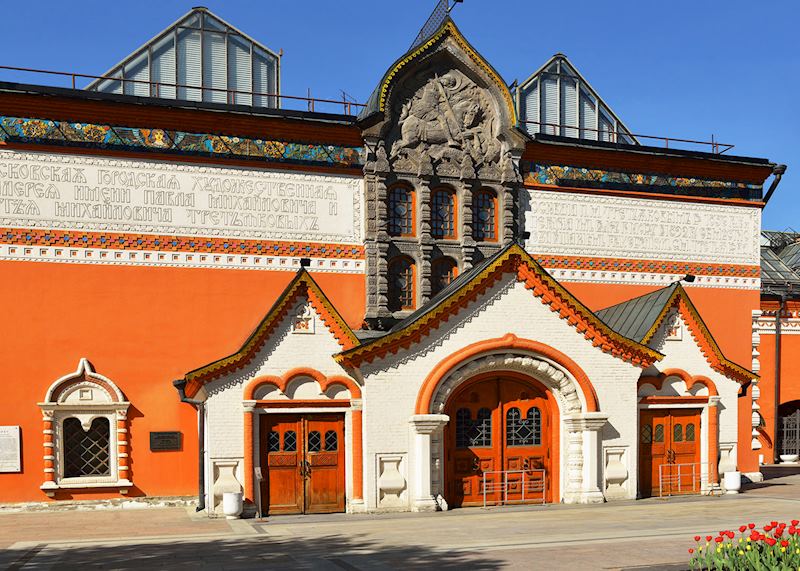 Allow half a day
On the other side of the Moskva River from Red Square sits a mansion with a whimsical façade that's meant to evoke Russian fairy tales. This is the Tretyakov Gallery, once a private home and art collection, whose owners gifted it to the state at the turn of the century. Inside, more than 1,300 works showcase Russian painters from the 13th to early 20th centuries.
If art is a passion of yours, I'd urge you to visit with a guide, who'll talk you through the nuances of the paintings and take you to lesser-trodden parts of the gallery. You can also visit on your own, using an audio guide, though it's worth taking your time: the place is a labyrinth.
The galleries seem to go on forever, so allow yourself a good few hours to get swept up in it all. It's dense with portraits, landscapes and history paintings. Scenes of agrarian ideals sit alongside works depicting war, poverty, and wealth ― it's like an illustrated history of pre-Communist Russia.
I like that it hosts purely Russian artists. This makes it more interesting for me than, say, Moscow's better-known gallery, the Pushkin State Museum of Fine Arts, where you could just as easily be in New York's Met. But Tretyakov is distinctly, proudly Russia-centric.
Bona fide Soviet-era site: Memorial Museum of Cosmonautics

Allow half a day
Moscow's Star City is the former cosmonaut training ground and a very worthwhile visit, but the underground Memorial Museum of Cosmonautics will give you an even more impactful introduction to Russia's relationship with space travel.
It's hidden beneath the Monument to the Conquerors of Space — a gigantic titanium sculpture of a rocket blasting off, its exhaust plume forming the sculpture's great metal fin.
The museum sits just outside Moscow, so set aside about four hours for it. Your private guide will escort you there and back on the metro. Once in situ, you're led around by one of the museum's own guides, who have the most detailed knowledge of the museum's miscellanea.
Entering the museum is like stepping back in time to the heyday of Soviet space exploration in the sixties and seventies. You can walk among old cosmonaut suits, a capsule used by Yuri Gagarin, replicas of Sputnik, and ― perhaps the biggest conversation piece of all ― the taxidermies of dogs sent into orbit.
Slow travel experiences in St. Petersburg
Russia's 'Venice of the North' (so-called for its canals) is quite a different creature to its capital. Small bridges criss-cross waterways, and most roads are reserved for pedestrians. It's aristocratic in feel and lends itself to relaxed, unhurried wandering.
For one thing, it's extremely walkable. You can get anywhere on foot and cross the bulk of the city in about 25 minutes, and most of the main sights lie off Nevsky Prospekt, the main street.
Lesser-visited parts of the Hermitage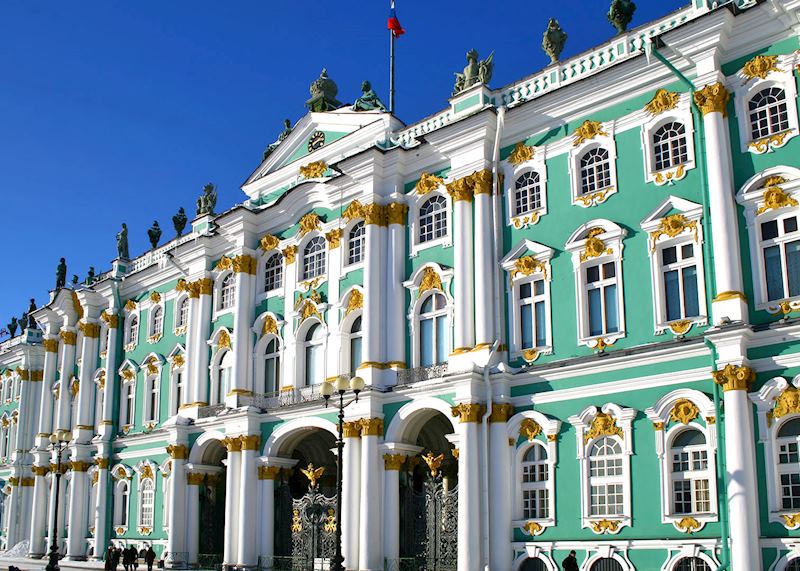 Allow a day
St. Petersburg's premier art museum is as visually arresting inside as the imposing mint-green-and-white façade of the Winter Palace, its flagship (but not its only) building.
Each of its gilded, cavernous rooms is replete with objets d'art and monuments to tsarist prestige. It's especially interesting if you're looking to see some of the splendour of Romanov Russia.
A private guide is crucial to enjoying your visit: the sheer amount on display is bewildering. Your guide will take you to the main showpieces and some of the Hermitage's surprises and anomalies, shortcutting the crowds.
Many visitors leave after the morning, but I suggest staying a whole day. You could have lunch in the museum's café (as you can't re-enter once you've left without paying again).
Then spend the afternoon nosing around the neoclassical General Staff Building ― a wing opposite the main Winter Palace building that most bypass. It houses temporary exhibitions, and you're never quite sure what you'll find ― the last time I visited, there was a display of lavish ball gowns.
Saint Isaac's Cathedral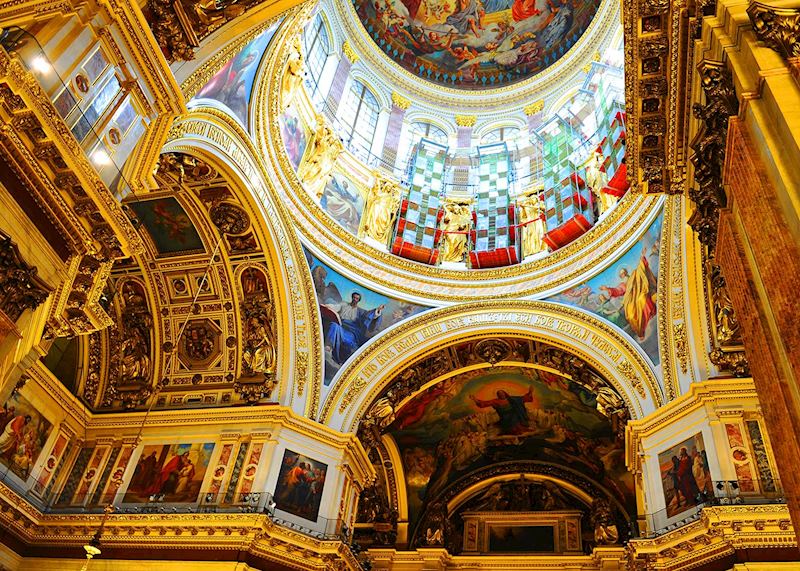 Allow two hours
With its Corinthian columns and gold-plated dome, this cathedral-turned-Soviet vegetable warehouse-turned-museum (yes, really) has the best, if not the only, skyline view of St. Petersburg. Climb up to the colonnade encircling the dome for a 360-degree perspective of the entire city.
Admiring the view is the extent of many visits, but with a guide and a little longer you can explore some of the quirks in Saint Isaac's interior.
Your guide will show you how this church has, unusually, gold mosaics rather than icons. And, uniquely among Russian Orthodox churches, its windows are stained glass (though no one is quite sure why). The stained glass gives it quite a different feel ― whereas most Russian churches are dark and candlelit, this one is flooded with light.
Peterhof Palace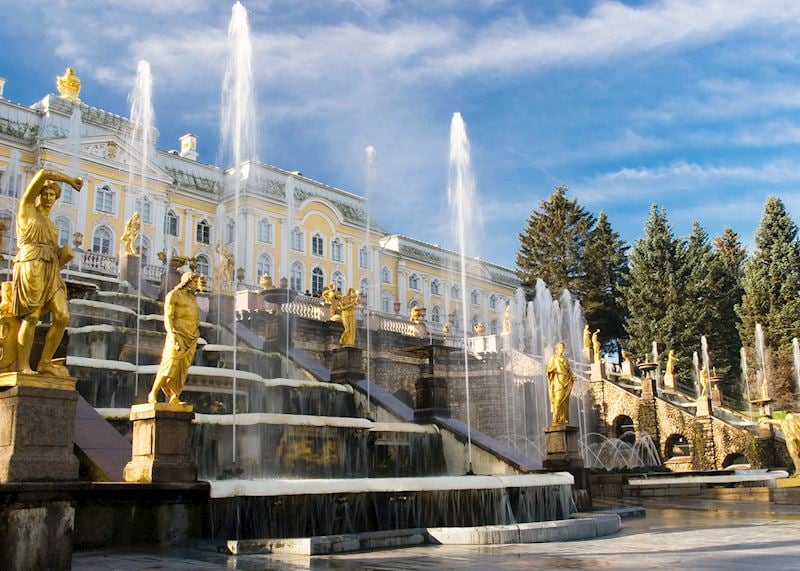 Allow a morning
Purposely designed to ape the opulence of France's Versailles, Peterhof is a Baroque pile that lounges amid landscaped gardens about 45 minutes from St. Petersburg.
The jewel in its crown is the Samson Fountain and Grand Cascade. The figure of the Biblical strongman forms the fountain's focal point, as he tears open a lion's mouth (representing Russia crushing Sweden in the Battle of Poltava, 1709) from which an immense jet of water shoots skywards.
As well as visiting the palace's interior, ask your guide to show you around the grounds ― especially if it's a fine day.
Several smaller fountains and other features (such as marble statuary and a maze) are tucked away in the lower gardens, but relatively few visitors ever see them. There's a feel, as you step through shaded allées and enter unexpected clearings, that you've been let loose in a Russian parallel of Francis Hodgson Burnett's The Secret Garden.
Vodka and caviar at the Belmond Grand Hotel Europe

Allow two hours
You can enjoy vodka tastings all over the Motherland, but few pairing experiences exist. If you're looking for a light-hearted and shamelessly decadent experience to sprinkle into your Russia trip, I'd suggest settling yourself into the plush seating of the low-lit, red-and-black Caviar Bar at the fin-de-siècle Belmond Grand Hotel Europe. Then, try several vodkas matched with some very fine caviar.
I say 'try' — unlike wine tasting, you're expected to drink the entire shot of vodka, so I recommend coming here in the late afternoon before heading onto dinner.
You don't need a guide for this experience, but I always find it a relaxing activity to slot into a trip. Take your time with the tasting and drink in the lavish surroundings. You'll see lots of local people ― business and leisure visitors ― doing the same.
Read more about trips to Russia

Start thinking about your experience. These itineraries are simply suggestions for how you could enjoy some of the same experiences as our specialists. They're just for inspiration, because your trip will be created around your particular tastes.
View All Tours in Russia