George, Southeast Asia Specialist
In the last five years George has spent extensive periods both living and travelling throughout the Southeast Asia region.
In 2011, a three month tour with his friends to Thailand, Cambodia, Vietnam and Laos sparked an interest in the region that would lead to several subsequent visits. Two years later George was living and working in Siem Reap in Cambodia, creating tailor made experiences for guests visiting different countries within Asia. For the next two years Cambodia became the perfect base from which he could explore Indochina in greater depth. Particular highlights included motorcycle adventures along the southern coast of Cambodia and street food explorations across Vietnam.
Having spent this time seeking more off the beaten track experiences and meeting local people George then returned to the UK, joining Audley shortly after. He was then given the opportunity to return to Indochina, this time in Audley's unique style and now looks forward to assisting others in pursuing similar fulfilling experiences.
Speak to George
Start planning your trip to Southeast Asia with George by calling 01993 838 351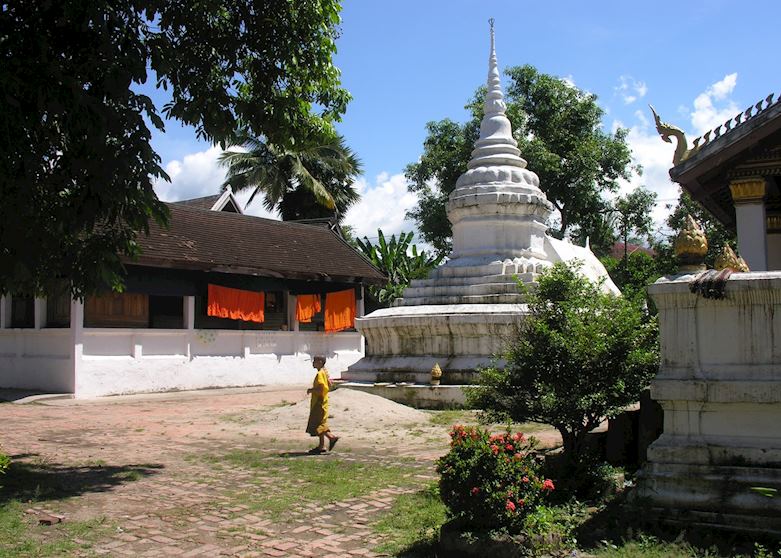 Laos
Nestled in between its surrounding mountain range the spiritual hub of Laos, Luang Prabang, offers visitors the perfect place to unwind. You can't help but feel relaxed wherever you go in this sleepy town but for those more adventurous types it also provides the ideal gateway for exploring nearby trekking routes, waterfalls and local villages.
Coupled with its proximity to nature and the awe inspiring and delicately designed wats (temples) which are dotted all over the town, create a wonderfully atmospheric setting. Such sights have attracted an ever growing selection of characterful boutique style hotels and some exquisite local dining options. It's a must see on any trip to Southeast Asia.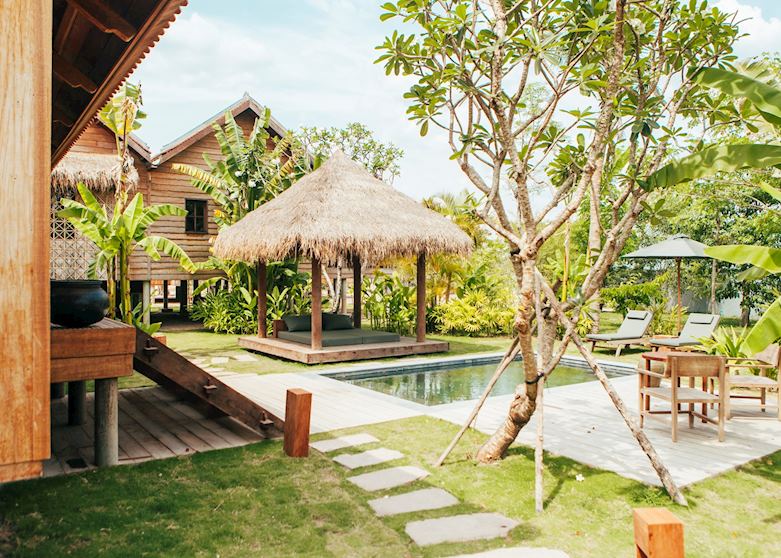 Cambodia
Siem Reap is often the highlight of many peoples' trips to Southeast Asia, however if you add on a stay at Phum Baitang you may end up never leaving.
With their own rice paddies set among the grounds this hotel fuses the essence of the Cambodian countryside with unrivalled luxury bungalows. You can also count on excellent service, fantastic food and soothing spa treatments during your stay. As a day exploring the iconic temples of Angkor ends there is no better nor more relaxing place to retreat to than Phum Baitang.
I'll never forget when…
When travelling the thing I enjoy the most is visiting places that have a strong food culture and Vietnam has one of the most distinctive cuisines in the world.

Doing a 'Vespa Adventure' tour around Ho Chi Minh on a recent visit with Audley, allowed me to experience the very best of what it has to offer and to eat in places that otherwise I would never have discovered. On top of sampling some of the most delicious and, at times, obscure foods I have ever come across, it was exhilarating to do so from the back of a Vespa and to fully immerse myself into the madness that is the roads of Saigon.