After graduating from university with a First Class degree in History and enjoying an internship in Bordeaux, Anna worked in the luxury lettings market in central London for several years. After travels in Southeast Asia, Oman, most of Europe, Morocco and the USA, she eventually discovered South Africa on a backpacking trip through the Kruger and KwaZulu-Natal, and promptly fell in love with the people and culture.
Wanting a change in career, she took up a volunteer post in Kenya, focussing on wildlife conservation. This led to further travels through Africa, including Tanzania's 'Northern Circuit' of national parks, Zanzibar, Mozambique, Swaziland and Lesotho before ending up back in South Africa, working in Cape Town.
Since returning to the UK and joining Audley, Anna has since further explored even more of South Africa and Zambia in greater depth. This knowledge, acquired over many years, now allows her to plan truly personalised trips based on each client's specific interests.
Speak to Anna

Start planning your trip to Africa with Anna by calling
01993 838 557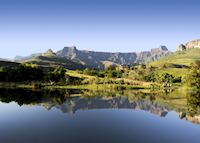 KwaZulu-Natal not only satisfies my love of history with all the battlefields, it's also a truly stunning part of the country. Every drive is a panorama of mountains, escarpments and valleys, and the Drakensberg offers so much to do; be it horse-riding, climbing, hiking or just sitting back to enjoy the views.
KwaZulu-Natal is often overlooked as a safari destination for the better known Kruger area, but there are plenty of reserves and national parks where you can see the Big Five, and perhaps some wild dog if you're lucky.
It's so hard to decide but probably my overall preferred accommodation is Leopard Mountain Game Lodge in the Zululand Rhino Reserve, in KwaZulu-Natal.
It's a small lodge but the views from the rooms are spectacular and can be enjoyed from either your personal plunge pool or your own hammock, both of which are on a terrace high overlooking the reserve. Blissful.
I'll never forget when…
I was in the Sabi Sands in the Kruger and it was sundowner drinks time after a fantastic afternoon's game drive. We had seen three leopards, one up a tree with an impala kill, a herd of elephant and a pride of lion lazing in the sun. Just as the gin's were about to be poured a call came through on the radio and suddenly our ranger and tracker were ready to go; another vehicle had spotted a pangolin. Sundowners cancelled, we piled back into our vehicle and raced off as the sun was setting to join the others. Pangolin are so rare some people spend a lifetime in the bush and never see one, so it was wonderful to see this strange creature, first curled up in a ball, then waddle off on its hind legs oblivious to the crowds its appearance had generated that evening.