Ashvin, who grew up in north London, has always had a passion for travelling. After graduating from Plymouth University with a degree in Business Travel and Tourism, he knew he wanted to see more of the world. To date he's visited a number of countries including Mauritius, the Seychelles and most recently, South Africa.
He's always had a keen interest in wildlife and this enthusiasm was satisfied when he visited Kruger National Park in South Africa. During one three hour safari he managed to tick off the entire Big Five: Cape buffalo, rhino, elephant, lion and often most elusive one of them all - a leopard. In addition to safari he toured the country's famous Winelands region around Cape Town, visiting some of the vineyards in Franschhoek.
In his spare time, Ashvin enjoys playing football and doing calisthenics.
Speak to Ashvin

Start planning your trip to South Africa with Ashvin by calling
01993 838 512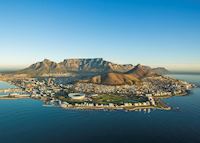 I didn't know what to expect when I arrived in Cape Town, so I was intrigued when my tour guide said to me: "welcome to the best city in the world".
I soon discovered that his vibrant city has a lot to offer, from its most iconic landmark, Table Mountain (which I had the opportunity to climb), to the notorious prison on Robben Island, which once held Nelson Mandela.
Cape Town has a tranquil feel to it with buzzing bars, countless restaurants and design savvy shops.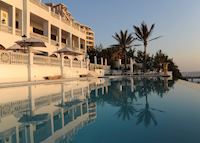 My favourite hotel in South Africa is the Oyster Box.
Situated in Durban, on the coast of the Indian Ocean, this hotel manages to meld both a modern and classical feel with elegancy. This award-winning property offers a variety of different restaurants, and I would definitely recommend trying the 'curry buffet'. In addition, you have a spa to relax in, a gym and a cinema.
Having the ocean right on your doorstep gives you an opportunity to maybe spot dolphins and whales.
I'll never forget when…
Shamwari offers wonderful scenery and the opportunity to see the Big Five, all in a relatively small game reserve. The anticipation of seeing a lion really gets your adrenalin pumping. In fact I set my sights on seeing most of the big cats that South Africa has to offer and was not disappointed when I saw lion, cheetah and even a leopard. To end one particularly perfect evening game drive, our ranger took us to the highest point of Shamwari, where we enjoyed a drink while watching the setting sun.