Danielle's love of Africa began when she was just 19, when she embarked on a three month trip around the south of the continent. She'd already sparked her love of travel with a two month trip to Honduras the year before, but Africa drew her in and has never let her go. In that first three month trip, she visited South Africa, Namibia, Botswana, Zambia and Tanzania, and she has since extended that to a total of 10 African countries (and counting!).
She began working in travel shortly after her initial trip, then returned to Tanzania and Kenya a year later to climb Kilimanjaro and revisit some of the projects she'd seen. Throughout her career in travel, Danielle has expanded her knowledge and love of Africa, which eventually led her to Audley.
Since being at Audley, she has relished the chance to revisit some of her favourite areas in southern Africa, and the opportunity to give others the chance to share her passion.
Speak to Danielle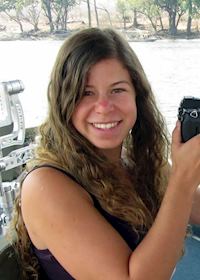 Start planning your trip to Africa with Danielle by calling
01993 838 502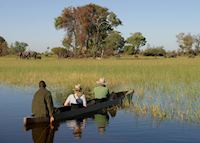 This concession is by far my favourite in the Okavango Delta. It has a very special place in my heart as I was lucky enough to spot all of the Big Five on one morning game drive.
Most places in the delta don't have rhino but because they have recently been introduced to the area due to conservation reasons it gave us the opportunity to spot them. We had already been lucky enough to spot lion, rhino, elephant and buffalo and were heading back to camp when the guide notified us that he thought he could see a leopard. He was very right and we spent a further 45 minutes watching it in a tree and following it while it hunted. He wasn't bothered by the vehicle at all which meant we could get nice and close to get some good pictures.
I knew from the moment I arrived at the airstrip at I was going to have an amazing stay at Camp Okuti. The guides were incredible and instantly made me feel very welcome. The staff that work here genuinely love their jobs and are one big family which they make sure you a part of. It has a very special feel to it and is designed to give you the best possible Okavango Delta experience.
The camp is in a perfect location for game viewing and stunning sunset either from the main lodge or from your own private balcony which looks over onto the river.
I'll never forget when…
I was driving myself around Etosha National Park in Namibia when the afternoon was coming to an end. I was ready to head out of the park and back to my camp when all of a sudden I spotted two cheetah cubs with their mother stalking an impala. Within seconds the mother was chasing after the impala and managed to catch it for their evening meal. Once the mother killed the impala the cubs came over to help her drag it under a tree. It was such an incredible and rare sight to see, especially as it happened right in front of my car.