Harry's interest in travel initially stemmed from a world map pinned to his bedroom ceiling, and various artefacts and souvenirs, which his parents had collected on their travels. This inspired him to embark on a six-month trip at 19 encompassing South East Asia, Australasia and South America. He really caught the travel bug during this journey, and it wasn't long before he was planning his next trips to Central and North America.
After spending two years living in Spain studying in Madrid and teaching English, Harry returned to his West Oxfordshire roots to work at Audley in the Latin America department for three years. However, gradually it became apparent that there was one huge expanse that he had never visited: Africa.
During a six-month sabbatical he travelled from Addis Ababa to Cape Town, via Kenya, Uganda, Tanzania, Malawi, Zambia and Namibia, and fell in love with this astonishing and enchanting continent. Particular highlights included gorilla trekking in Uganda, snorkelling with whale sharks in Tanzania and relaxing on the shores of Lake Malawi.
Upon his return, he rejoined the team at Audley, specialising in travel to his new favourite country, South Africa.
Speak to Harry

Start planning your trip to South Africa with Harry by calling
01993 838 514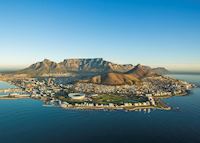 South Africa
Cape Town is a city that really has it all. It has a pleasant all-year-round climate, world-class restaurants and wines, a beautiful coastline and of course, the iconic backdrop of Table Mountain as its centrepiece.
I first visited Cape Town for ten days, and it simply wasn't long enough. From taking the beautiful drive down to the Cape of Good Hope at the end of the African continent, to surfing at Muizenburg, relaxing on Clifton beach and climbing Lion's Head mountain to enjoy panoramic views over the city, there is simply so much to do. Fantastic day trips such as exploring the beautiful winelands region, or going whale-watching at Hermanus, are also just an hour or two away.
South Africa is of course a country still emerging from a difficult period in its history, and you can learn about this tumultuous era with an historical tour or an incredibly moving visit to Robben Island, where Nelson Mandela was incarcerated for 18 years of his 27-year sentence. One thing is for sure; once you have set foot in South Africa's 'Mother City', your visit won't be your last.
South Africa
I stayed here during my most recent trip to South Africa, and was impressed with every aspect of this lodge. It is one of the four Sabi Sabi lodges in the reserve, which are themed as 'Yesterday', 'Today' and 'Tomorrow'.
Bush Lodge represents today, with contemporary furnishings, the highest levels of service and comfort, and delicious gourmet food. There are 25 thatched lodges, all tastefully decorated with dark woods and African artefacts, which are the ideal place to enjoy some downtime between game drives. You can also relax at the pools or the spa, or discuss the day's sightings over tea in the main lodge.
Bush Lodge is also family friendly, while still retaining a tranquil atmosphere. Of course, the real reason visitors flock to this reserve is for the world-class safari and it is possible to see all of the Big Five in just one game drive. The guides are also excellent, and will really enhance your experience with their encyclopaedic knowledge of the wildlife, alongside their eagle-eyed spotters. However, on certain days you won't even need to leave the lodge to enjoy the wildlife, with elephants, lions and buffalo, among many other species, coming to drink at the watering hole that is in direct view of the main lodge.
Although the standard of lodges in this area is extremely high, Bush Lodge stood out for me as providing exceptional levels of service in a beautiful setting.
I'll never forget when…
I have been fortunate enough to visit many of South Africa's major game reserves, which have included numerous sightings of elephants, lions, cheetahs, hyenas, rhinos and even wild dogs. However, my favourite animal (and often the most elusive) is the leopard. Whilst I was staying at Marataba Lodge in the Marakele National Park we glimpsed some movement off to the right of the track. As we slowly approached in the vehicle, we realised that there was a leopard in a tree, waking up from a nap.

As we quietly watched, she stepped out of the shadows and into the late afternoon light, revealing her beautiful colours and spots. I was struck by how she seemed to possess all the elegance of a cheetah, yet the strength of a lion - leopards are very powerful animals, and can drag a kill twice their bodyweight up into a tree to protect it from other predators.

When she looked at me directly in the eye, my heart skipped a beat, and we watched her for a few minutes as she stretched, paused to have a final look at us, before slinking off into the twilight. We were the only vehicle in sight, and having this experience all to ourselves was an incredibly special moment, and one which will stay with me forever.