I was born in London but spent the first 13 years of my life growing up in Botswana. I was very fortunate to be able to travel to many parts of Southern Africa and other areas of the world from a young age, which fuelled my desire to explore.
After graduating from university with a degree in Hospitality Management and Tourism, I had various careers outside the travel industry. However, having planned numerous trips for my family and friends, I knew my passion was for planning trips. Seeing the joy in people's faces when they discover new places is what guided me to work at Audley.
I consider Southern Africa to be my home and having been able to travel South Africa extensively, my love for nature and adventure has increased. For me, there is nothing better than watching the sun set over the hills with a drink in hand.
Speak to Jaanki

Start planning your trip to South Africa with Jaanki by calling
01993 838 243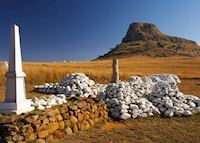 South Africa
During my stay at The Fugitives Drift Lodge in Rorke's Drift, South Africa, I had the opportunity to join the Isandlwana and Rorke's Drift tour, which explained the background to the Zulu War of 1879. I found that staying right in the area I was learning about and being surrounded by the places mentioned made me feel like I was fully immersed in the history of the area. And that was before the guides ever began their explanation of the history of the region, in a way that really brought the landscape, people and stories from that time to life.
South Africa
Sabi Sabi Earth Lodge is by far my preferred hotel in South Africa. The rooms are built into the earth so they can't be seen and have a very sophisticated yet rustic feel. Each has an outdoor shower and private plunge pool, and there's a giant chair swing in the lobby that looks out into the wilderness. The food here was delicious, the lodge has its own wine cellar and the rangers and trackers are so friendly and experienced, going beyond their duty to offer memorable game drives with all the little extras such as blankets and hot water bottles on cold mornings.
I'll never forget when…
While staying in Kruger National Park, I was relaxing on my private veranda writing my diary when I heard something in the bush. It was pitch dark so I couldn't make out was it was but, before I knew it, a fully grown elephant walked up to the edge of the pool and just stopped and stared directly at me. Although I was nervous, I soon realised it was unlikely to harm me and finally relaxed as I watched it stand quite close to me eating the grass off the thatch roof.