Jack grew up in a family full of people who loved travelling and embracing other cultures. From a young age he wanted to experience the world for himself. Eventually, when he was old enough he moved to France and worked in the Alps, using it as a base to travel as much of Europe as possible.
After a year of working he decided to take up the challenge of walking across America to raise money for the teenage cancer charity 'CLIC Sargent'. Seven months after leaving New York, walking by day and sleeping in a tent by night, he finally arrived at Santa Monica beach.
On his arrival back home Jack wanted to find a job that complimented his hobby and passion for travel, so began working in the travel industry. Since then he has travelled all over the world, including many trips to Africa and in particular South Africa.
Jack made the move to Audley so as he could specialise in one area. Since joining, Jack has been lucky enough to travel South Africa extensively and fell in love with its food, wine and its amazing people.
Speak to Jack

Start planning your trip to South Africa with Jack by calling
01993 838 517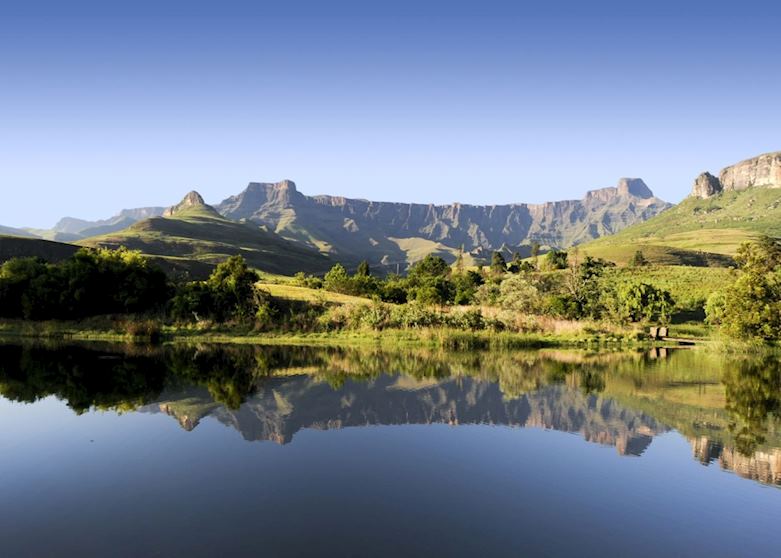 South Africa
South Africa has so many varied experiences that it is very hard to pin point one place, but following my last trip, KwaZulu-Natal has to be right up there.
It covers a huge area, but for me it has some of South Africa's highlights, with some of the most beautiful coastline I have ever seen, along with one of the most dramatic mountain ranges in the world in the Drakensberg Mountains. I have also found the Zulu people to be some of the most interesting and friendly that I have met.
South Africa
With the variety experiences available it's hard to stick to one property in South Africa, but when people think of a trip to South Africa, it's impossible not to imagine a safari.
My favourite safari experience was at Leadwood Lodge. In the heart of Sabi Sands, it offers some of the best animal sightings I have ever had, and it also has luxurious rooms giving you your own infinity pool and a view into the bush. The food is delicious and with only four rooms in total it has a completely exclusive feel to it. The guides are very informative and ensured every time we set out we saw something different.
I'll never forget when…
My favourite memory from my time in South Africa was when I was staying in Northern Drakensberg and went to a small village called Amazizi. I was introduced to a lady called Aimee who lived there and took me into her home to meet her family.

I spent the day exploring the village with her and met so many truly amazing people who had no running water and in some cases no electricity, but who were so friendly and helpful. It was an inspirational place, and an experience I will never forget.