Louise has always had a love of exploration and for discovering new cultures, embarking on her first trip to Australasia at the age of 18 to begin a life of adventures.
Continuing her love for travel she visited many parts of Southern Asia throughout university. After graduating and working in photography for five years, she left the UK again to go to Singapore and Malaysia, where she volunteered in a children's home to teach English as a foreign language. She then moved to New Zealand and Australia to work, spending a lot of time moving around these countries by driving in her camper van.
After returning to the UK she started with Audley as a South Africa specialist, travelling extensively throughout this country. Her highlights included driving along Route 62, searching for the Big Five, whale watching and star gazing. Louise has a huge passion for photography, in particular shooting weddings, but it was the opportunity to capture incredible wildlife moments in South Africa which has left the most indelible memories.
Speak to Louise

Start planning your trip to South Africa with Louise by calling
01993 838 536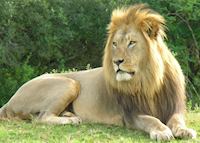 South Africa
There is something unique about Amakahala Game Reserve; its beautiful terrain is what makes it so special.
Wherever you are you have breathtaking views all around you. I saw fantastic game when I was there and every day felt like a huge adventure going on a game drive to search for the Big Five (lion, leopard, elephant, rhino and cape buffalo).
The guides were extremely knowledgeable and made the experience something to remember.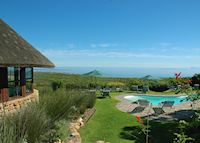 South Africa
Never have I lay on my bed and felt like I was lying in a forest until I experienced what Grootbos Forest Lodge had to offer.
This stunning, idyllic accommodation is built high up on a nature reserve surrounded by beautiful flora and fauna such as milk wood trees and extensive bird life. It's incredibly peaceful, the food is fantastic and the staff are extremely friendly.
There is so much to do, from walking through the forest with extremely knowledgeable guides and enjoying the spa facilities, to searching for whales from the comfort of the terrace and witnessing beautiful sunsets.
I never wanted to leave; it is truly a tranquil place.
I'll never forget when…
My most memorable experience was waking up at 5 am on the Elephant Coast to go to the beach to watch the sunrise. It was still pitch black, with the moon high in the sky and the stars shining bright. As I lay on the beach I watched the moon and stars slowly disappear and the sky change to many different hues as the sun rose. I then climbed up the nearby sand dunes to spot humpback whales surfacing, blowing and then gently submerging again. It was a truly memorable morning.