Sam's passion for travel was inspired by her parents who spent a lot of time travelling for work and leisure all over the globe. After university she set off for a year. The journey took her through Chile, Peru, USA, Canada, New Zealand, Fiji and Australia before embarking on a camping trip across South Africa, Namibia and Botswana to Victoria Falls in Zambia and concluded in Ghana.
Since then Sam has continued to travel to destinations across the world, but none struck a chord more than South Africa. Her love of the country has allowed her to spend lots of time exploring its diversity and beauty. Having served as a police officer for ten years, Sam decided the travel bug could not be contained any longer and decided to move into the travel industry where she could share her knowledge and enthusiasm with clients.
Speak to Sam

Start planning your trip to South Africa with Sam by calling
01993 838 544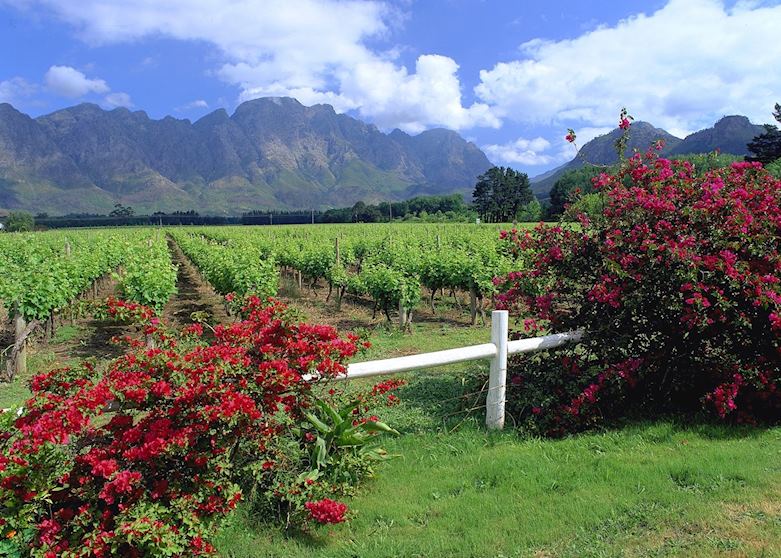 South Africa
This picturesque town nestled in the mountains near Cape Town is one of my favourite places to visit. Traditional Cape Dutch architecture and endless vineyards make the town very pretty and it's a wonderful place to stop on your way to the Garden Route.
During my visit I took a trip on the Wine Tram to visit some of the many amazing wineries in the area. I was able to sample some fantastic locally produced wines and delicious food along the way. In the evening we tried out the local cuisine at one of the many great restaurants in the town centre. It was a great way to unwind and enjoy the atmosphere at the end of a long day. I also found that Franschhoek is also home to some wonderful art galleries where there are plenty of beautiful pieces of artwork to be found.
South Africa
I recently stayed at Kirkman's Kamp and from the moment I arrived and was greeted by the friendly staff I felt relaxed. The traditional 1920's homestead lodge combines the traditional with a modern touch. It is located on a ridge in the Sabi Sands Wildtuin and has views of the Sand River. The lodge shares unfenced borders with Kruger National Park, so the game viewing in the area is great.
During my stay I was able to watch the sun go down from my terrace and enjoyed evening drinks with my game drive guide. We talked about the days sightings, including a pride of twenty lions that we followed until they fell asleep in the sun. The lodge is great at any time of year as they have log fires in winter or an infinity pool with spectacular views in the summer. My stay here was very memorable.
I'll never forget when…
On a recent visit to Notten's Bush Camp in the Sabi Sand Reserve I went on my first game drive of my stay. I was amazed by the wildlife we found and we were lucky enough to spot the Big Five of elephants, rhino, buffalo, lion and a beautiful female leopard in just three hours. Towards the end of the drive we stopped in the bush for sundowners and we were welcomed to a bush barbeque where we were treated to boerewors (South African sausages) and kudu biltong. This was the perfect way to watch the sun go down and complete a memorable day.