After finishing school I was on the first plane out of the UK to pursue a career in the wakeboard and snowboard industries. This allowed me to travel all over the globe experiencing everything from the snowy peaks of the Canadian Rockies to the picturesque beaches of Southeast Asia.
As a sports and nature enthusiast, Australia has always been the holy grail of destinations for me because of its diverse scenery, good weather, wildlife and cultural history.
After ten years of working in the action sports industry, a career in travel was the natural next step for me, allowing me to share my passion for travel, pass on hard-earned advice and help others to discover life changing experiences.
Speak to Charlie

Start planning your trip to Australia with Charlie by calling
01993 838 589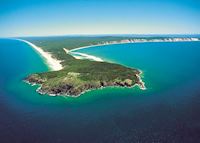 The fashionable coastal town of Noosa in southeast Queensland sits between crystal-clear, turquoise waters and lush subtropical rainforest just over an hour's drive from the bustling heart of Brisbane. It's a small surf town boasting a great variety of restaurants, world-class beaches and one of the most dramatic coastal walks you will find anywhere in Australia. The diverse ecosystem here allows for excellent wildlife watching, you can surf one of the most renowned beaches in the southern hemisphere, take a 4x4 tour along the beach or have a relaxing spa day.
The Lyall Hotel and Spa in Melbourne is a five-star boutique hotel in South Yarra, a suburb which offers the convenience of easy access to the city but not the noise or stress levels that can come with a central location. It's an intimate place with just 40 suites and an elegant, contemporary style. There's an art gallery on each floor, a champagne bar and a spa but the hotel's greatest asset is its friendly staff. They'll make you feel at home the moment you walk through the door and go above and beyond the call of duty when it comes to offering advice on places to visit.
I'll never forget when…
It's very easy to try and do everything at top speed while abroad in an attempt to fit everything in but one of the greatest moments for me was sitting on top of a cliff by Double Island Point Lighthouse in Queensland and just taking the time to watch the ocean. I saw more wildlife in the half an hour I sat there than I had on the entire trip. It really put things into perspective and I came to the conclusion that sometimes it's best to just relax and take stock in order to really appreciate where you are.