Ever since Simon was able to walk he has been amassing memories by travelling the world. He has visited North America, Europe, Asia and Australasia on multiple occasions, taking-in everything from the vast white slopes of Vail in Colorado to the 'Red Centre' of Australia; home to Uluru and Kata Tjuta.
For Simon, midnight December 1999 ushered-in two significant events: the new millennium and, more importantly, his new home. Arriving in Adelaide to originally play district cricket, his passion for all things Australian began. A land of easy-going attitudes where active, outdoor lifestyles are celebrated and natural wonders are everywhere, was too much for him to ignore. So, in 2006 he moved permanently to South Australia, where he spent the next 10 years exploring the wonders of not only this region, but this huge country at large. So much so that in 2012 he officially became an Australian citizen.
He has recently explored even more extensively, enjoying a variety of experiences including dinner under the desert stars at Uluru, through to snorkeling the Great Barrier Reef. Simon's appetite for Australia is unquestionable and since joining Audley he hopes to share his passion and knowledge by creating memorable trips for clients.
Speak to Simon

Start planning your trip to Australia with Simon by calling
01993 838 749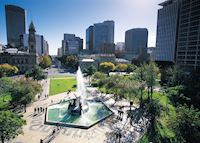 Capital of Australia's 'forgotten State', to me Adelaide is the jewel in the South Australian crown. Nestled between rolling hills to the east and seemingly never-ending beaches to the west, Adelaide really is a special place.
I call it the '20 minute city' due to the ease at which I'm able to circumnavigate its boundless options; it really is a pleasure to visit either quickly en route to Australia's more 'fashionable' east coast — or for a longer stay. When I want the beach I can be at Henley, Glenelg, Grange, West Beach or Semaphore in under 15 minutes from the CBD. Should it be history I'm after then I take a leisurely stroll around the city, discovering the heritage sites throughout including the worlds largest and most comprehensive collection of Australian Aboriginal ethnographic material, housed in the South Australian Museum.
Being a massive sports fan I've regularly visited the immense Adelaide Oval to watch cricket or Aussie Rules Footy. Simply, Adelaide has something for me whatever the day, it's home-from-home.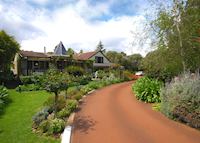 Quite comfortably this Western Australian guesthouse is my first choice when it comes to accommodation. A charming luxury bed and breakfast, it's situated a short walk from the lovely township of Margaret River and right in the heart of award-winning wine country. Each of the six rooms offer charm, character as well as a homely feel — and coupled with a hearty breakfast of local produce to set you up for the day — I found Rosewood very difficult to leave.
I'll never forget when…
I've been lucky enough to do many memorable things: I've seen the sunset over the Grand Canyon, snorkelled the Great Barrier Reef, and been soaked by the never ending mist of Niagara Falls. However nothing comes anywhere close to the Sounds of Silence experience at Uluru. Setting off just before sunset you walk through the red sand of Australia's desert centre, kicking off my shoes as I went to really heighten the experience. I was then welcomed by the indigenous people of the land with traditional dance. From there you enjoy a champagne reception whilst watching the sun go down over both Uluru and Kata Tjuta. With the darkness now firmly set-in the real magic begins. You sit down to dinner and listen to the desert literally come alive with sound. Your host for the evening will then guide you through the night-sky, showing you constellations visible only in the Southern Hemisphere. Words do not do this experience justice. Put simply, it was unforgettable.